SIMPLE HOMEMADE GNOCCHI RECIPE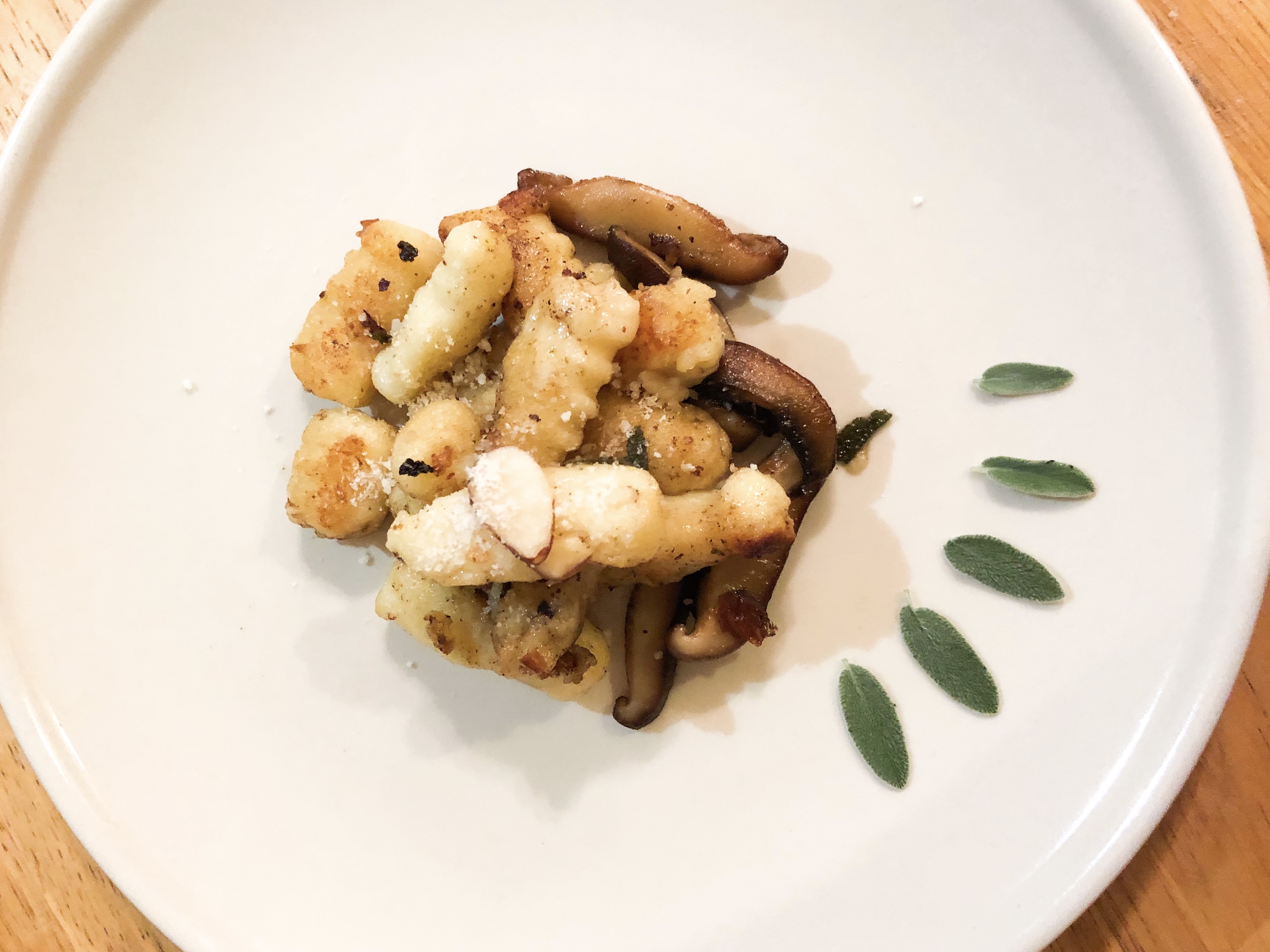 Wednesday, Jan. 22, 2020
I love cooking and trying new things, and I have been meaning to try my hand at one of my favorite dishes, gnocchi. So, last weekend my boyfriend and I spent our Saturday night in his kitchen.
Making it was much easier than I expected, but it is a bit time consuming. If you have a little time to try something new, and you don't mind covering your kitchen table or counter in flour, then this is the recipe for you.
Now there are a million ways to make gnocchi, but we decided to make a half potato, half ricotta type. It was a great twist on classic potato gnocchi, just a little lighter and cheesier.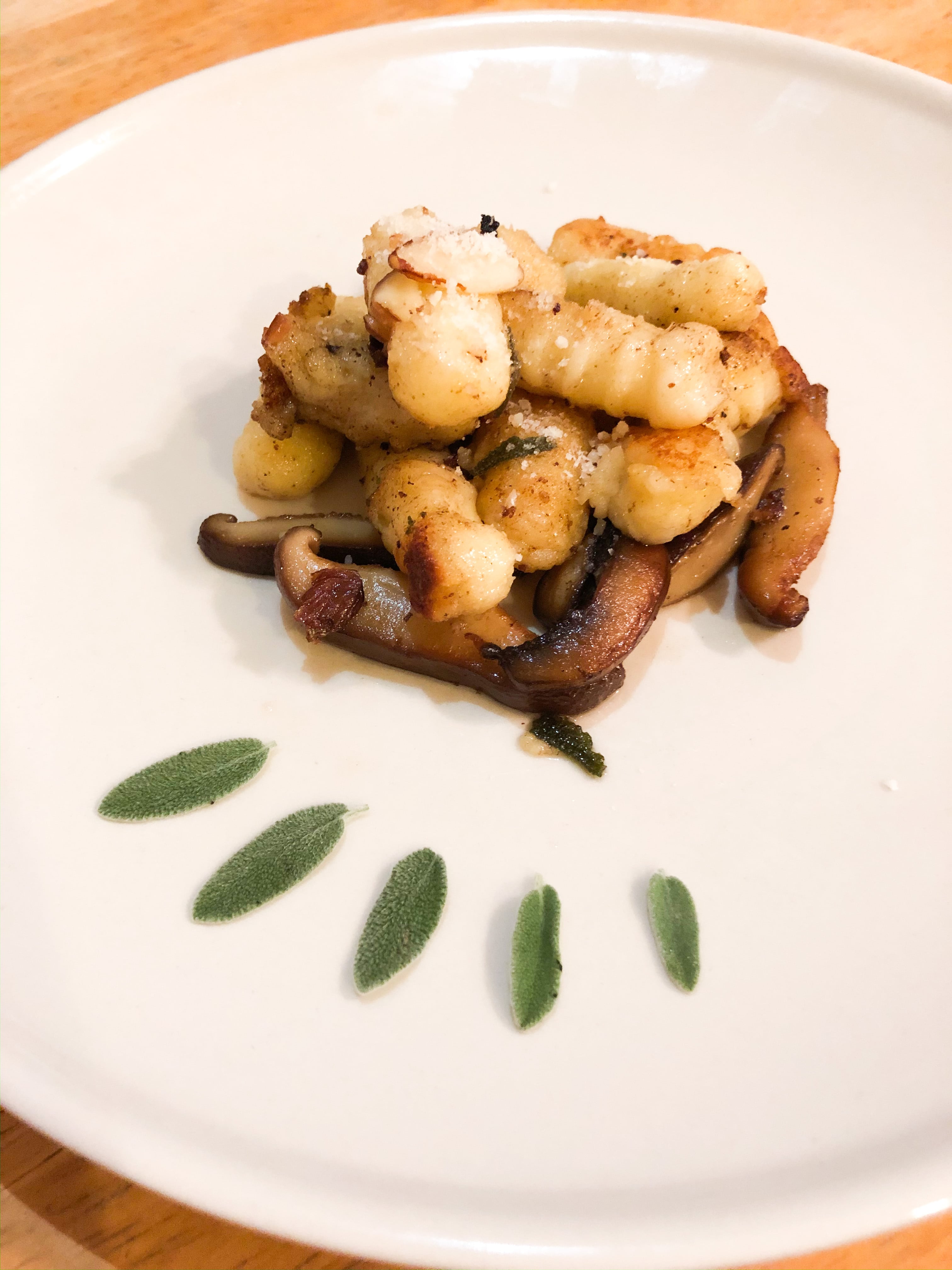 If you saw the last recipe I posted, then you already know I love a good dish that tricks people into thinking you're an adult or a great chef, and this is definitely another one!
This recipe as I have it makes enough to serve about 4 or 5 hungry people.
You will need:
2 potatoes
12 oz. ricotta cheese
2.5 (ish) cups of "00" extra fine flour
½ a cup of parmesan
1 large egg and 1 egg yolk
a pinch of salt
1 stick of unsalted butter
sliced almonds

fresh sage
shiitake and cremini mushrooms
(optional)
Directions:
First, bake the potatoes until they're soft, or for about an hour at 425 degrees. When they are soft enough, peel and mash them. After they've cooled off a bit, mix in the ricotta.
After that's well mixed, add the eggs and a pinch of salt, and then the parmesan. The easiest way to make sure it's all incorporated and smooth is to mix it with your hands.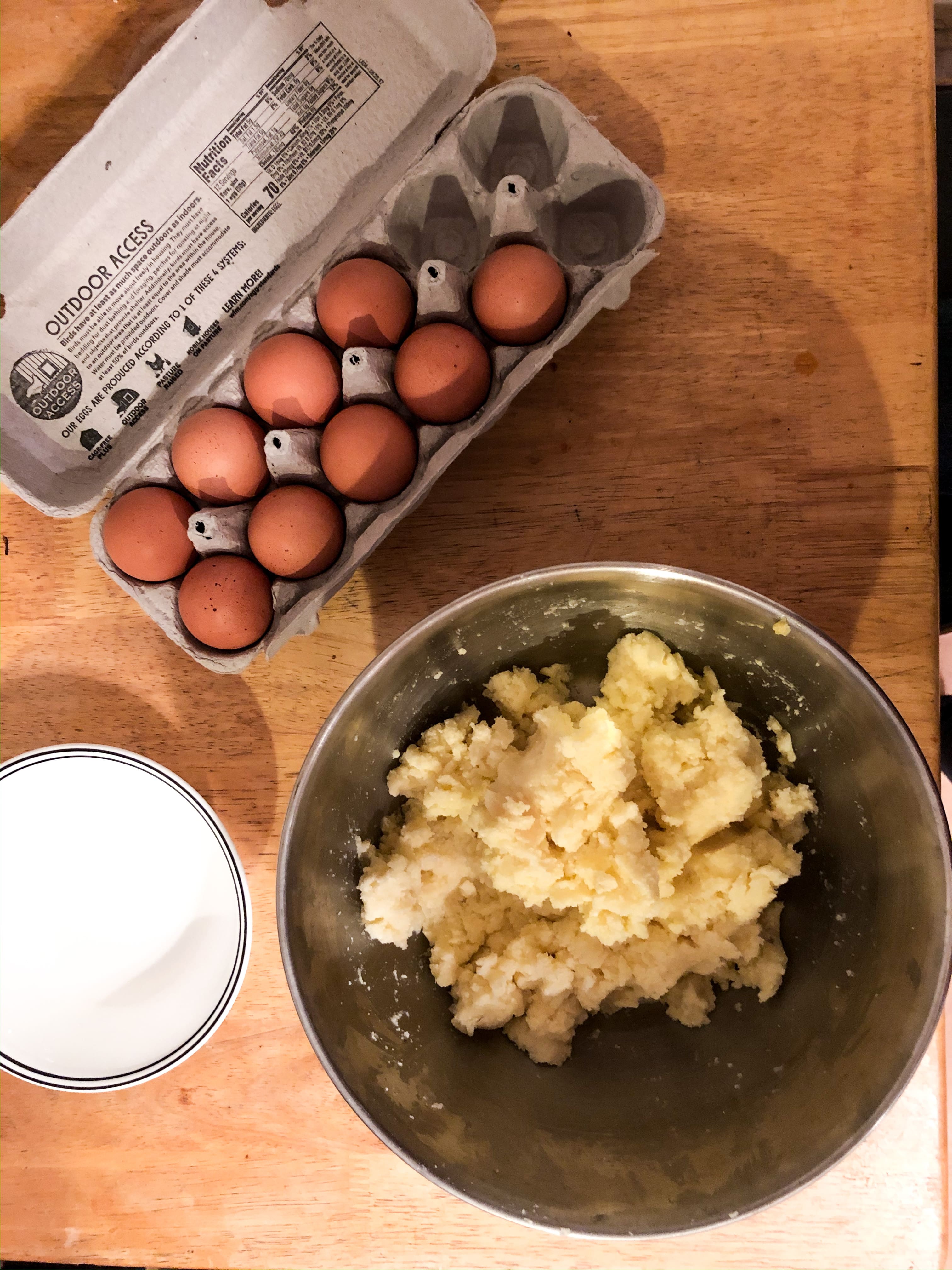 After that's together, it's time to mix in the flour. It's best to mix it with your hands again, and important to mix it in gradually, avoiding clumps. You will want to add in enough flour for the dough to come together without overworking it. It can be a little tough to gage, but if the dough is sticking to your hands you probably need a little more flour.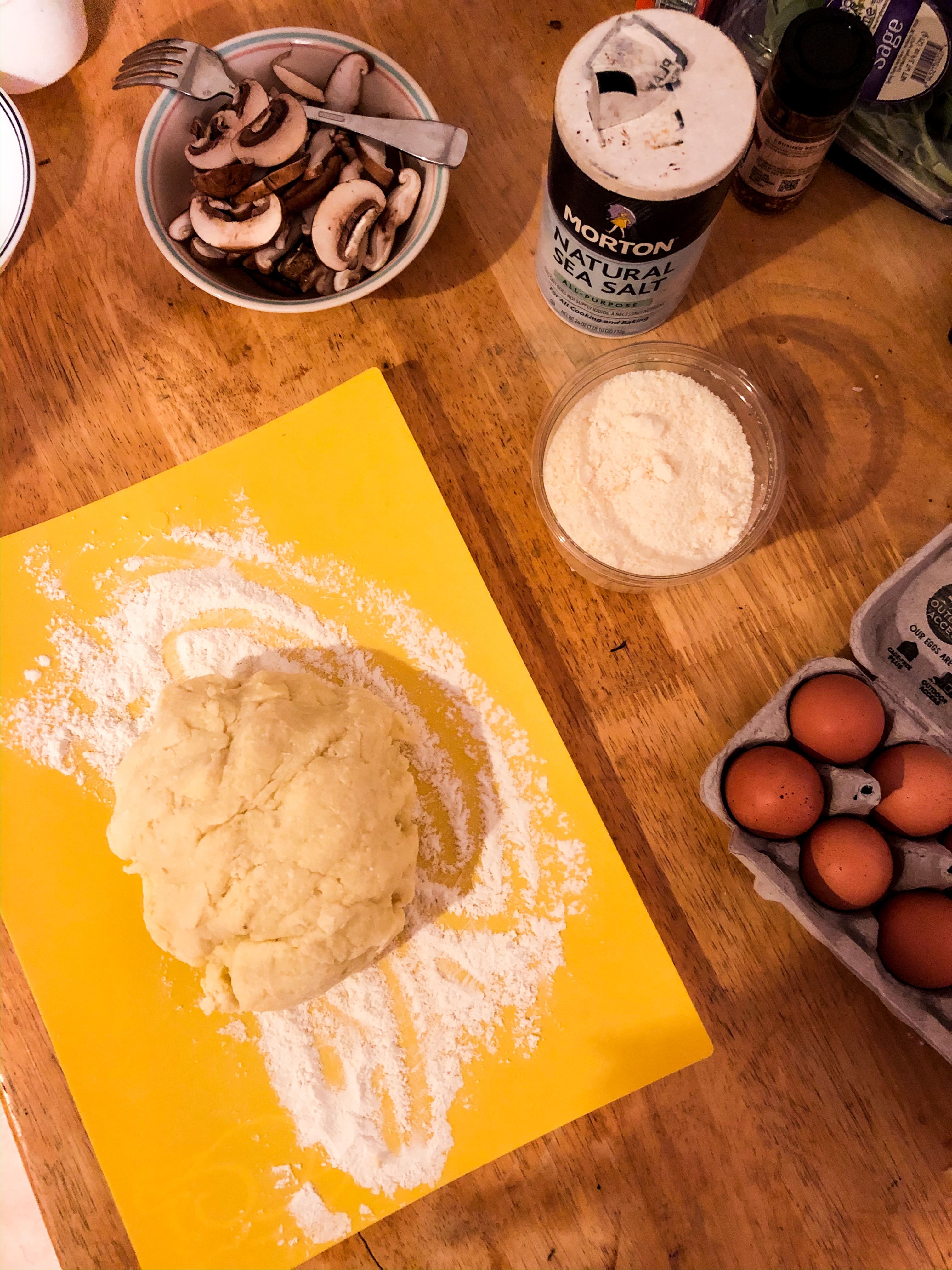 Now, take your dough ball, and cut it into smaller dough balls, probably around 6.
You are going to want to take each of these smaller dough balls and roll them out into a long dough snake (just like play-do). It's best to do this on a flat surface with a decent amount of space like a counter or a table. You might want to sprinkle some flour on the surface before you roll to prevent sticking.
Then, cut your dough snake with a knife into bite sized pieces.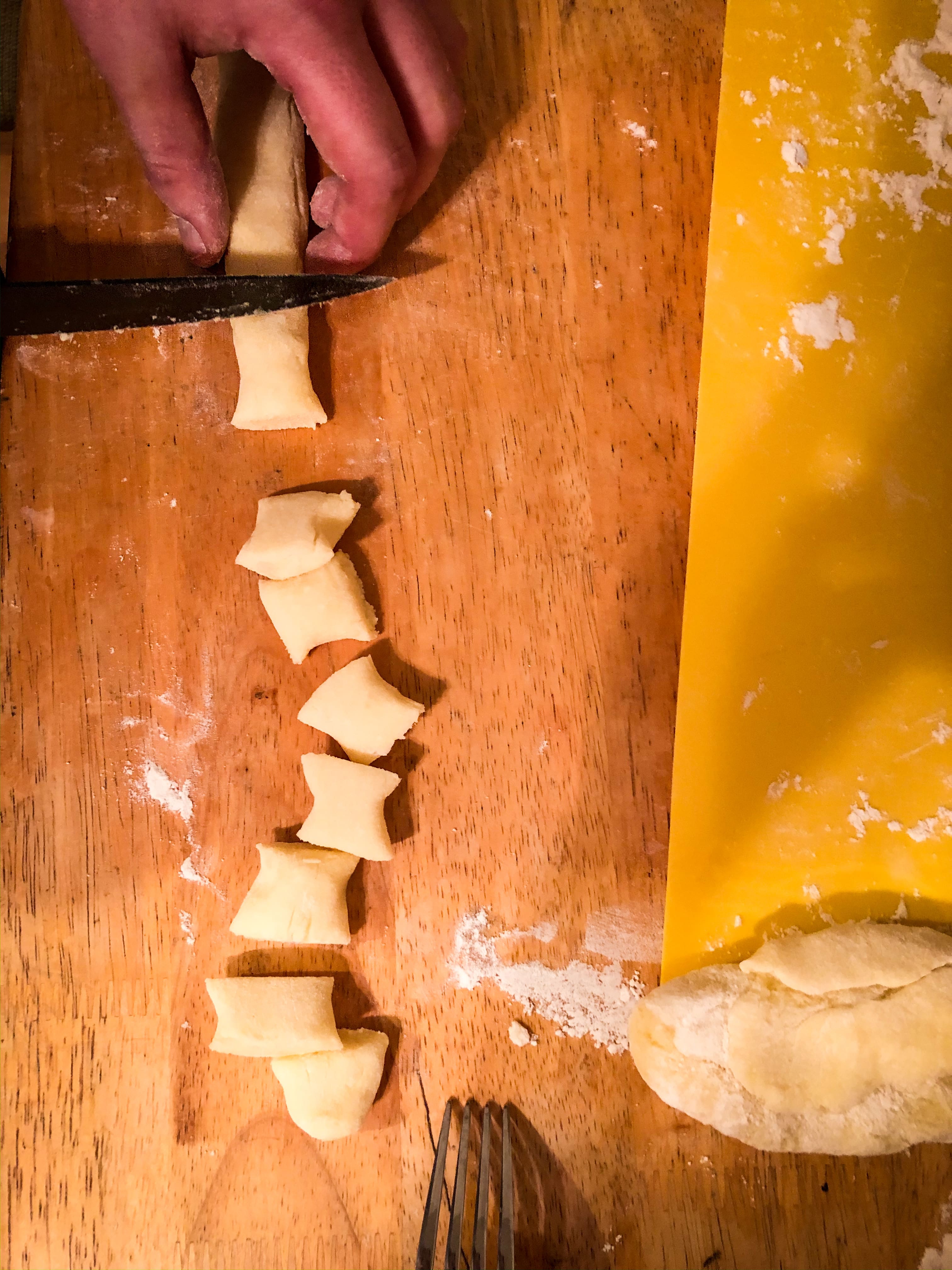 At this point, you probably want to start boiling water. If you are planning on sauteing some mushrooms to go with the gnocchi, it is a good time to start those as well. Just throw them in the pan with some butter or olive oil, some sage, and a little garlic if you want for about 12 to 15 minutes over medium heat
Back to the gnocchi. This step isn't essential to how your gnocchi is going to taste, but it does give you that "I know what I'm doing" look. Lay a fork face down on a table, take the little pieces of gnocchi you have and roll them over the back of the fork. That's what will give it it's pretty little shape.
After you've finished that, it's time to cook! I did this in four "batches." Next to your pot with boiling water, melt up a quarter stick of butter, sprinkle in some almonds and add a sprig of sage (this will make your brown butter sauce). Drop a batch of the gnocchi into the boiling water and wait until they rise to the top. Once they're floating on the surface, you can scoop them out.
Take those gnocchi from the water and place them in the pan. Saute them until golden brown on both sides, and they're done! Just be careful not to crush them in the pan.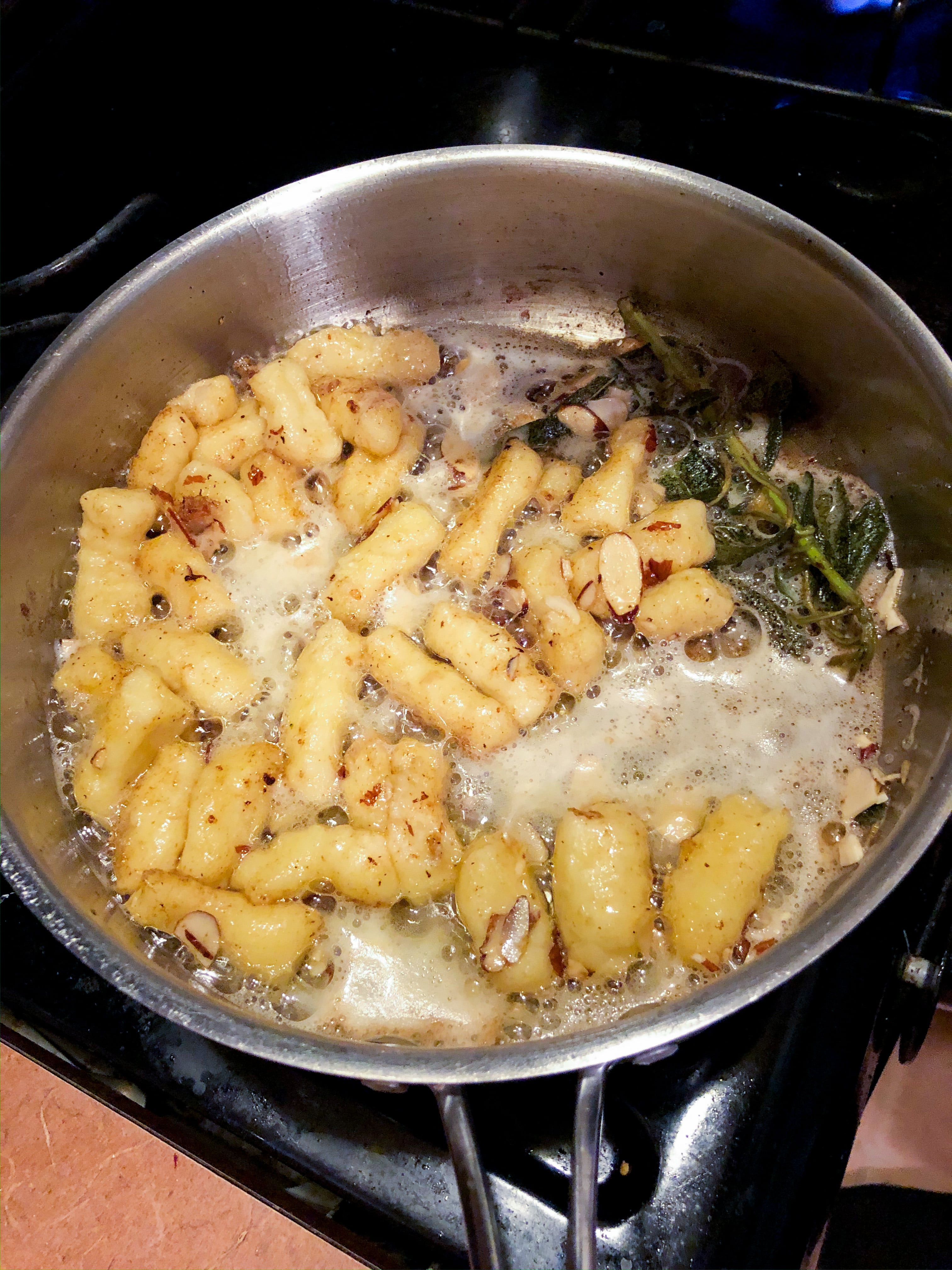 I'd love to swap recipes with you, or hear how this one goes!
Want to see more content like this? Sign up for our Newsletter!