FOOLPROOF POKE RECIPE THAT'S SURE TO IMPRESS
This is the perfect recipe for entertaining, or just enjoying. Poke is fresh, healthy, and makes for a great hors d'oeuvre or light meal. It is also, and I can't emphasize this enough, VERY easy to make.
This poke is great for impressing your parents, friends, significant other, or any lucky guest at your table. It is also a great way to trick people into thinking you're an adult or a great chef.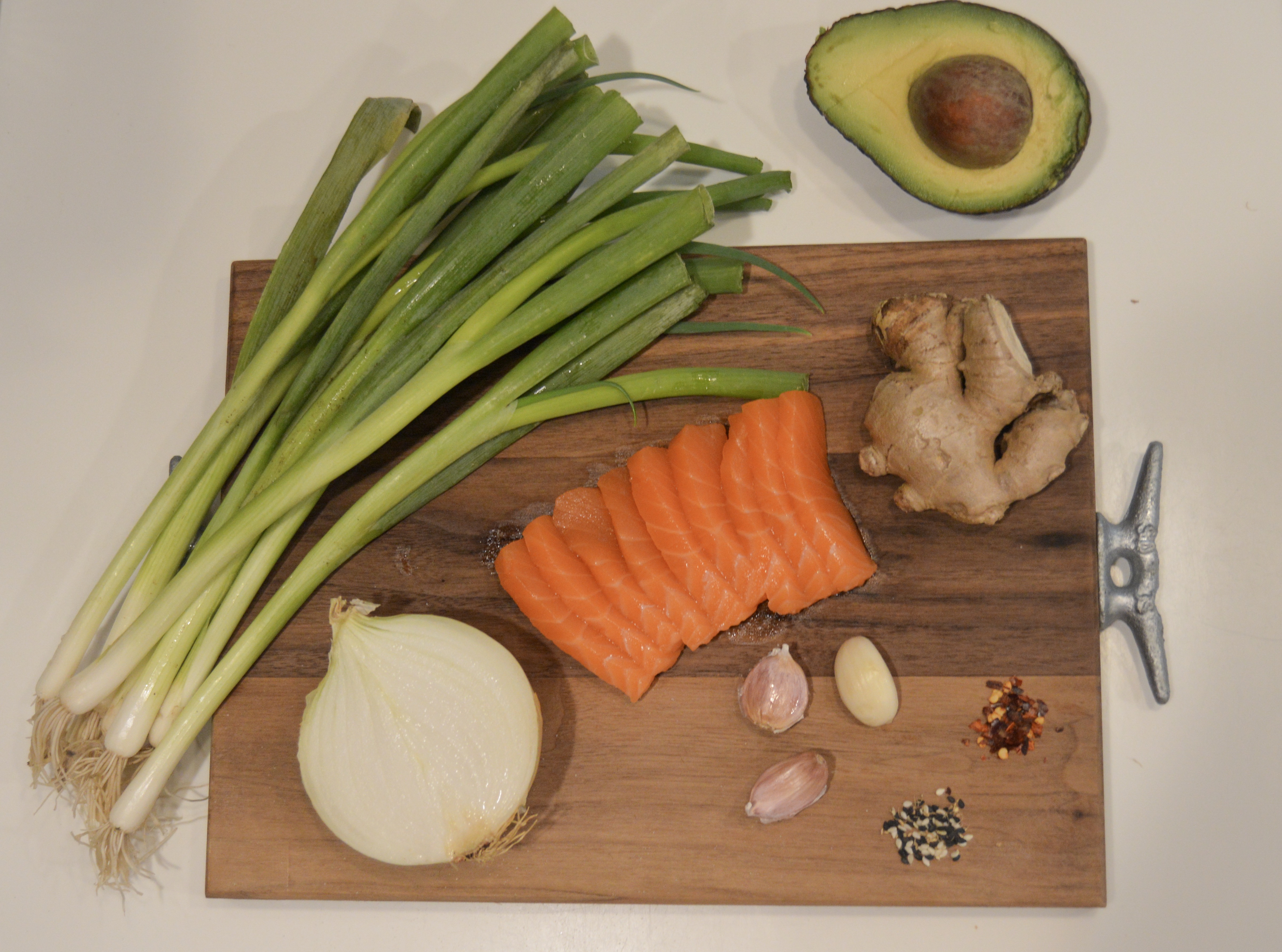 While poke can seem like an intimidating dish, the only skills you need for this recipe are shopping, following directions, and using a knife (hopefully without cutting yourself).
Another great thing about this recipe is that all of the ingredients can be to taste, and you can omit or add anything you see fit. It's foolproof.
The recipe as I have it makes enough to serve 2 as a light meal or 4 - 6 as an appetizer.
You will need:
5 oz. Sushi-grade Tuna or Salmon
I have made this recipe with both varieties of fish in the past, and it is delicious either way. The important thing is that the fish is sushi-grade, or safe for raw consumption. You may need to go to Whole Foods or Wegmans, both carry it.
2 green onions
(scallions)
1 small ginger root
(peeled)
1 clove of garlic
1/2 an avocado
1/4 of an onion
(any variety)
2 tablespoons of soy sauce
(substitute coconut aminos or salt to taste for an easy gluten-free option)
1 tablespoon of toasted sesame oil
(can substitute regular sesame oil, or omit)
crushed red pepper
(to taste)
black and white sesame seeds
(they add texture, but they also look cute)
crackers
I used wasa® Sesame & Sea Salt Flatbread Thins. I prefer thinner crackers, but you can use anything you like. Rice or almond crackers are a tasty and gluten-free modification. This recipe also makes a great lettuce wrap filling!
Directions:
First, cut the fish into small cubes. I used salmon here.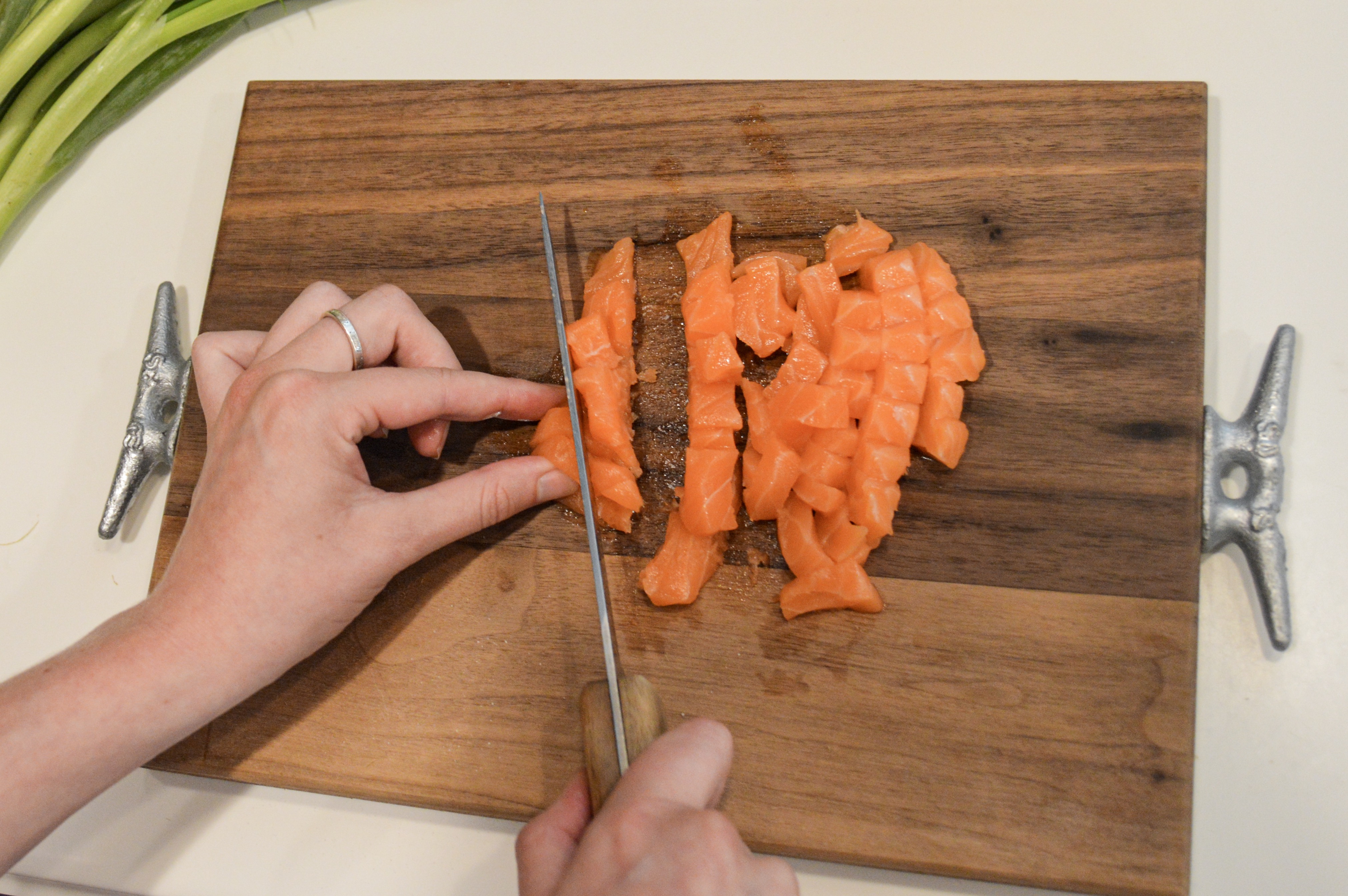 Then, cut the scallions (only the green part), and throw them in a bowl with the fish.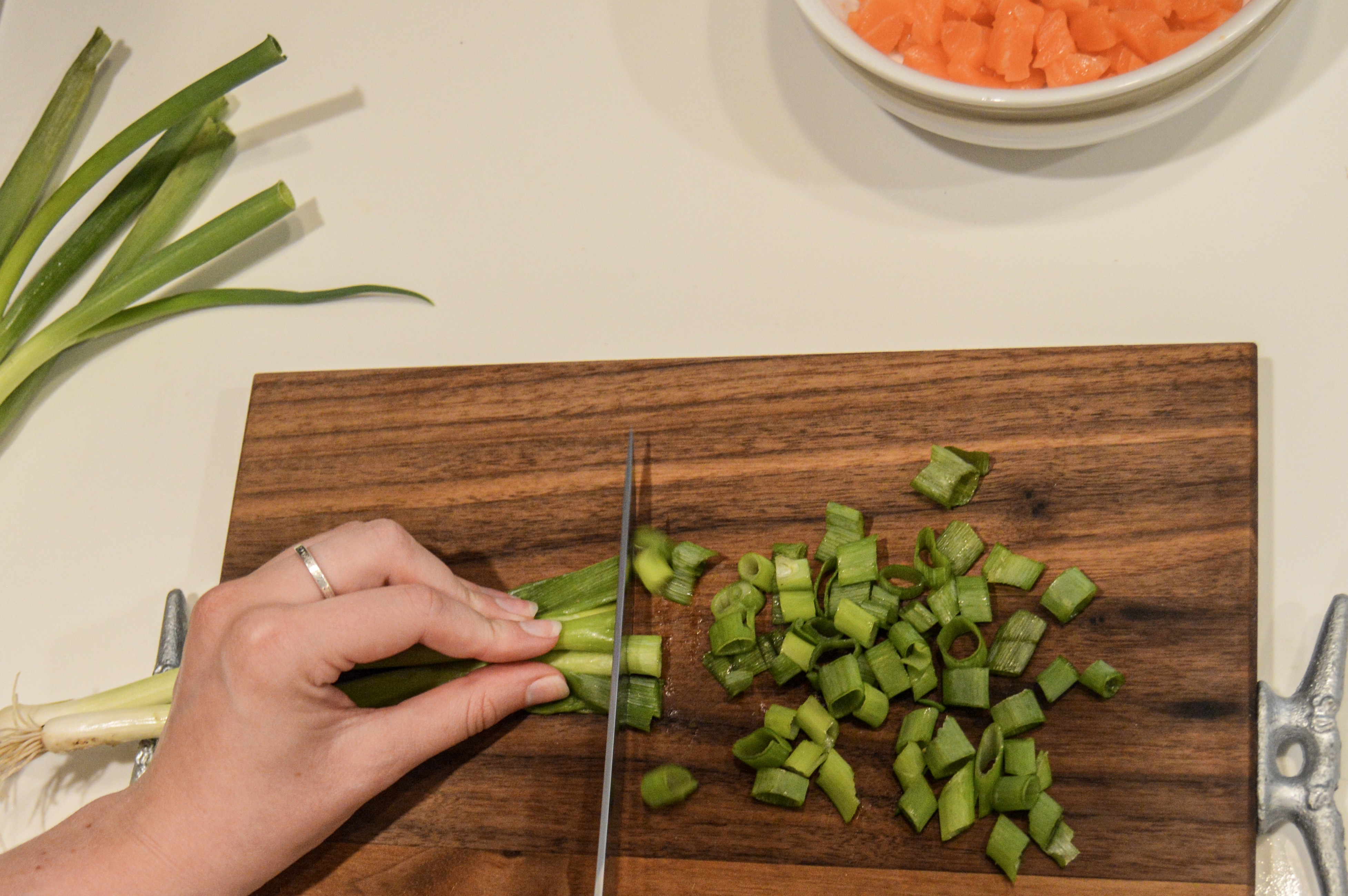 The next step is to peel your garlic and ginger (a good trick for easily peeling ginger is to use the edge of a spoon as shown below.)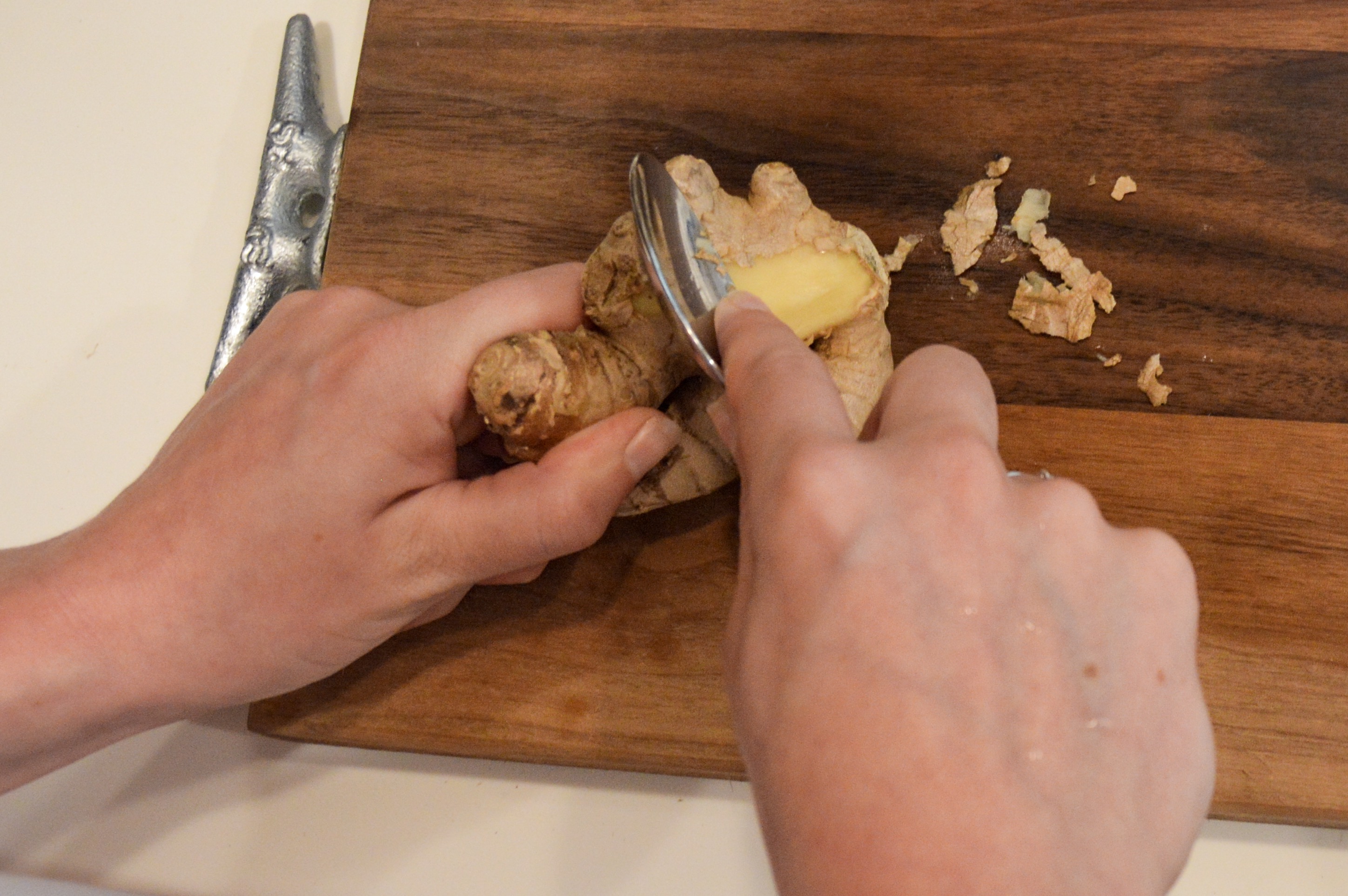 Then, dice the ginger, garlic, and onion. It is important to remember that these ingredients are all raw, and they all have a decently strong flavor. I used 1 clove of garlic, about 3/4in x 1in of ginger root, and 1/4 of an onion, but you can add as much or as little as you see fit.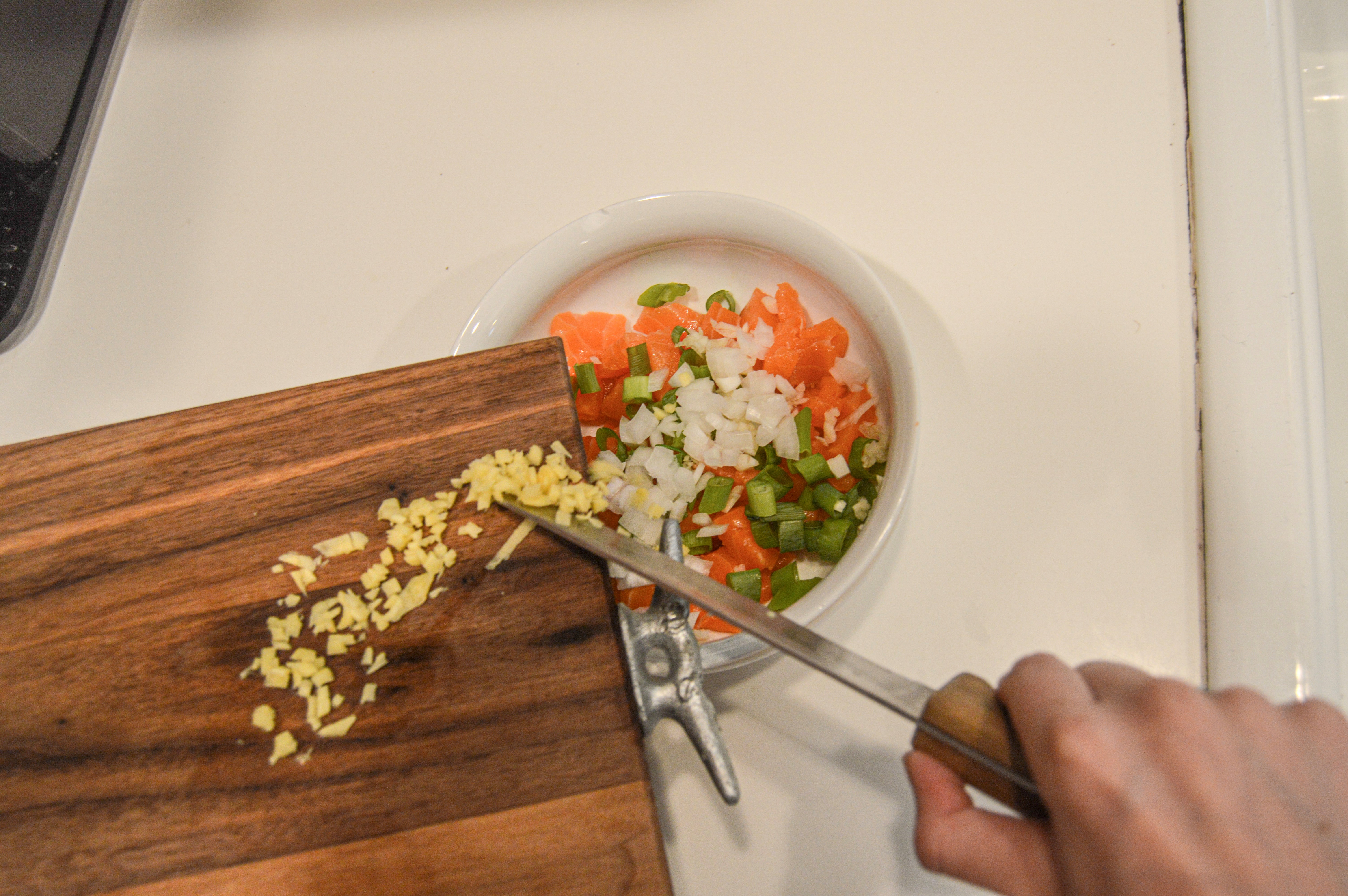 After you've done all that chopping, add in the soy sauce, sesame oil, red pepper flakes and sesame seeds. Everything should be in the bowl besides the avocado.
Then, mix the ingredients in the bowl until they are evenly dispersed and place the bowl in the fridge for 15 minutes to a half hour, or until you are ready to serve. This step helps all the flavors really come together.
When you're ready to serve, cut the avocado into cubes approximately the same size as the fish, and gently fold into the bowl making sure not to squash your avocado cubes.
I like to sprinkle some more sesame seeds and red pepper on the top just for presentation, but that's it!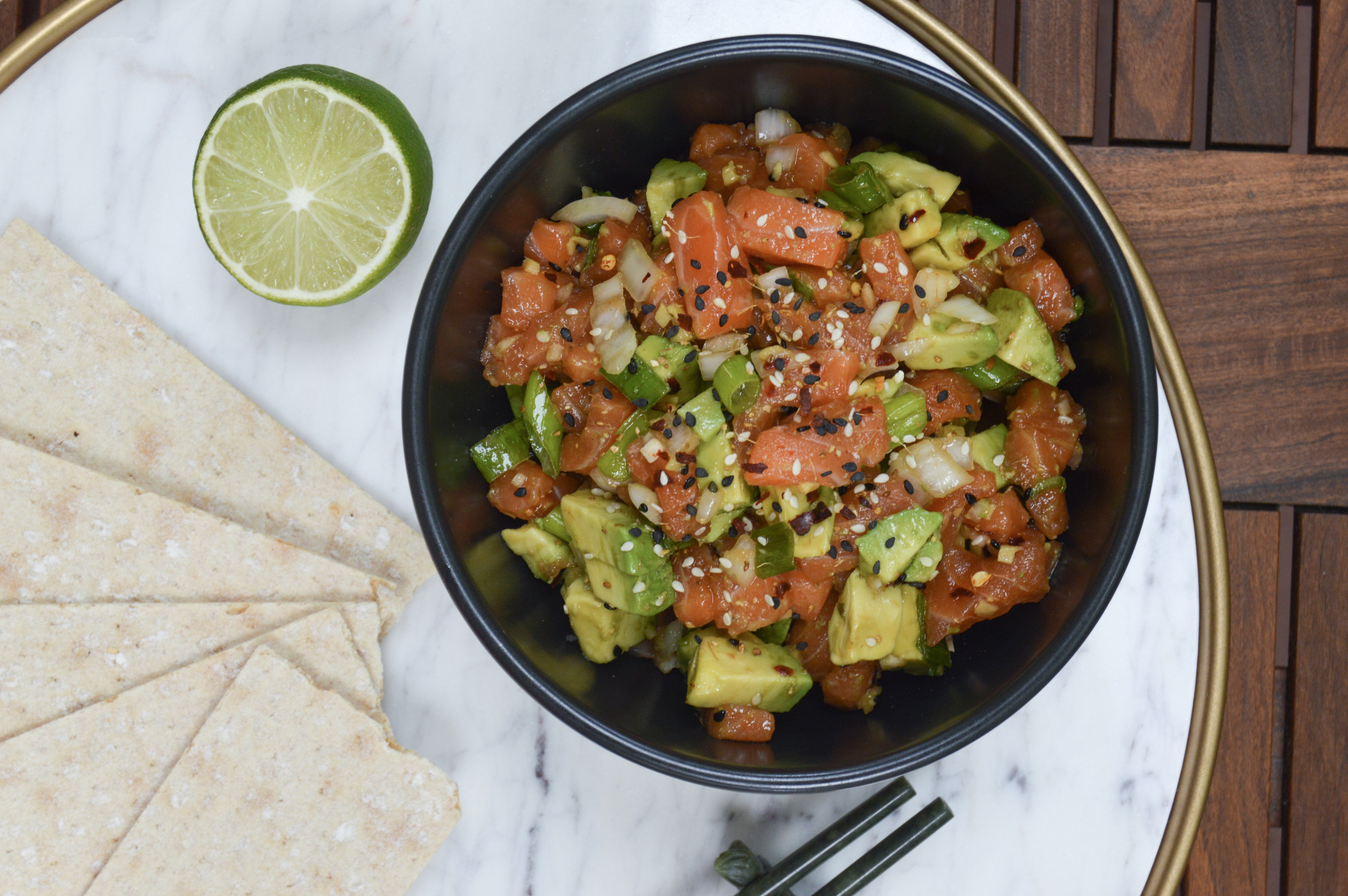 I am not someone who does exact measuring when I cook, and tend to add things based on my mood, so feel free to make this recipe your own! Be creative and take some risks, I promise it's a lot of fun.
Cooking things that seem "fancy" or "complicated" can be super intimidating, but cooking is a great skill to have under your belt, and most things are pretty easy to do at home with a little practice and a willingness to try.
I'd love to see you all trying this recipe, so please tag me @erinkeavs in your instagram stories or posts if you do!