Utah's Mighty Five And The Grand Canyon — 8 Day Road Trip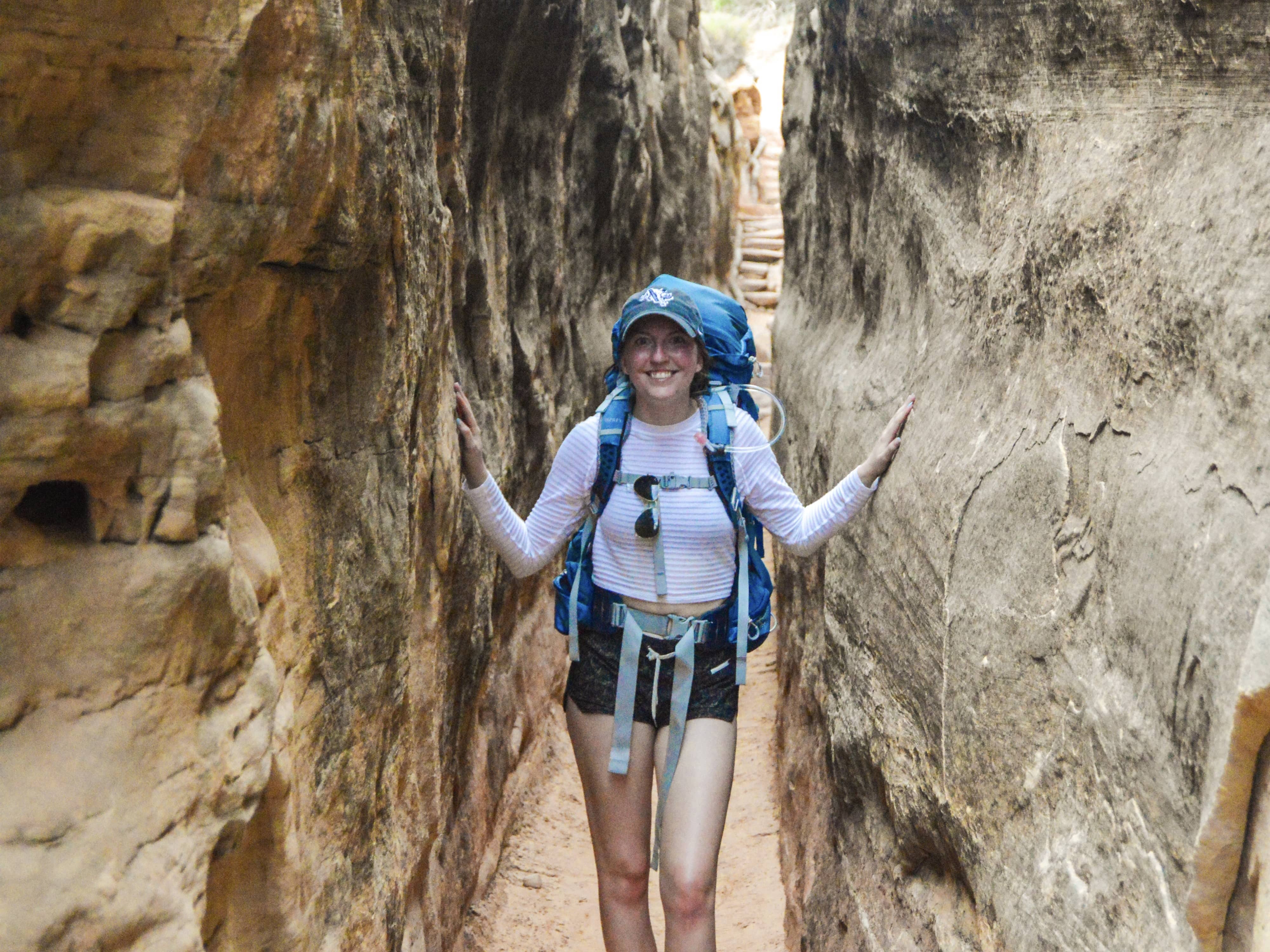 Friday, August 13, 2021
This July Nick and I took the Utah adventure trip of a lifetime. We made our way out to all five national parks in Utah, and took a short stop at the Grand Canyon.
It was a busy trip so I'm going to mostly highlight what I think of as my "can't miss list." Still, this is going to be a long, jam-packed post.
If you're planning on heading out west to see Utah and the mighty five. I would highly suggest saving Zion for last. In my opinion it was by far the most impressive of the five Utah Parks. I've also included a packing list and linked my favorite camping equipment at the end of the post.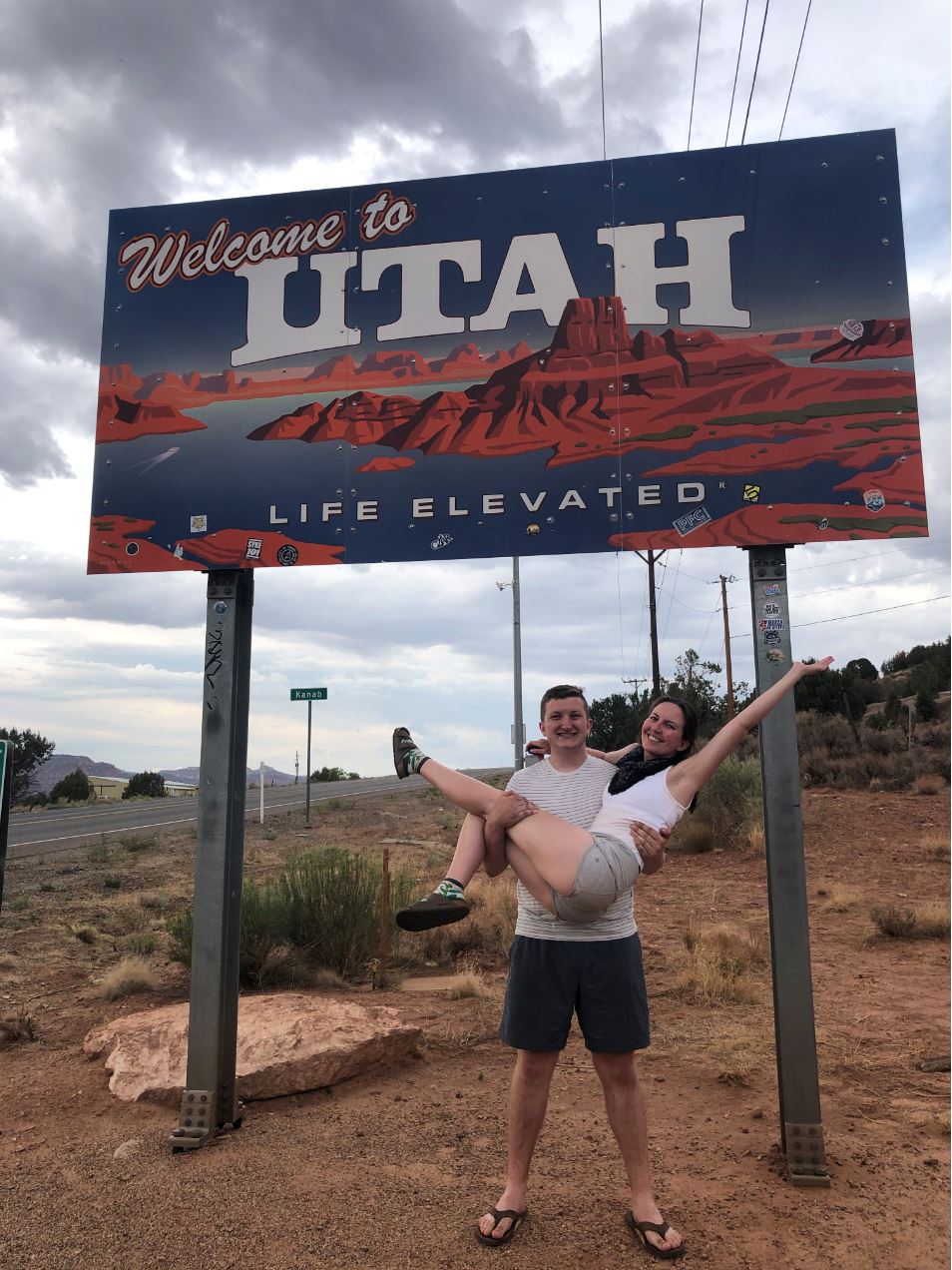 Getting There & Getting Around
We flew into Salt Lake City where we rented a car and flew back home out of St. George. While choosing our rental car we took into account that we would need our vehicle to have certain capabilities for a few parts of our journey and ended up renting a Chevy Silverado. It was the absolute perfect choice for us. We had the ability to off-road, which we needed for Canyonlands, and it had plenty of room for our suitcases and all of our gear. Plus, I found it really fun to drive.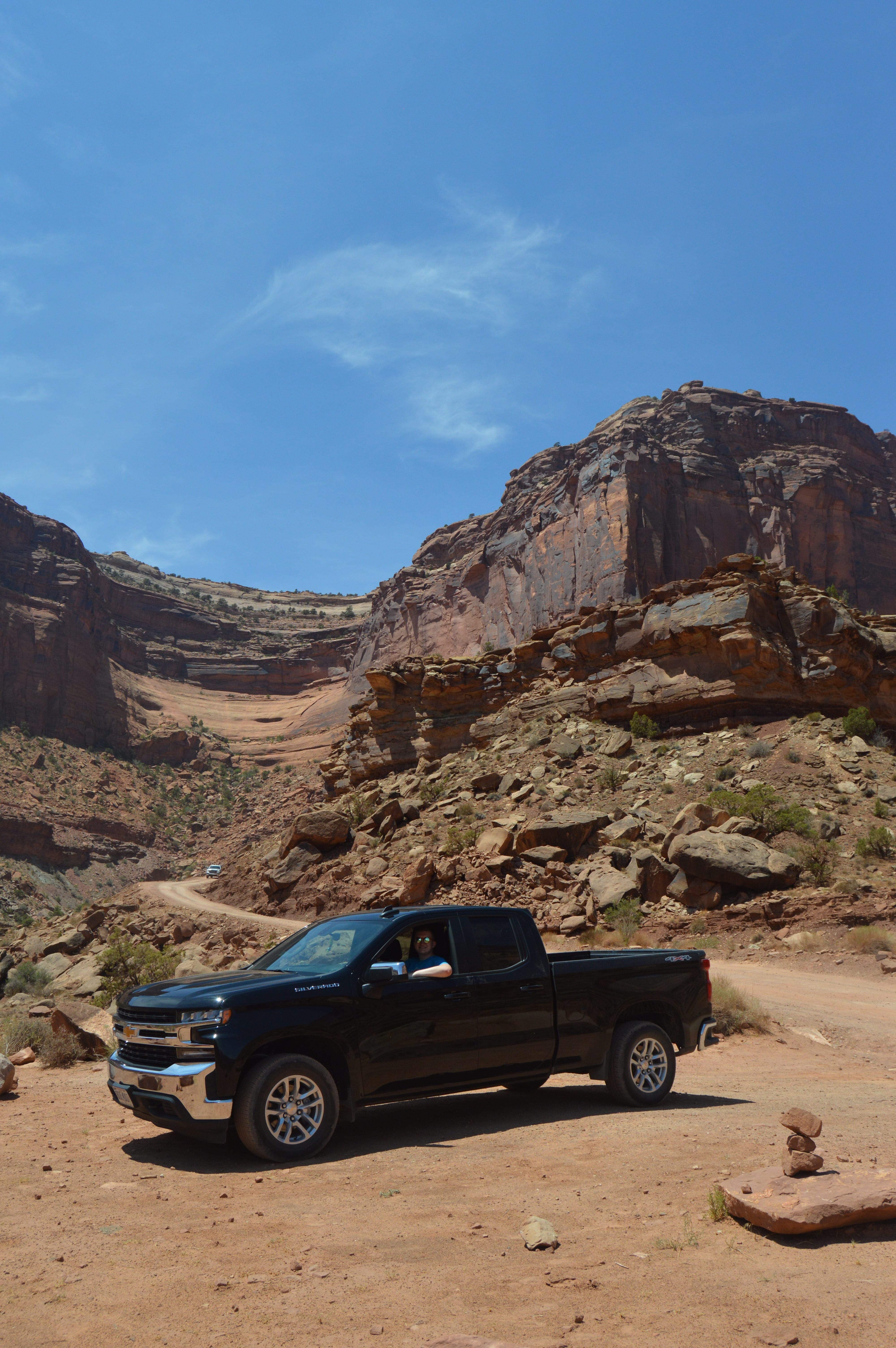 Moab, Utah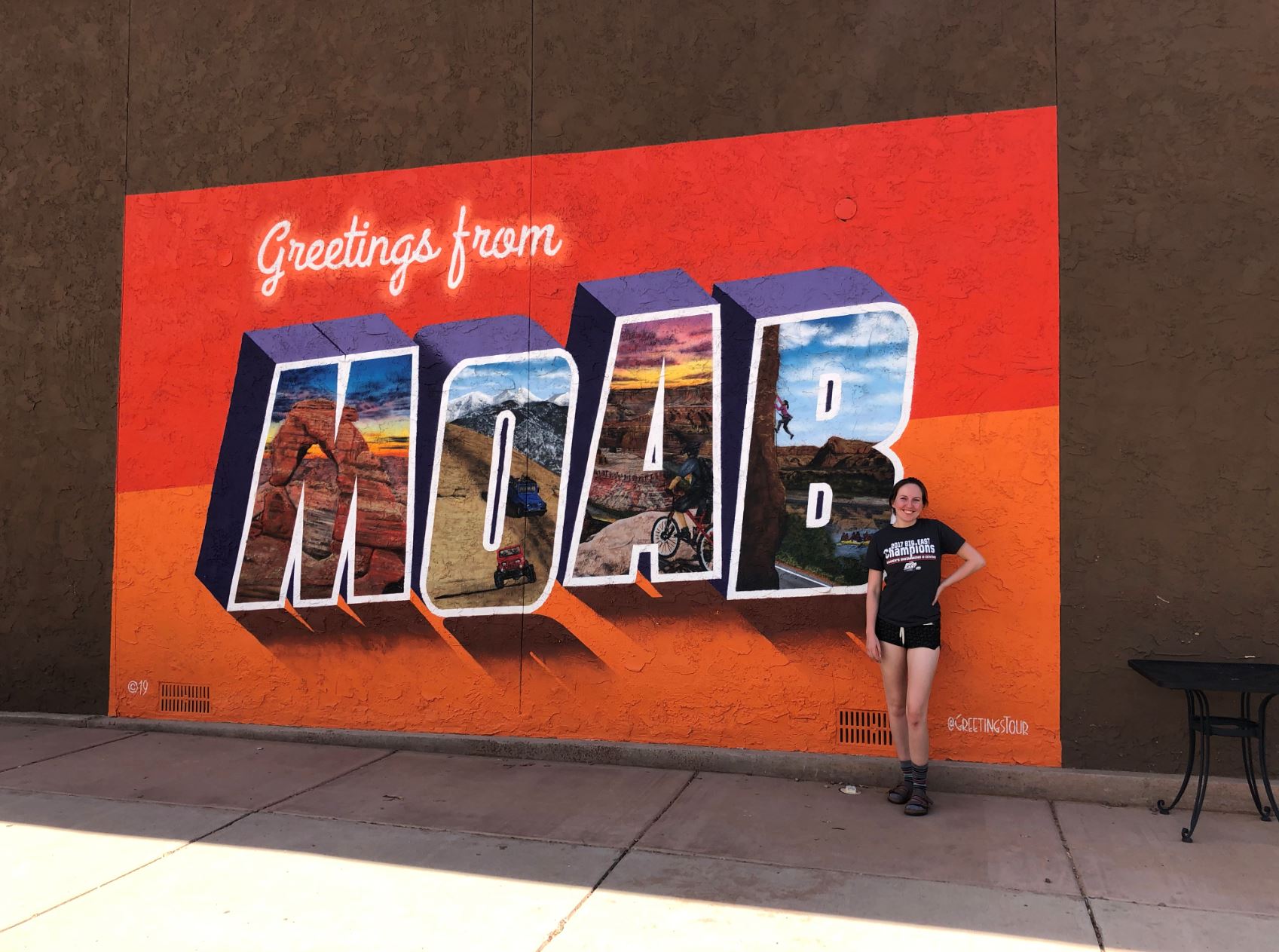 Moab is the town centrally located to Arches National Park, Canyonlands National Park and Dead Horse State Park. This is probably the opinion of a tourist, but the town is so cute. All I could have imagined, fulfilling my Radiator Springs dreams.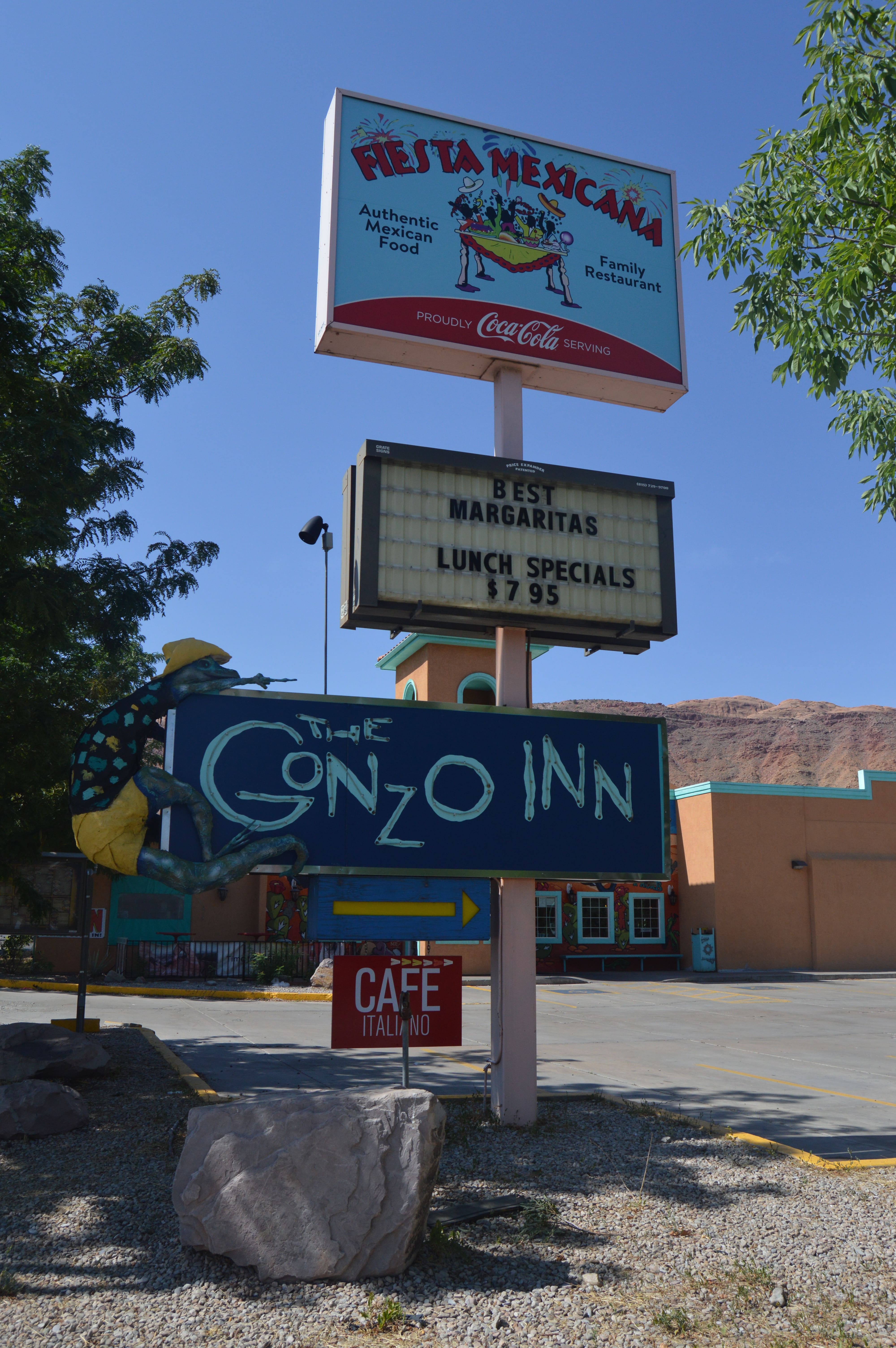 We stayed at the Gonzo Inn, which I would highly recommend. It's a boutique hotel with lovely accommodations and is walking distance to everything in town. Our room was clean and comfortable, with a renovated bathroom—which was my favorite part of the room. It was a walk in, heated room, waterfall shower tiled with river rocks, yes please. It also has a pool, an amazing inclusive Italian breakfast, and has been family owned since the 80s. Especially now, supporting local business is really important to me, and that was a huge plus.
Dead Horse State Park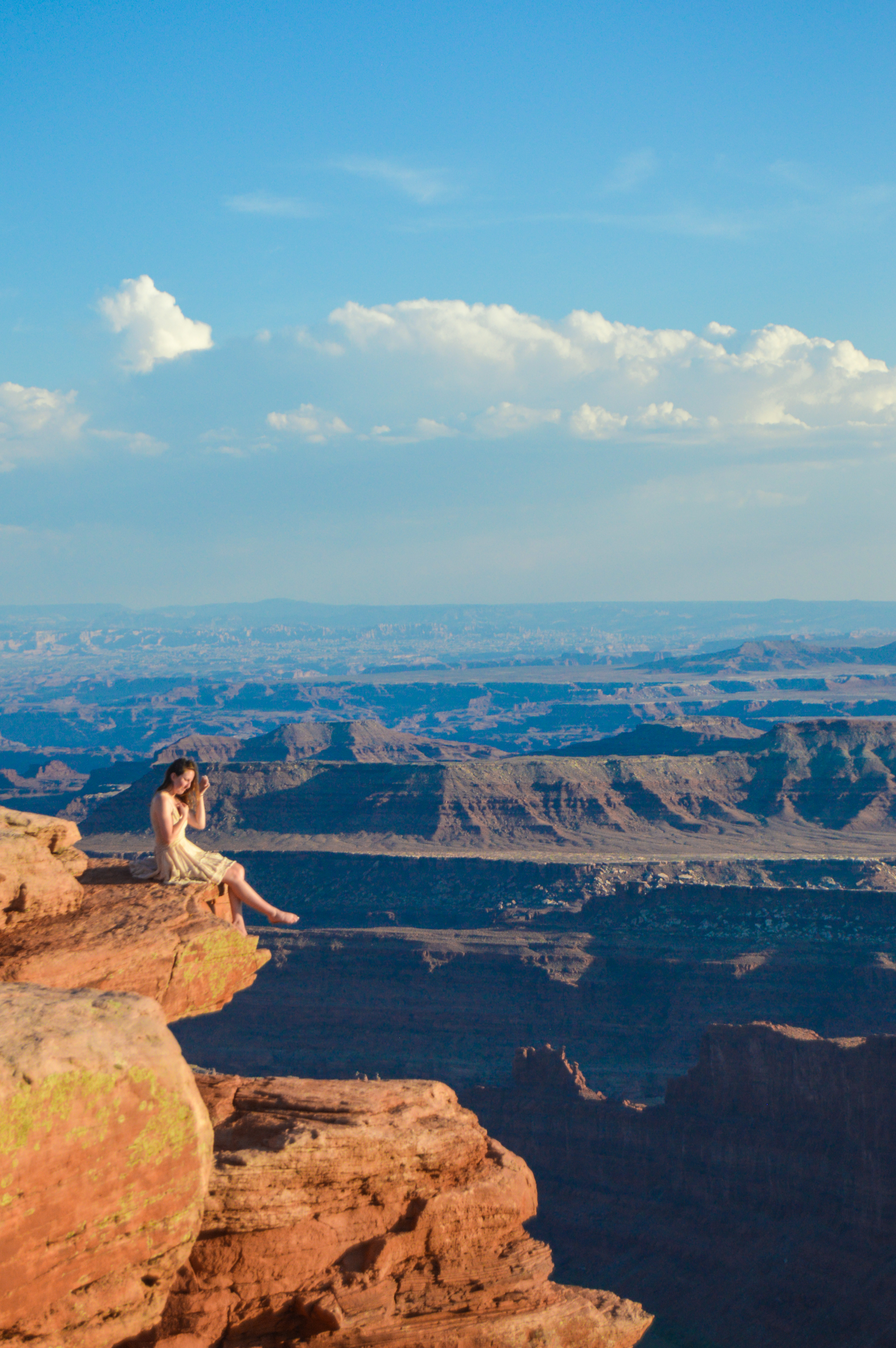 If you're staying in Moab, absolutely spend an evening in Dead Horse State Park. I wanted to go because it was one of the places, I really wanted a picture. It's a really beautiful spot, especially if you hike about 20 minutes out to the ridge. For a stunning sunset view over a stunning canyon, don't miss dead horse.
Canyonlands
Canyonlands was one of my favorite places on our trip. Om the first day there, we went on the "loop trail" dive that most of the national parks have. I would actually highly suggest following the maps they offer at any park to get a lay of the land. They're a really excellent resource. One of the main stops at Canyonlands, which is very famous but also included on their map, is the Mesa Arch. It is a short hike about 20 minutes from the road, and near a great viewpoint of the Canyon.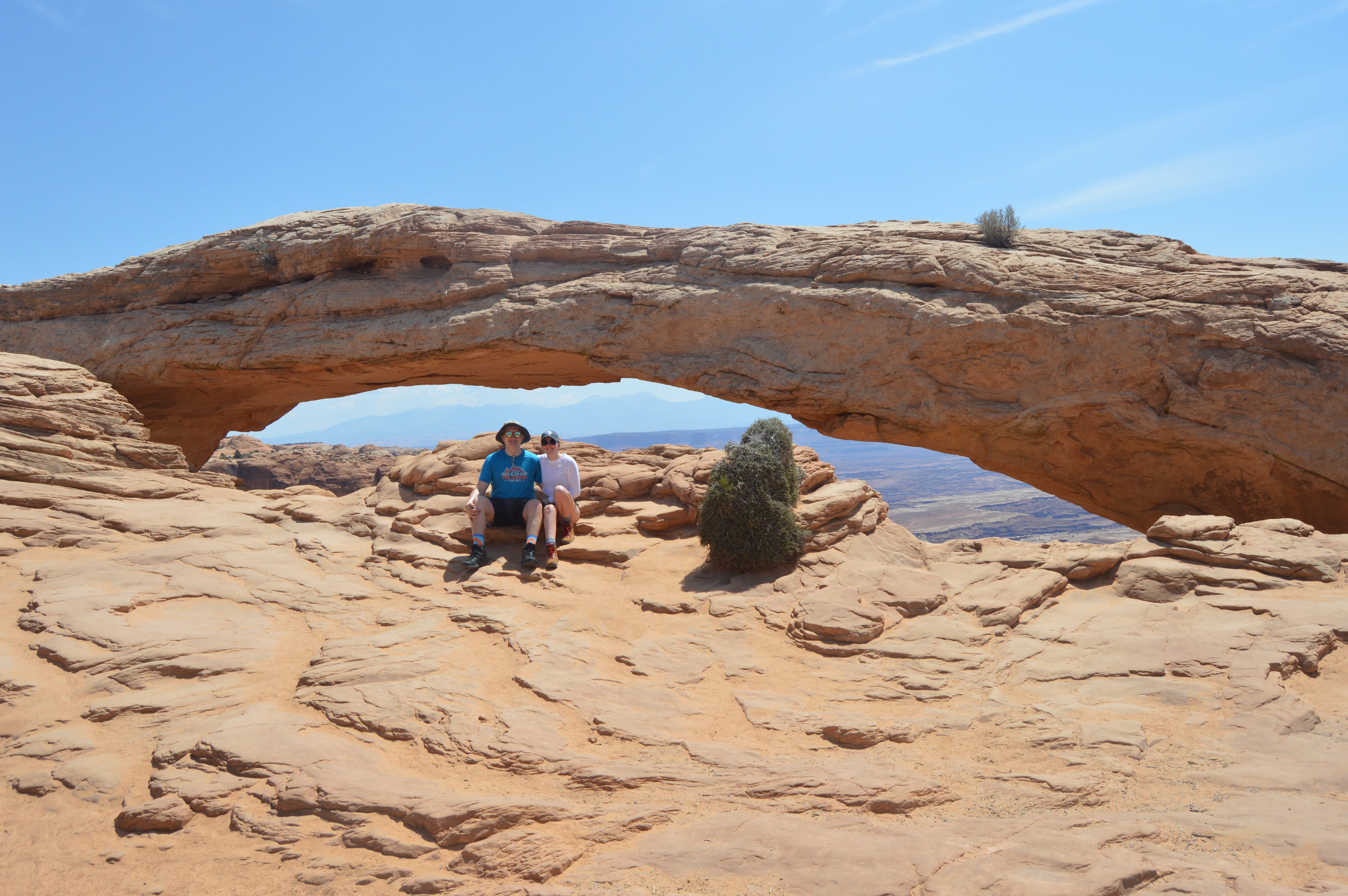 After the loop dive, we took to off-roading, and conquered the Shafer Trail. You definitely need four-wheel drive and a bit of nerve to take it on. If you have the chance, the Shafer to Potash trail (which is a left turn at the fork) is a great experience. It lets you drive down the Canyon, the same Canyon that Dead Horse Point overlooks, and back to Moab. A really fun, air-conditioned way to see things you wouldn't otherwise.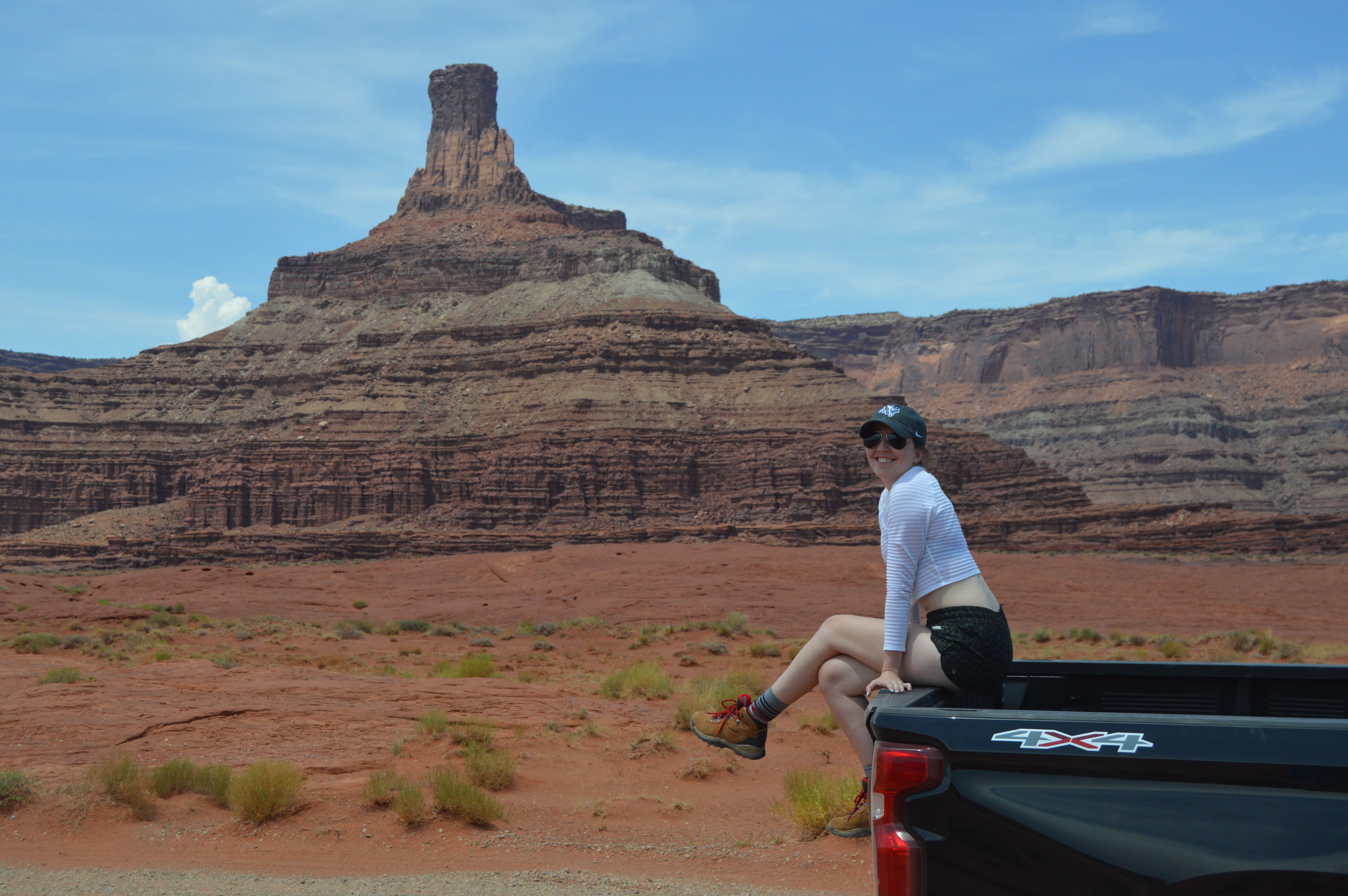 Our second day, we headed out on our first back country experience in Utah. We camped out in the Canyonlands Needles District. It is a little farther away from the rest of the park but the most beautiful part of the park in my opinion. I would highly recommend it.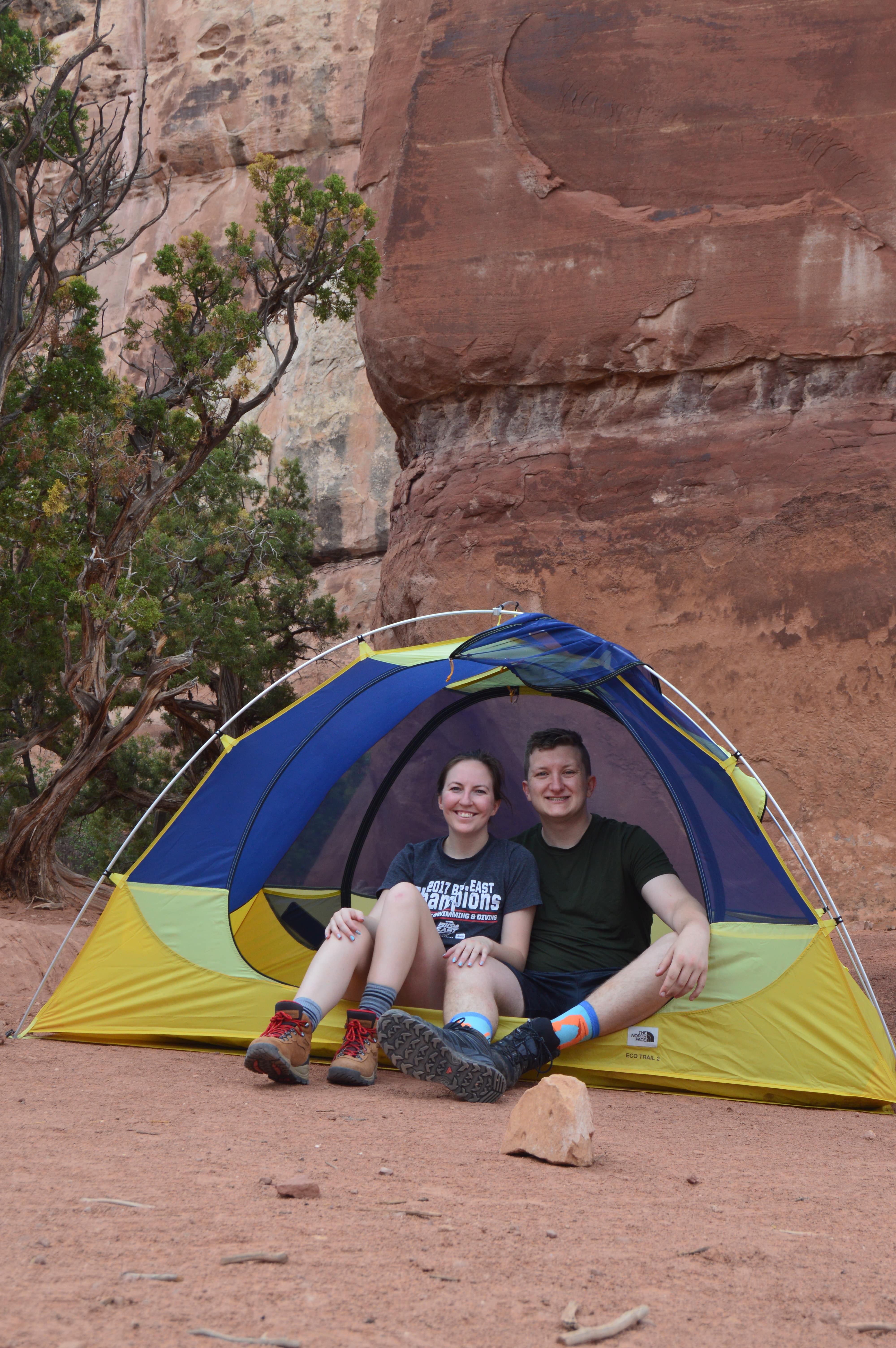 We hiked from the Elephant Hill Trailhead to Chesler park campsite and stayed at CP1. The hike was pretty difficult, and I would not suggest it in the summer peak heat hours. We started at about 4pm, and carried 13 liters of water between the two of us. It is a stunning way to get the full experience of a park, from the scenery to stars at night.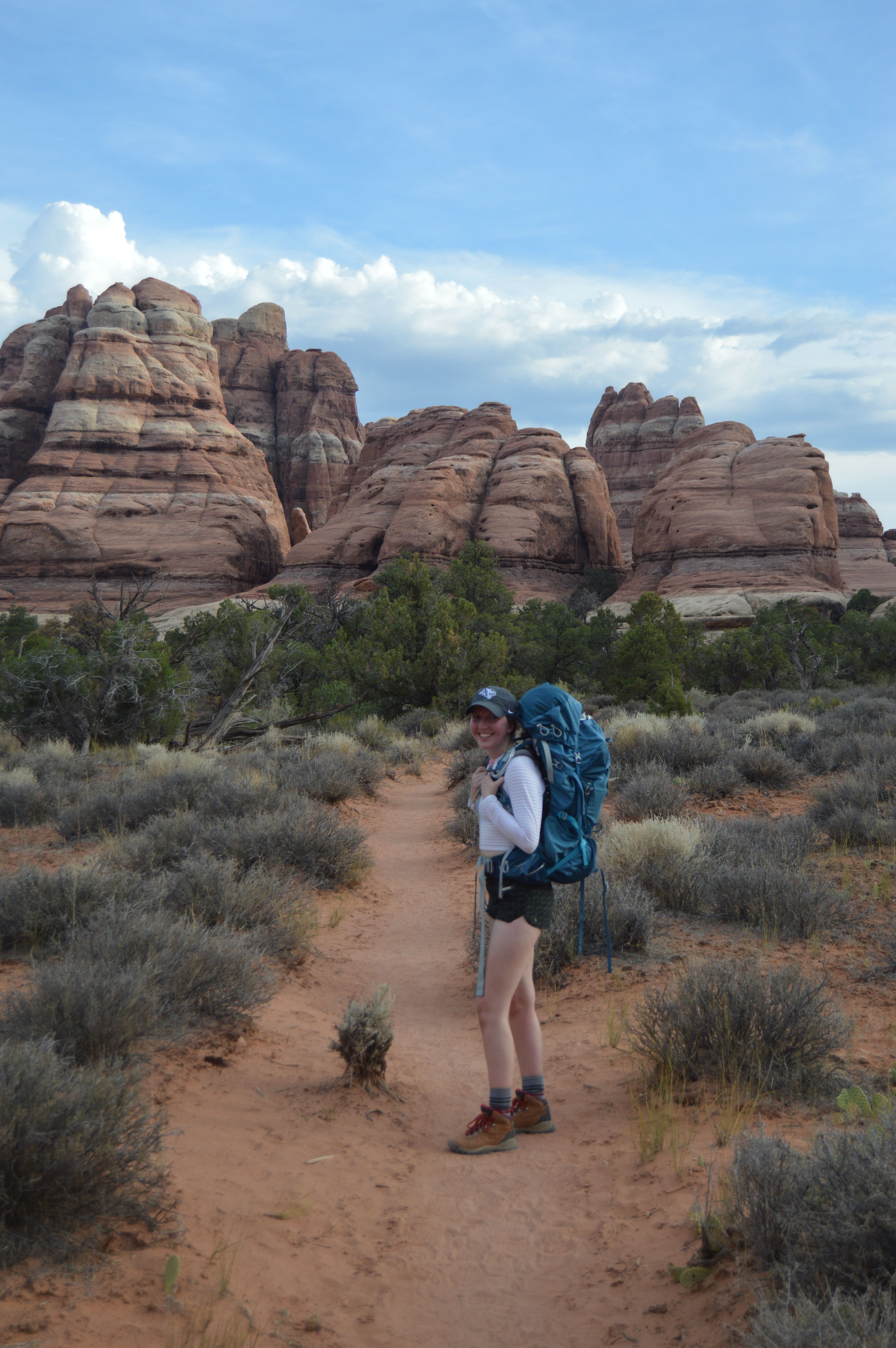 With any backcountry camping, it's important to remember that you need to carry in all of your supplies for as long as you're going to stay, as well as carry it out. This means everything from trash to toilet paper. You are also not allowed to have fires during most of the summer months due to the risk of forest fires. If you're worried about what to bring backpacking, I think the packing list at the end of the post will help.
Arches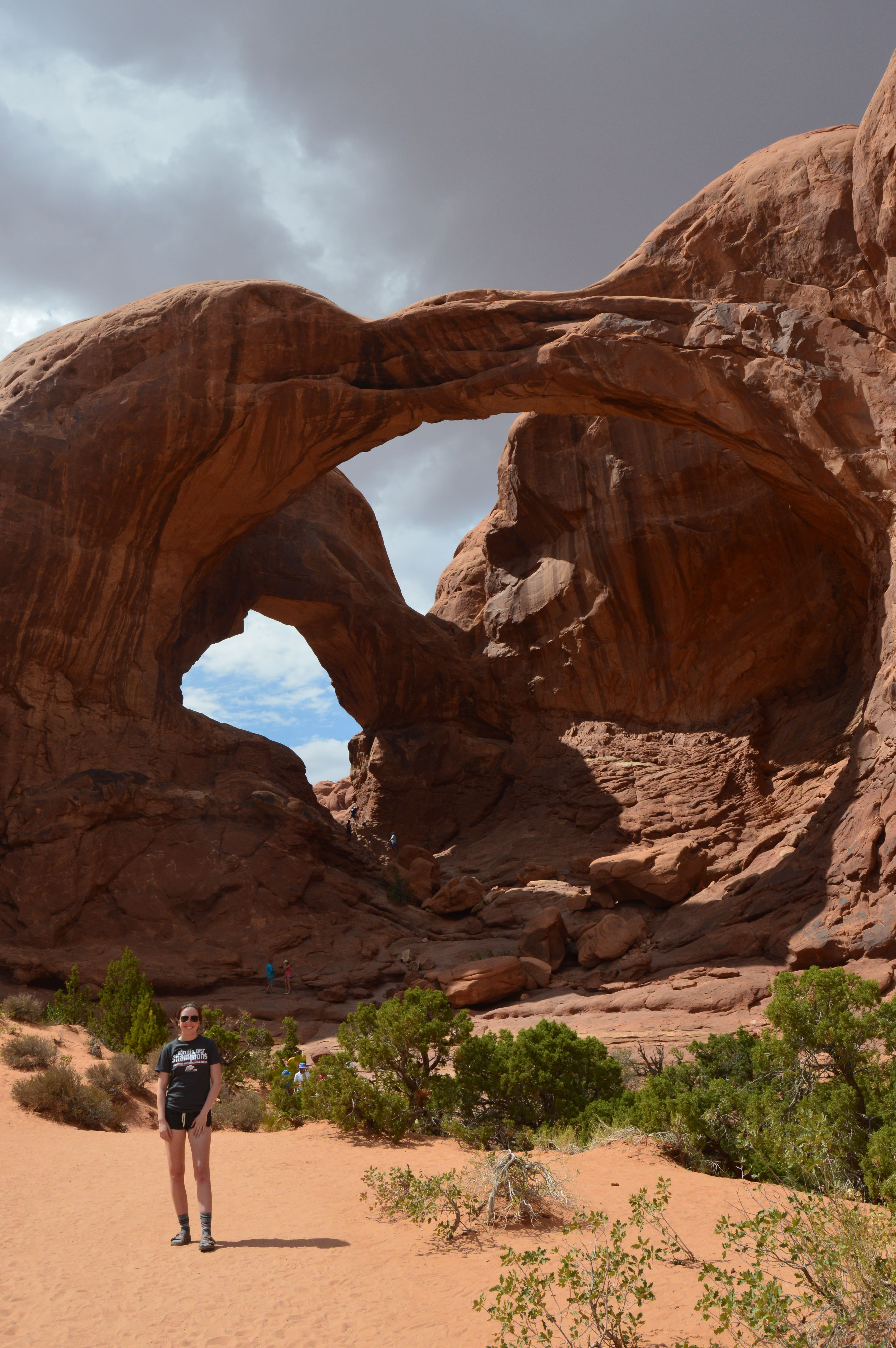 I'll admit, we didn't spend a lot of time here. It is very cool, but it was pouring rain when we were there. We did the loop road, and stopped a few times, with no major hikes. I would love to go back to appreciate it more, but honestly despite all the people that said this was their favorite park, this is the one I would skip.
Capitol Reef
Capitol Reef is the most remote and lease visited of all the parks in Utah. To give you a good example of how secluded the area is, it's surrounded by the last 2 mountain ranges to be surveyed in the continental US. It was one of the highlights of our trip for me, and I would highly suggest making a stop here. We spent two nights here because we couldn't resist the accommodations, but we stayed for the park's amazing features and quiet charm.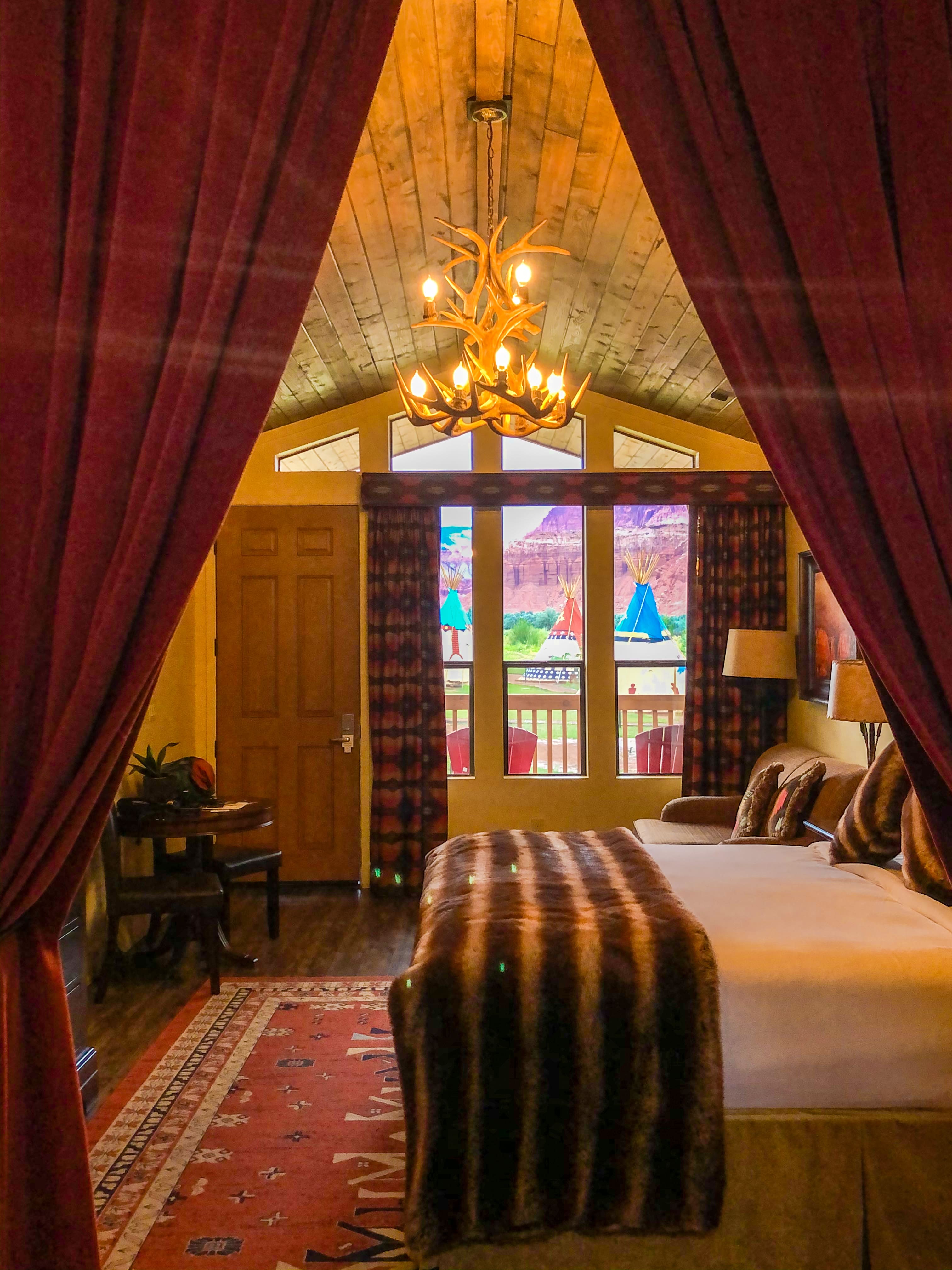 We stayed at the Capitol Reef Resort. I would go back here in a heartbeat. We stayed in a cabin, which was very luxurious and well worth the price. This was honestly one of my favorite hotels in the US. Plus, there were great park amenities that we could book through the hotel. After camping and long days of hiking, the multiple shower head shower and cloud-like bedding was just what the doctor ordered.
After we arrived late and stayed the night, we work up in the morning for Horseback riding. We booked through Wilderness Ridge Adventures, which is affiliated with the hotel and operates right on property. It was a great experience with experienced guides and horses. We chose the 2 hour morning ride.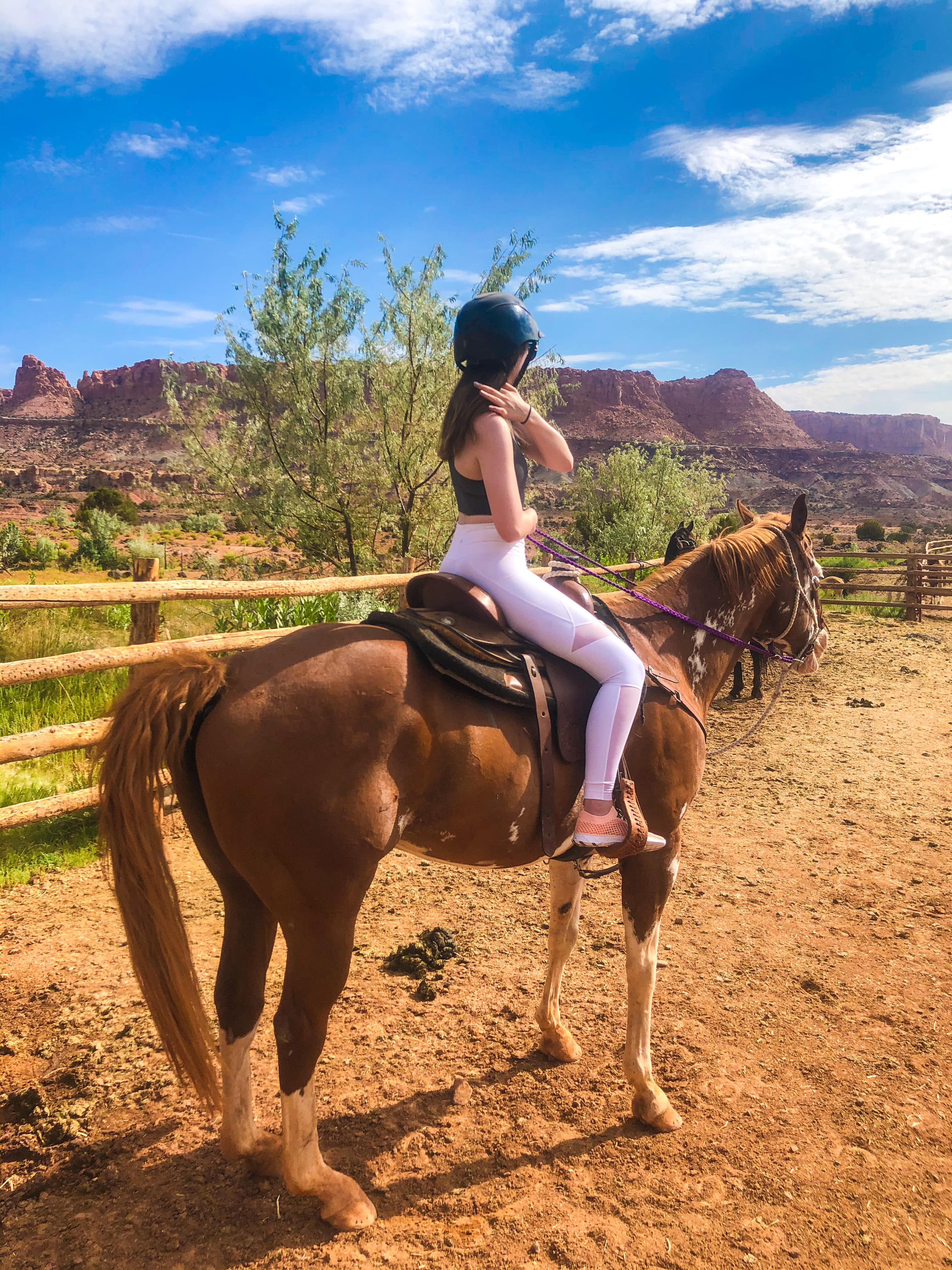 We also got the chance to meet the owner Brett, who guided us on our tour. It's always wonderful to enjoy an experience and connect with the owner of a small business as well as support them. I loved how much you can tell he cares for his horses, especially to some of the other more touristy pony experiences we saw later in the trip, which made me really sad for the animals. This experience was so worth it.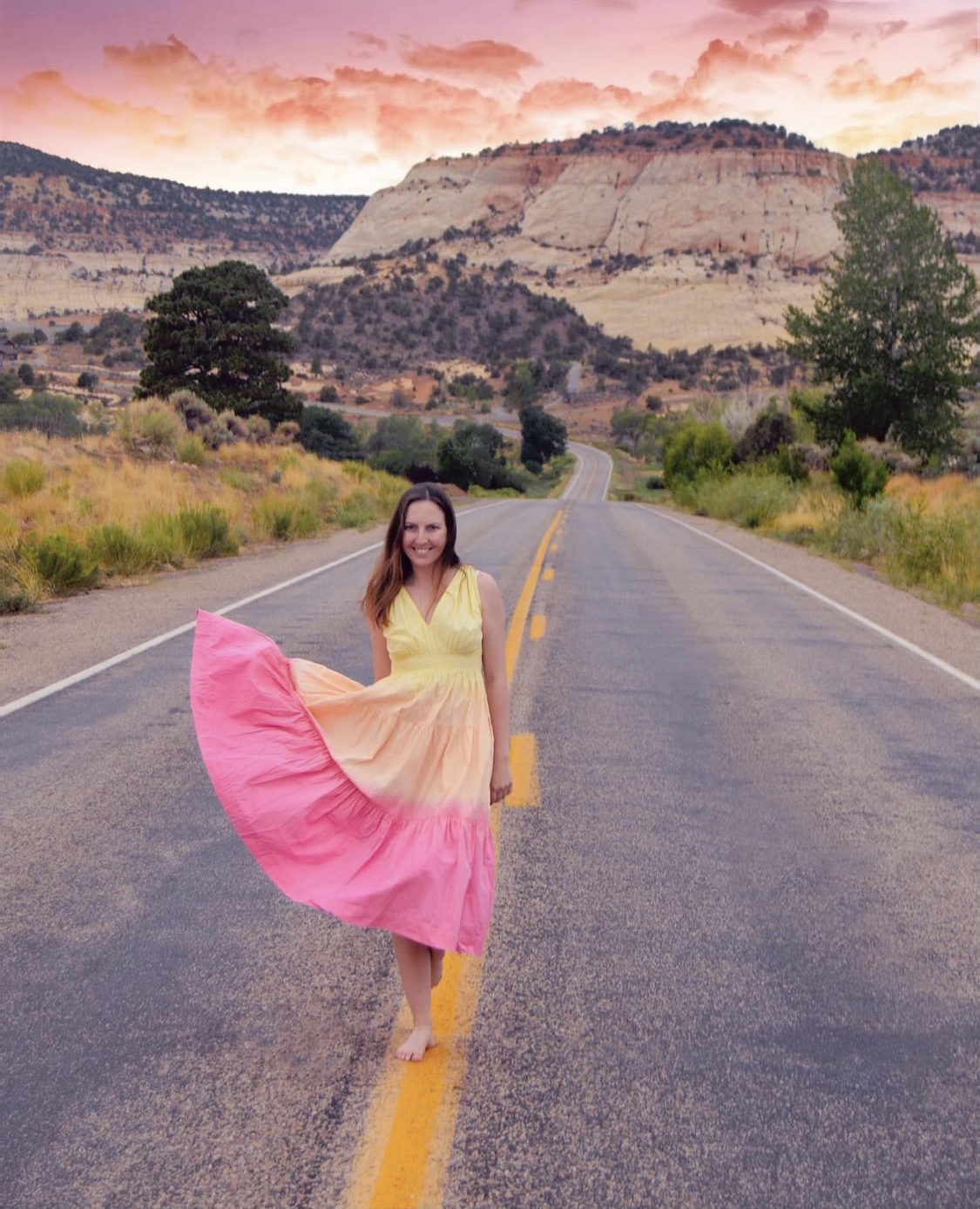 That night, we drove to Hells Backbone Grill, about an hour from Capitol Reef through Dixie National Forest. The Chef/Owners at Hells Backbone are finalists for the best chefs in the Region by the James Beard Foundation and they do not disappoint. Everything served is grown on their farm. We ordered five of the ten appetizers on the menu because it was so hard to decide. I honestly was considering dedicating a whole post to this place because it was so good. I indulged in the spicy meatloaf, and Nick had the Bison fillet. If you are anywhere near this place, it's worth the drive.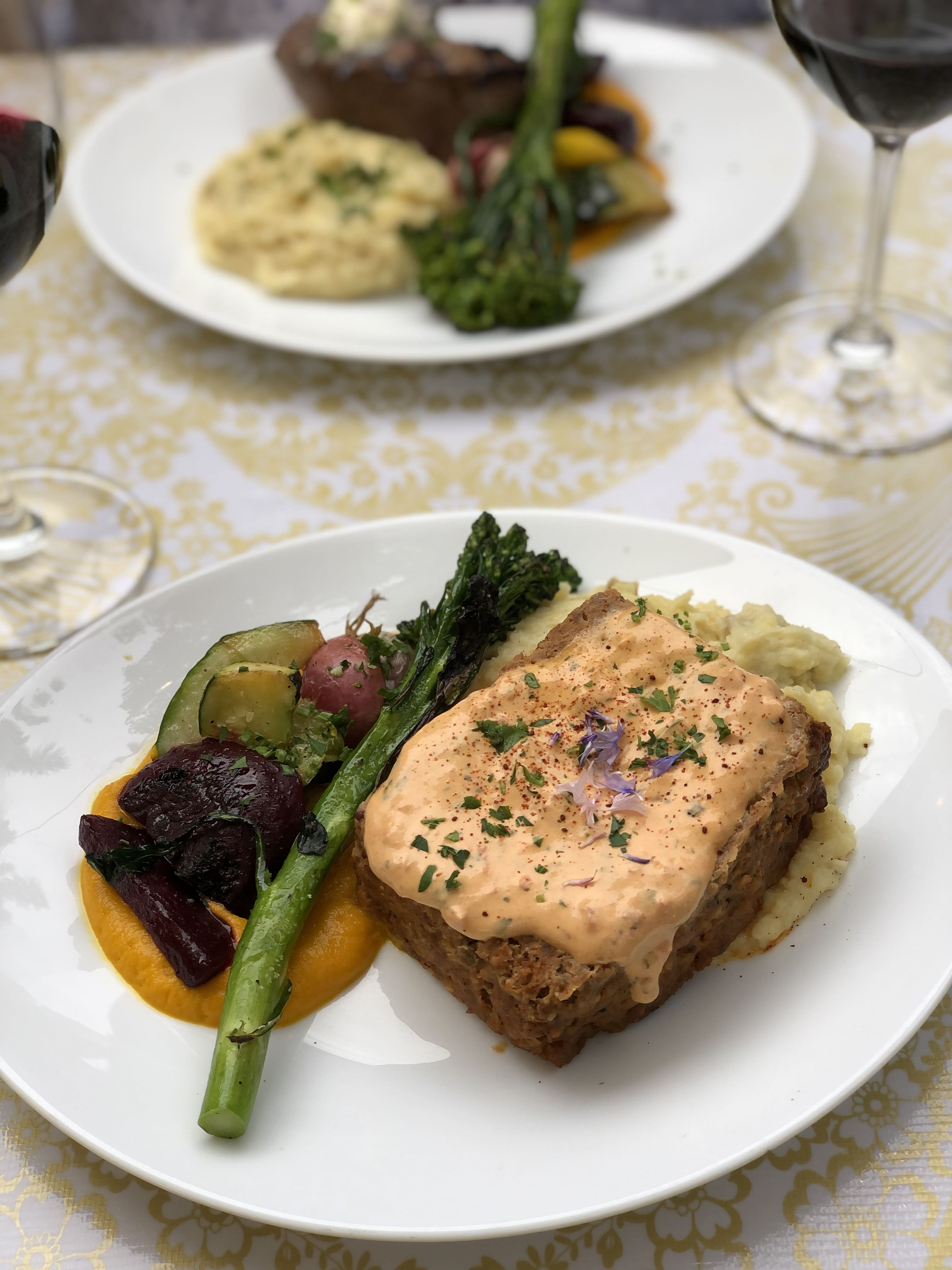 There are two hikes I would recommend in Capitol Reef. Both are pretty easy—I didn't dig out the hiking boots for them. The first is down into Capitol Gorge to the Tanks. Here you will get to see cave art as well as what's known as the pioneer register, made up of names written on the canyon walls from pioneers from the 1800s. A short, uphill hike brings you to the Tanks, a neat water and rock formation.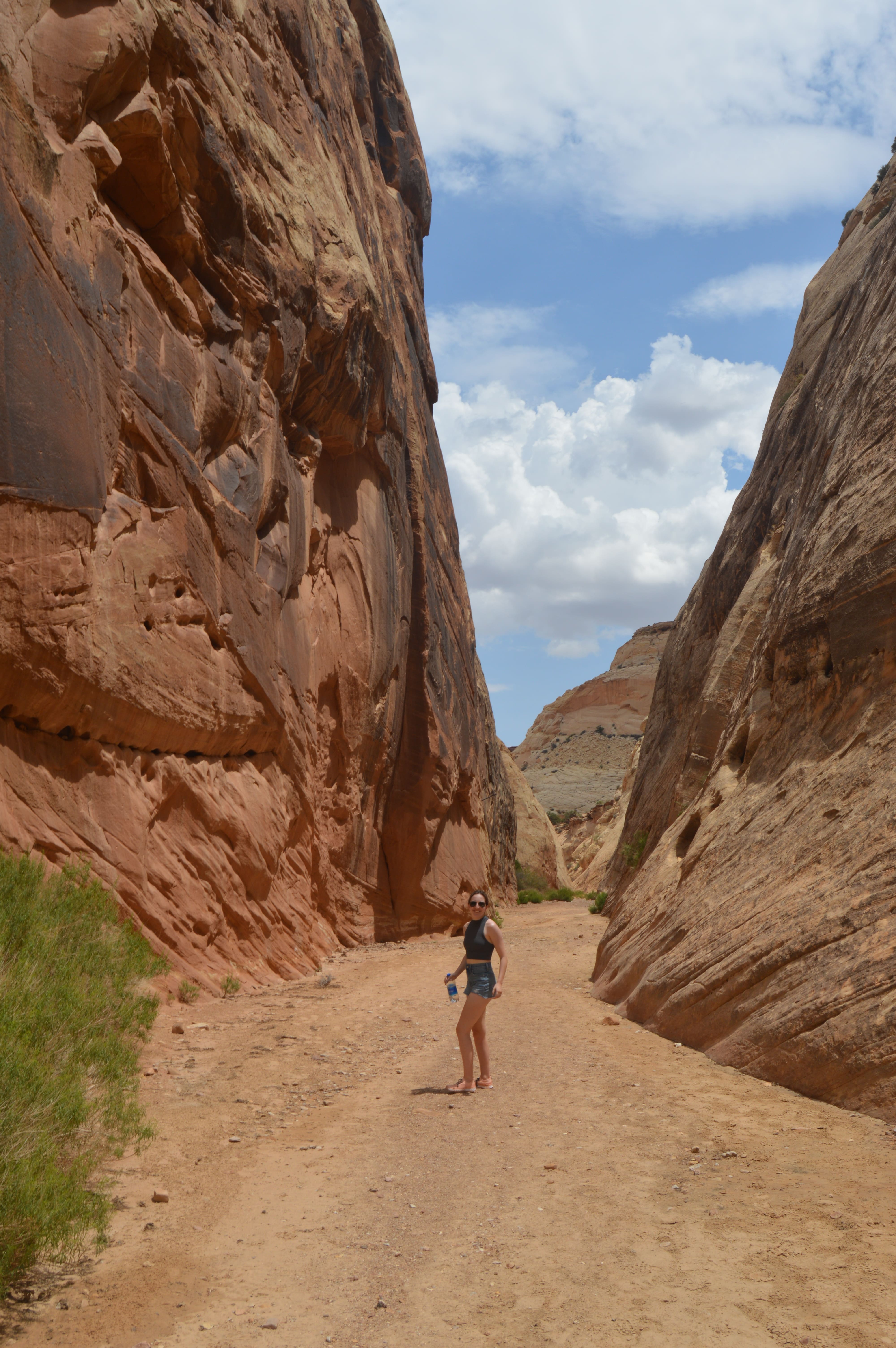 The second hike I would recommend is to Hickman Bridge. It's an easy, scenic trail that ends at a large, impressive arch. The trail even runs along a little creek that connects to the Fremont River.
Finally, one of the most unique things about Capitol Reef is Fruita. In the late 1800s, Mormon settlers moved into the area, which grew into an unincorporated town of 10 families. They found it was a great place for growing fruit, which became their main source of income. Today, the NPS maintains the historic fruit orchards, and guests can pick their own fruit for $1 a pound. Picking Season is from June to October. We got the chance to enjoy some amazing apricots right off the tree.
Bryce Canyon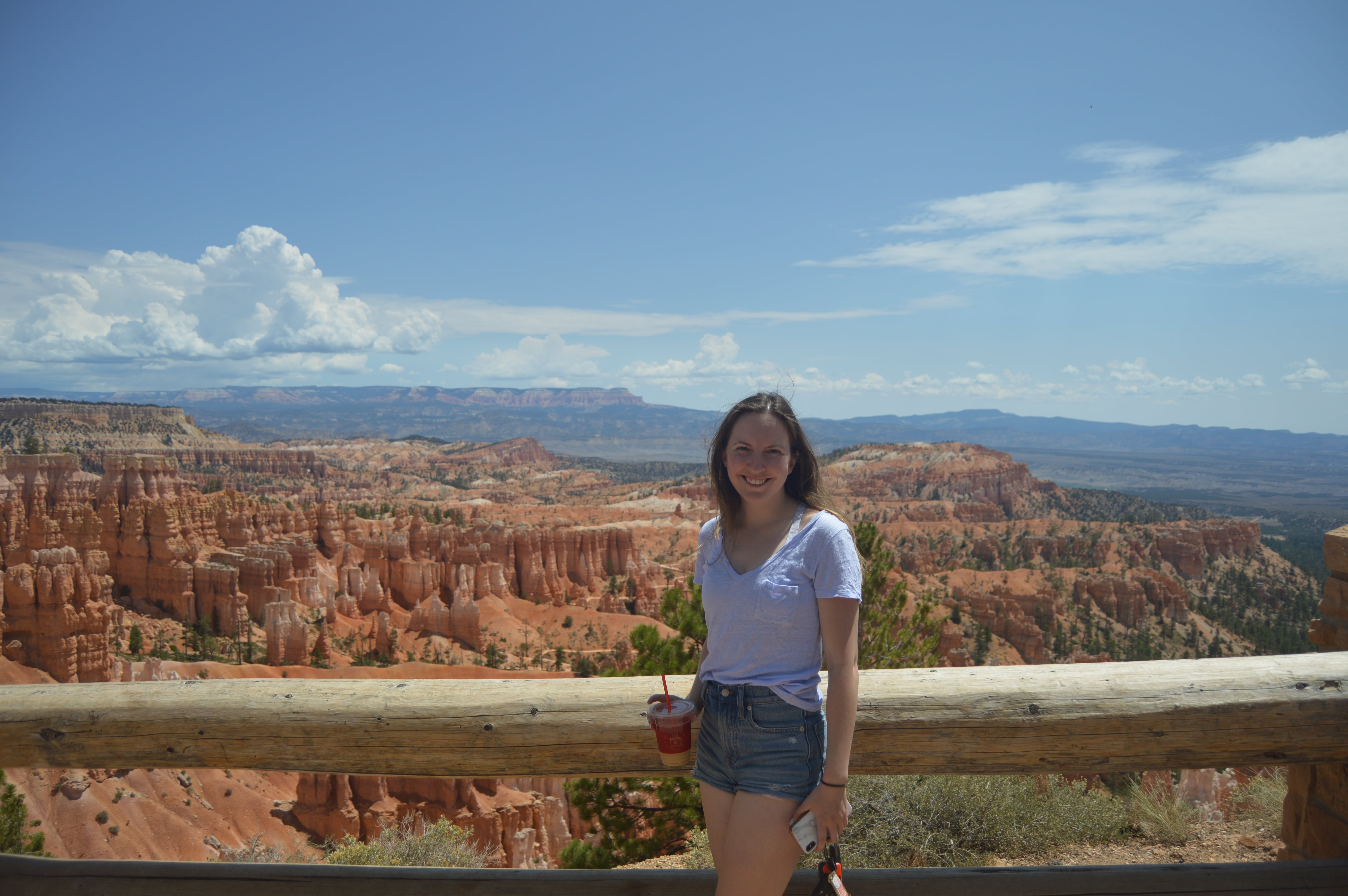 We only spend about half a day in Bryce. It is a popular day trip from Zion of you only have the chance to check out a few places. We wanted to do the Navajo Loop Trail, but Wall Street as closed due to falling rocks that day, so we just did the Navajo trail, which is a moderate 1.3 mile hike down into the Canyon. When we got to the start of Wall Street, we turned around and went back up. It's a great hike to feel like you got a good taste of the park and the trail goes right by Twin Bridges.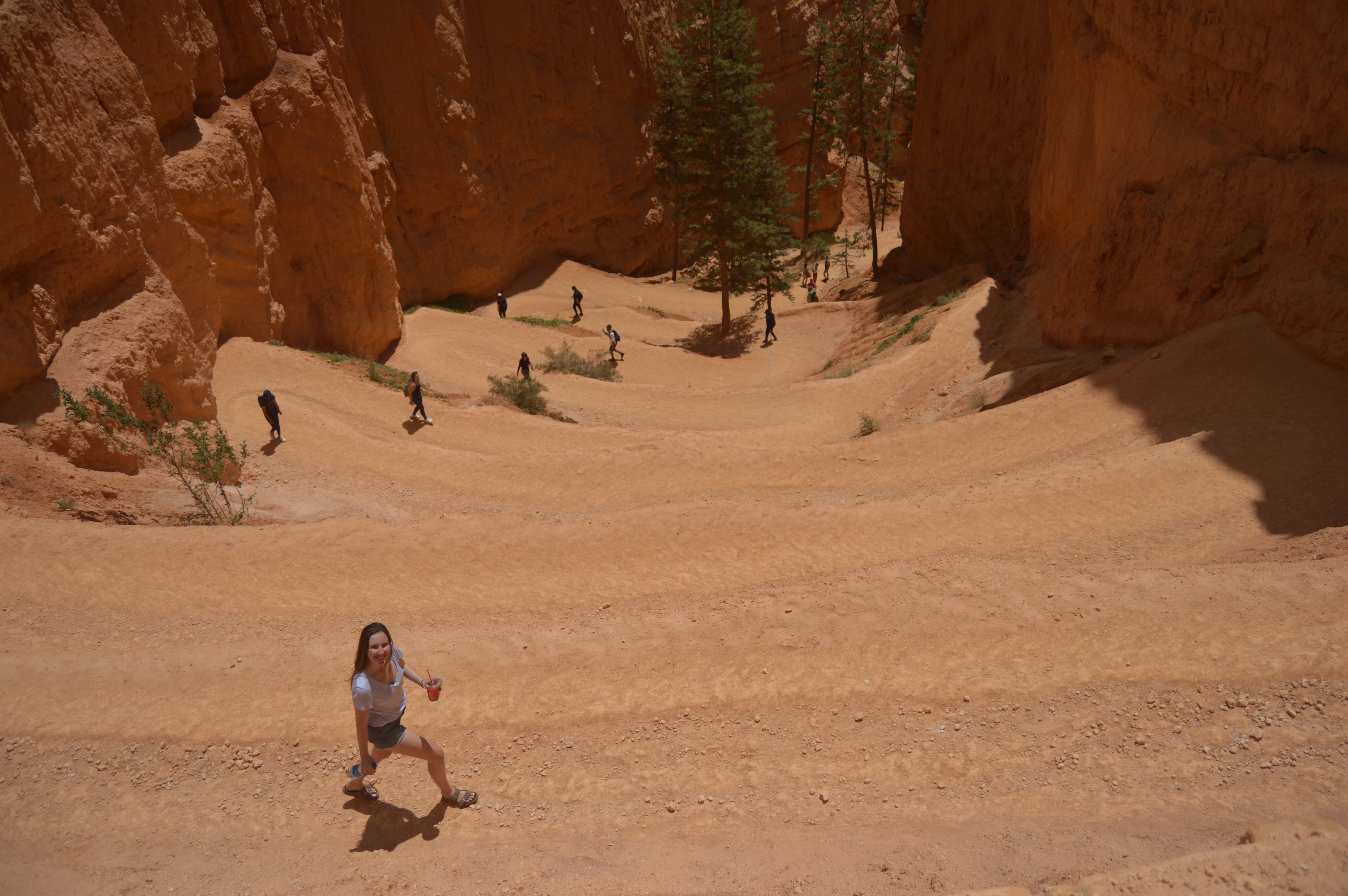 In addition, traveling to Bryce Canyon did provide the opportunity to drive scenic byway 12, often referred to as the most beautiful highway in America.
Zion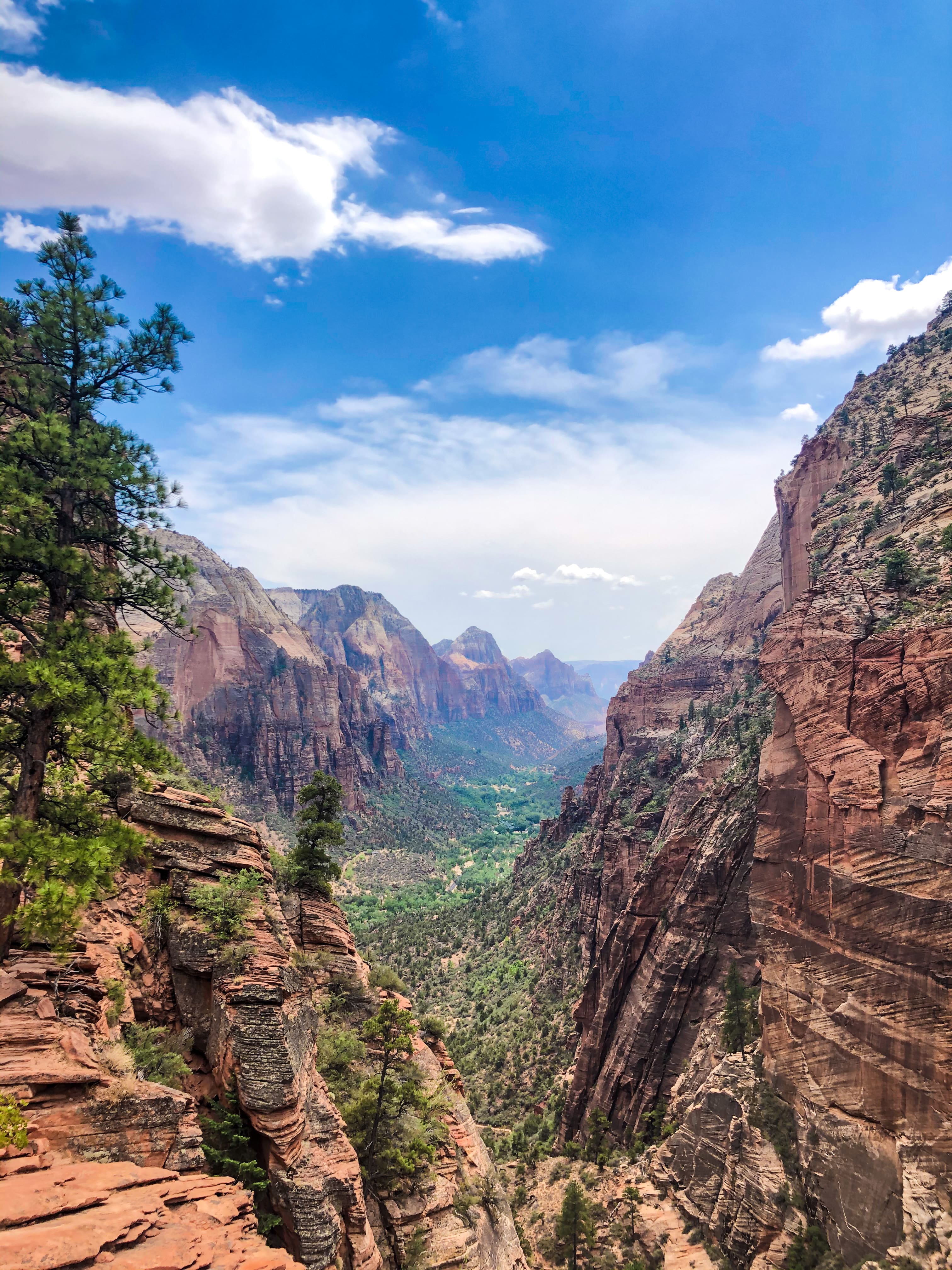 Even after all we had seen, Zion still blew me away. We entered for the first time at the East Entrance Ranger Station on Route 9, which takes you through the historic Zion-Mount Carmel Tunnel, which is carved through a mountains. Coming out of the tunnel, you're taken right to the breathtaking Zion-Mount Carmel highway trail. If you can, this is the way to drive into Zion.
This park is by far the most crowded, but they do a really nice job with crowd control so it doesn't take away from the experience. In the summer months, the only way to get from the visitors center to any of the main attractions is a shuttle. The shuttles run all day very consistently and we never had to wait ling for one. It really cuts down on traffic and makes it so you wouldn't need a car to visit.
Our first night we stayed in an adorable Airbnb in Springdale, and ate at Kings Landing – In my opinion, this restaurant is a must stop. The food was truly excellent, and the views can't be beat.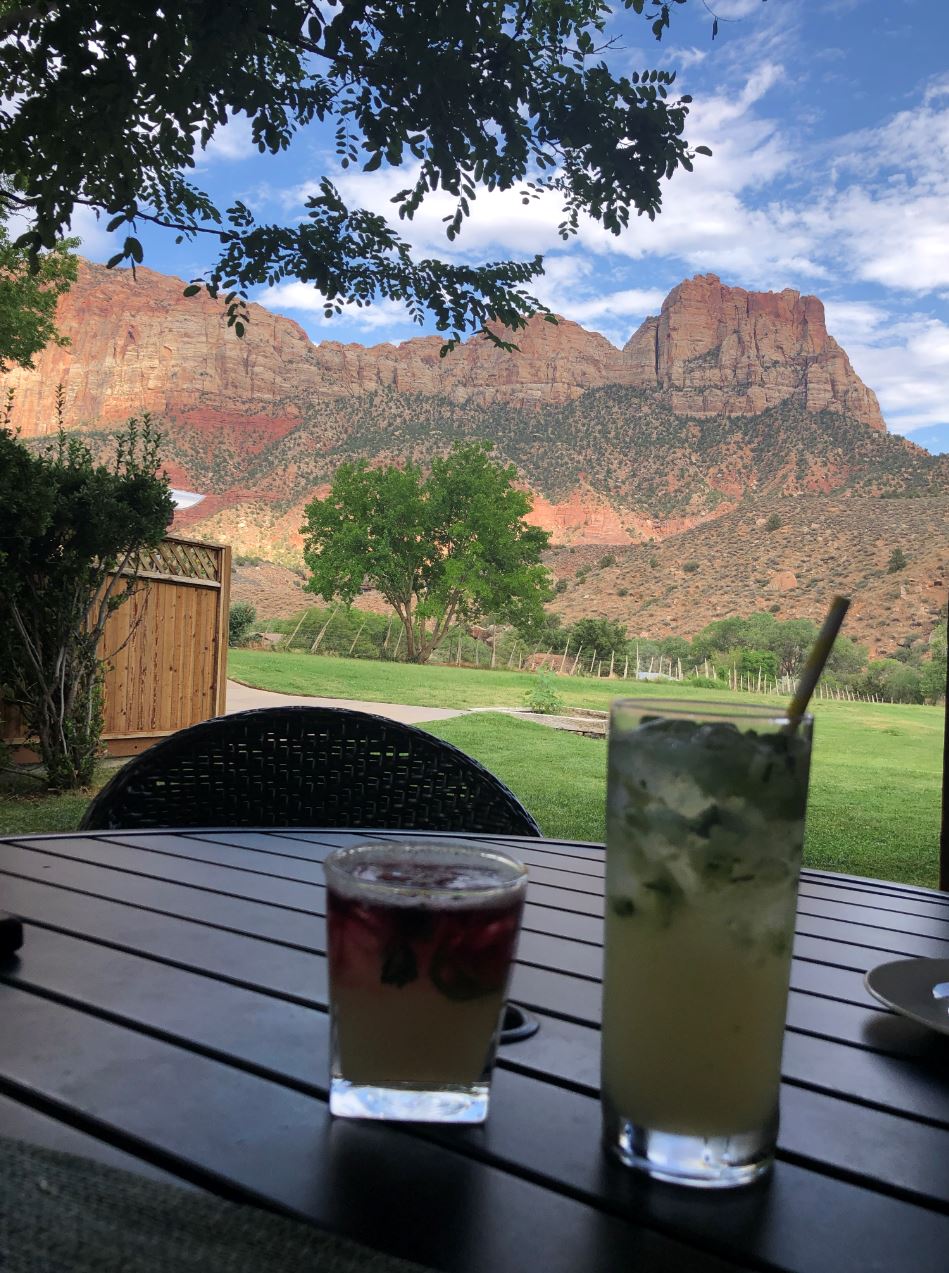 Our plans in Zion did get re-arranged due to weather. We had permits to hike the Narrows, top down. It's a 16 mile trek through the Virgin River and the narrow canyon it's formed. The permits are very competitive, and only 40 people are allowed through this way per day. Unfortunately, if there is any flash flood warnings the hike can be extremely dangerous and it's better to sit it out, as a flash flood in the Narrows is un-survivable.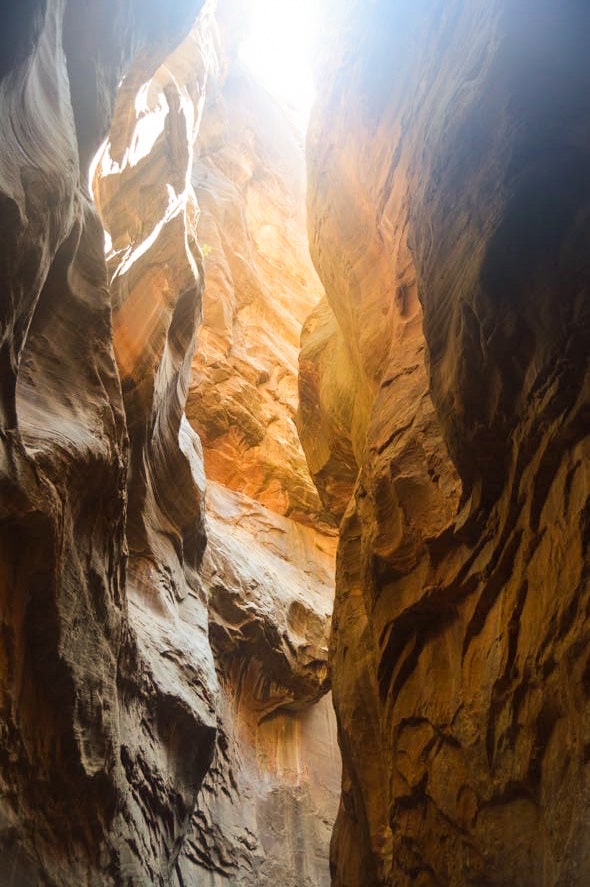 We hiked a bit of the Narrows from the bottom in the morning, this is the trail that's open to everyone, or, you don't need a permit. It is really crowded at the beginning, but if you stick with it, especially until after the Canyon Splits you're in for a real treat. If there is a rain warning, I would highly suggest leaving the Canyon before 3 PM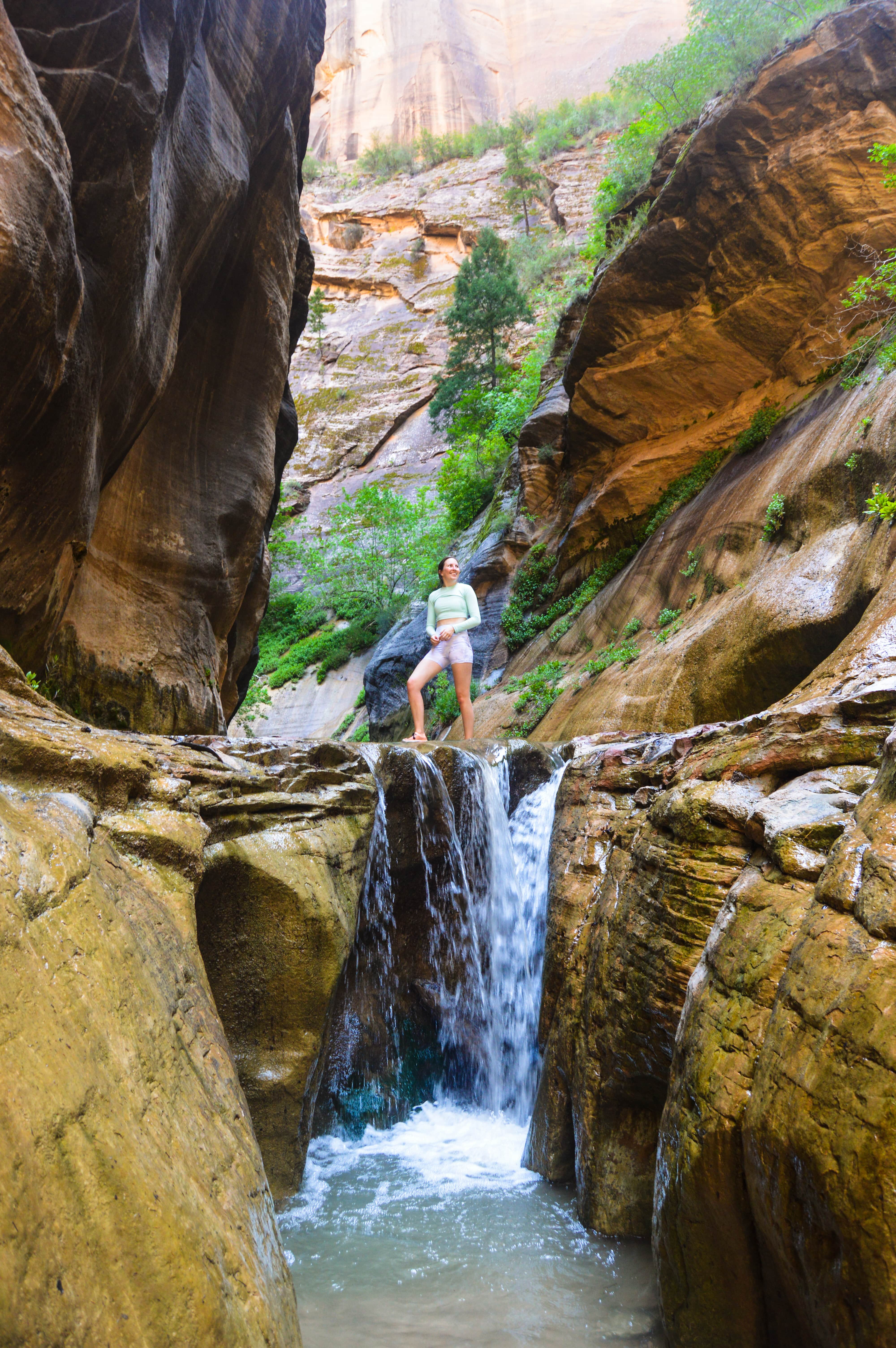 The Narrows is totally worth it, what's not worth it is all the rental gear they try and charge you an arm and a leg for and tell you you need. I did this hike in a $20 pair of water shoes from Amazon and Nick wore an old pair of sneakers. It's completely unnecessary to rent the canyoning boots and neoprene socks they suggest. They also rent walking sticks, which we did not use, but might be helpful if you're worries about falling.
As our original plan didn't work out, that night we got a dispersed camping permit to camp in the Zion Wilderness on the East Rim. In designated dispersed camping areas like the East Rim, the only rule in addition to any other backcountry camping is that you must camp 200 yards from a trail and so that you cannot be seen from the trail. This hike was much less strenuous than our first camping night, and we got to see an amazing sunset.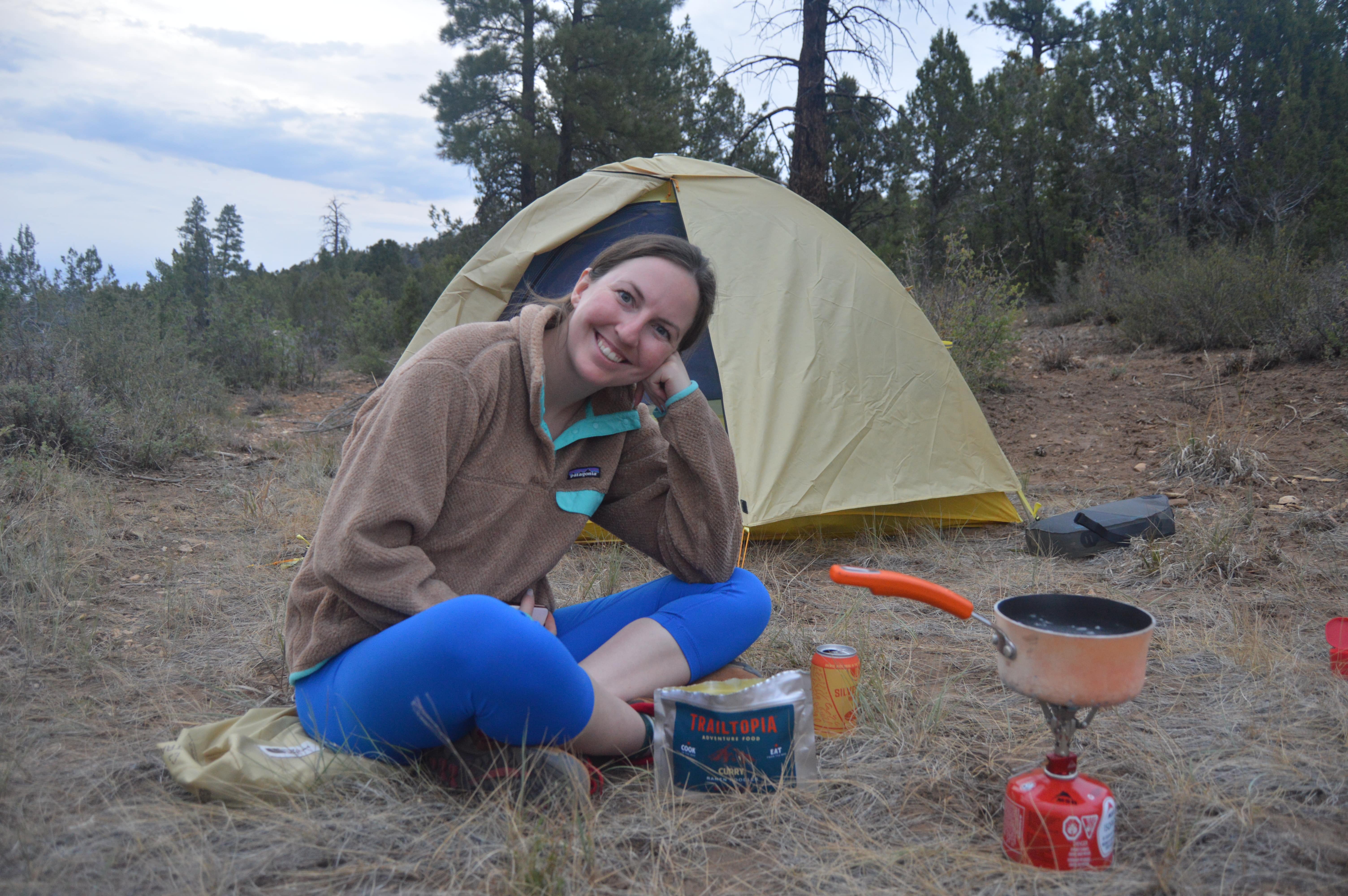 Our last stop in Zion was Angels Landing, oen of the world's most famous hikes. It is strenuous but not terrible. The nice part is that although it's entirely uphill the way there, it's smooth sailing on the downhill way back. The part of the trail with chains to keep you from falling down a sheer rock face is only the last half mile of the hike. If you're not up for that there's still an amazing view at the top of the "normal" trail. Bring lots of water, but don't miss this!
Grand Canyon, North Rim
I wish we had a day or two more, but with our time constraint we were just able to squeeze in a morning at the North Rim of the Grand Canyon before our flight. It was a short stop, but we had just enough time to stop at the beautiful Grand Canyon Lodge for breakfast, which is where I would stay if I went back, drive to Point Imperial, the highest point on the North Rim. I can't wait to go back and experience the South (more famous) Grand Canyon Rim.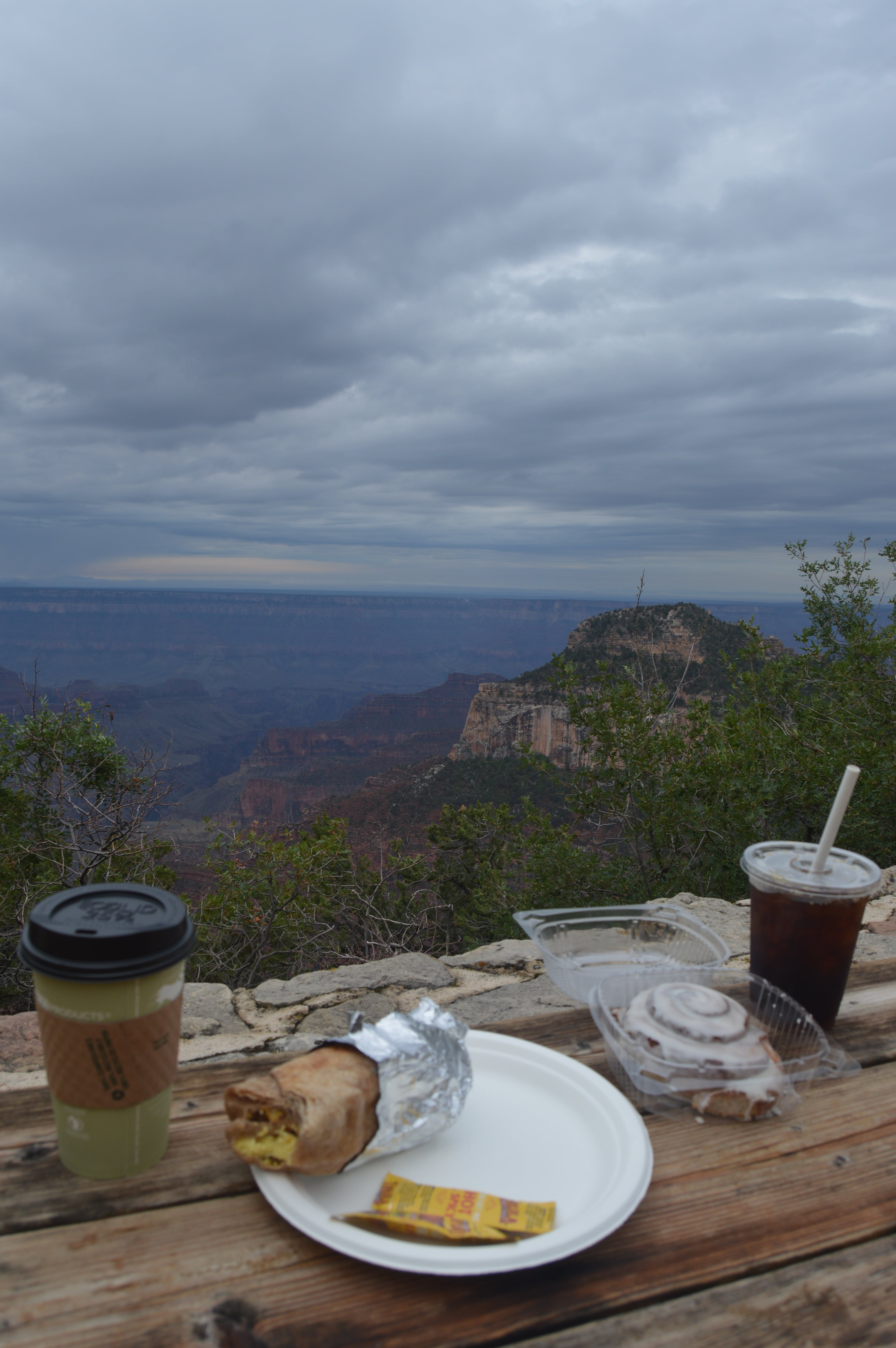 Packing List
For Hiking:
Hiking Boots – I have the Columbia Waterproof Women's Newton Ridge Boots and they're fantastic.
Small Backpack
Water Reservoirs – I love my 3 liter Osprey Hydraulics Reservoir, perfect for a day hike
Water Bottle
Snacks
Wool Performance Socks
Sunscreen
Hat
A pair of sneakers you don't care about (for the Narrows)
A pair of sandals (for after)
I preferred long sleeves for extra sun protection
Camera
For Overnight:
Camping Permits
A Backpacking Pack (I love my Osprey Women's Aura AG 65 Pack)
Tent – We have the North Face Eco Trail 2, it only weighs 6 pounds
Satellite Phone – I have the Garmin inReach Mini
Small Propane Stove
Small Pot and Utensils
Meal for the night
Matches/lighter
Sleeping Pads
Sleeping Bags
First Aid Kit
Extra Socks
A Light Source
Small trash bag
Toilet paper