Escape To White Mountains: The Getaway With Something For Everyone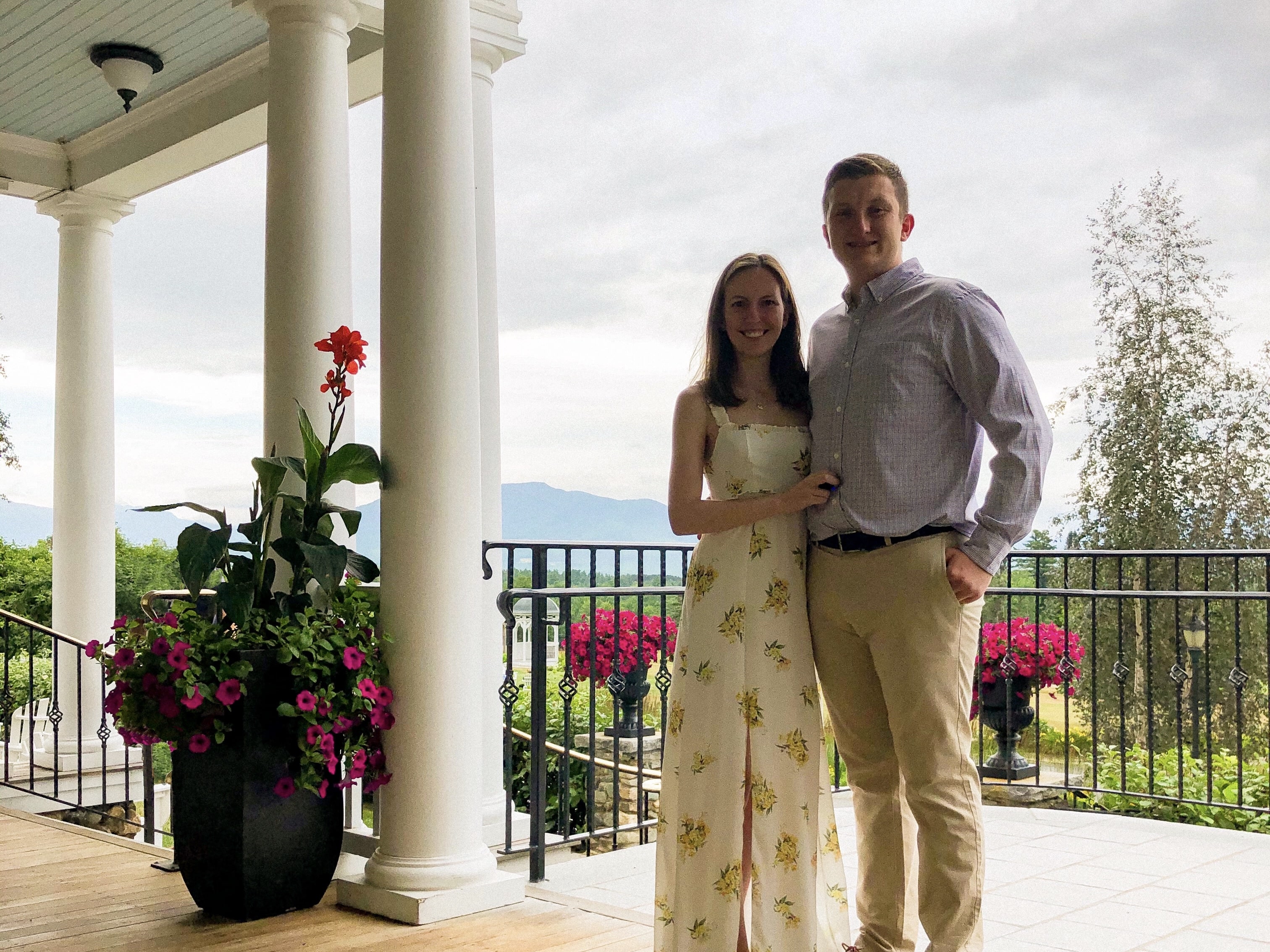 Wednesday, July 22, 2020
This turned out to be a much longer post than I anticipated it to be, but I wanted to do this trip justice. I am convinced that a getaway to the White Mountains really is the trip with something for everyone. There's a huge variety of places to stay and things to do, and we really tried a wide variety of them last week.
We started our trip in a breathtaking resort and ended it in a campsite. Along the way we had great food, great views, days filled with outdoorsy challenges and touristy relaxation. If you're looking for a weekend getaway or weeklong trip, girls weekend or family vacation, the White Mountains has something to offer you.
The Mountain View Grand Resort & Spa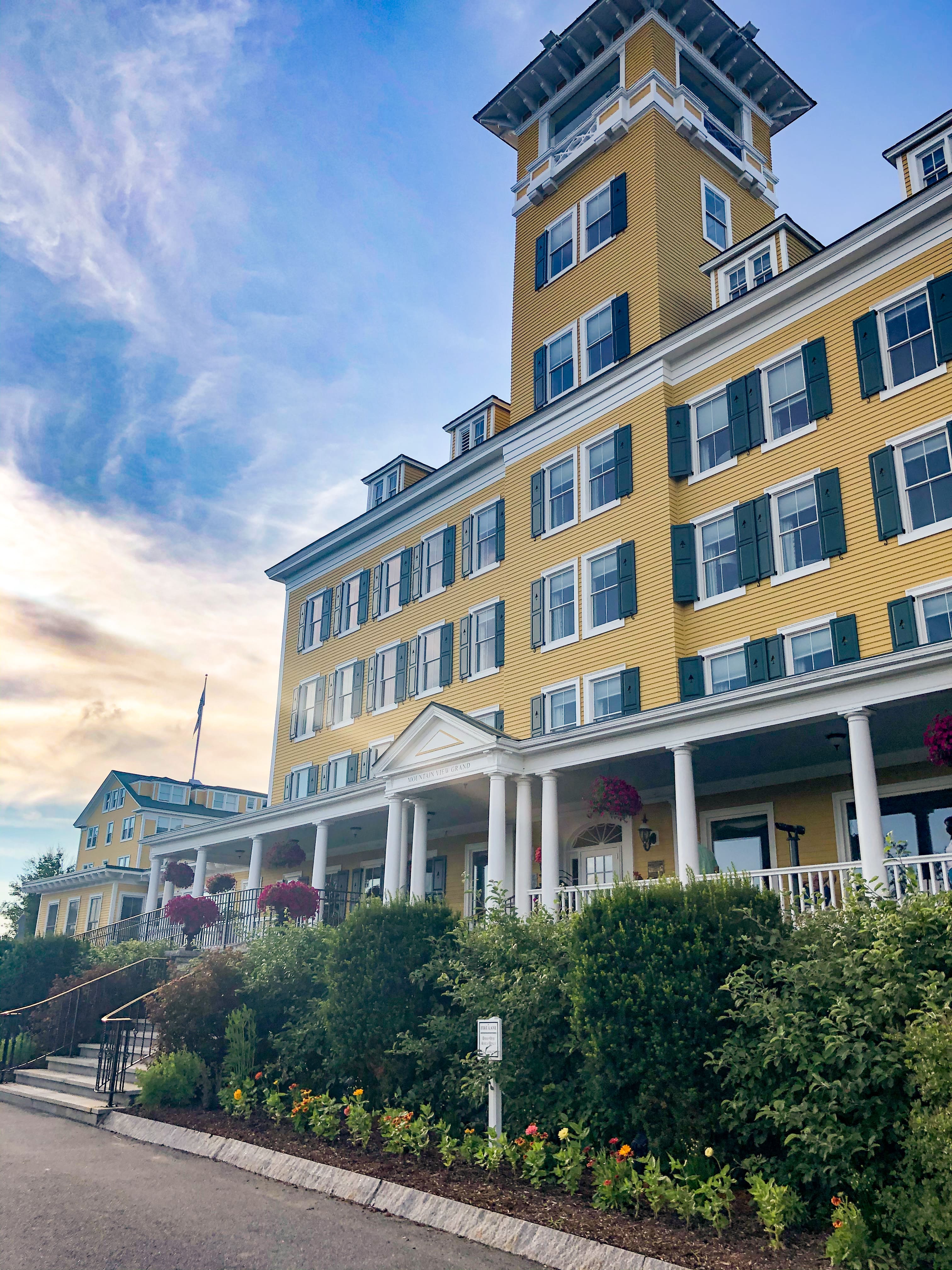 I love staying at unique hotels, especially ones with a long history, and the Mountain View Grand offers just that. Plus, as you might infer from the name, the hotel has breathtaking panoramic views, with the front porch looking straight towards Mount Washington. One of my favorite things to do each night of our stay was grab a drink before dinner, sit out on the porch and juts drink in the view.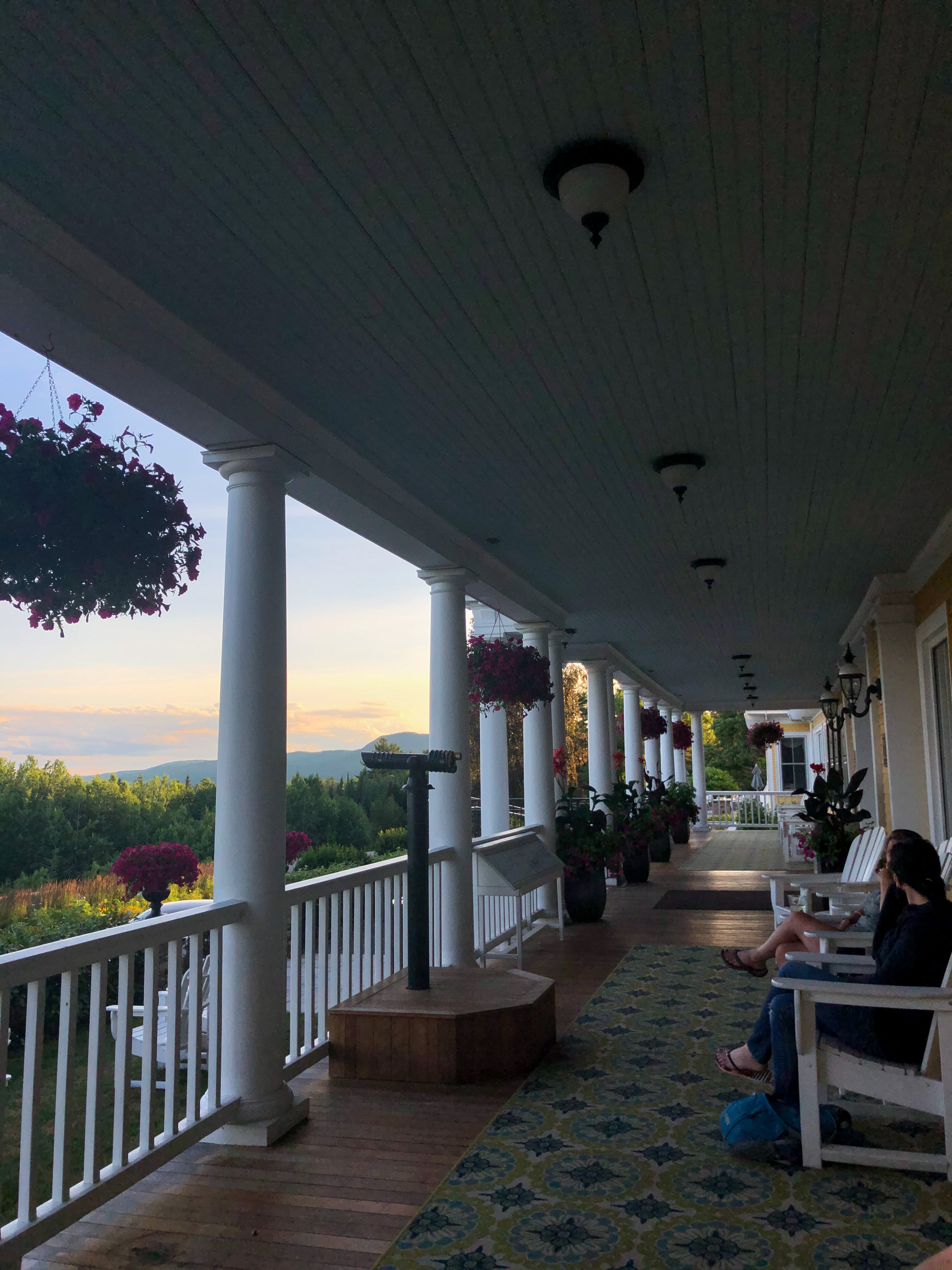 The Mountain View Grand Resort and Spa is the oldest Mountain View hotel in the White Mountains. The hotel opened in 1865, (predating the Omni Mount Washington by about 40 years) and has been running ever since. It now has a full spa, four restaurants, a golf course, and a variety of other beautiful amenities. The hotel is part of the National Register of Historic Places by The US Department of the Interior and is part of a unique collection of historic hotels including the Biltmore and Le Pavillon.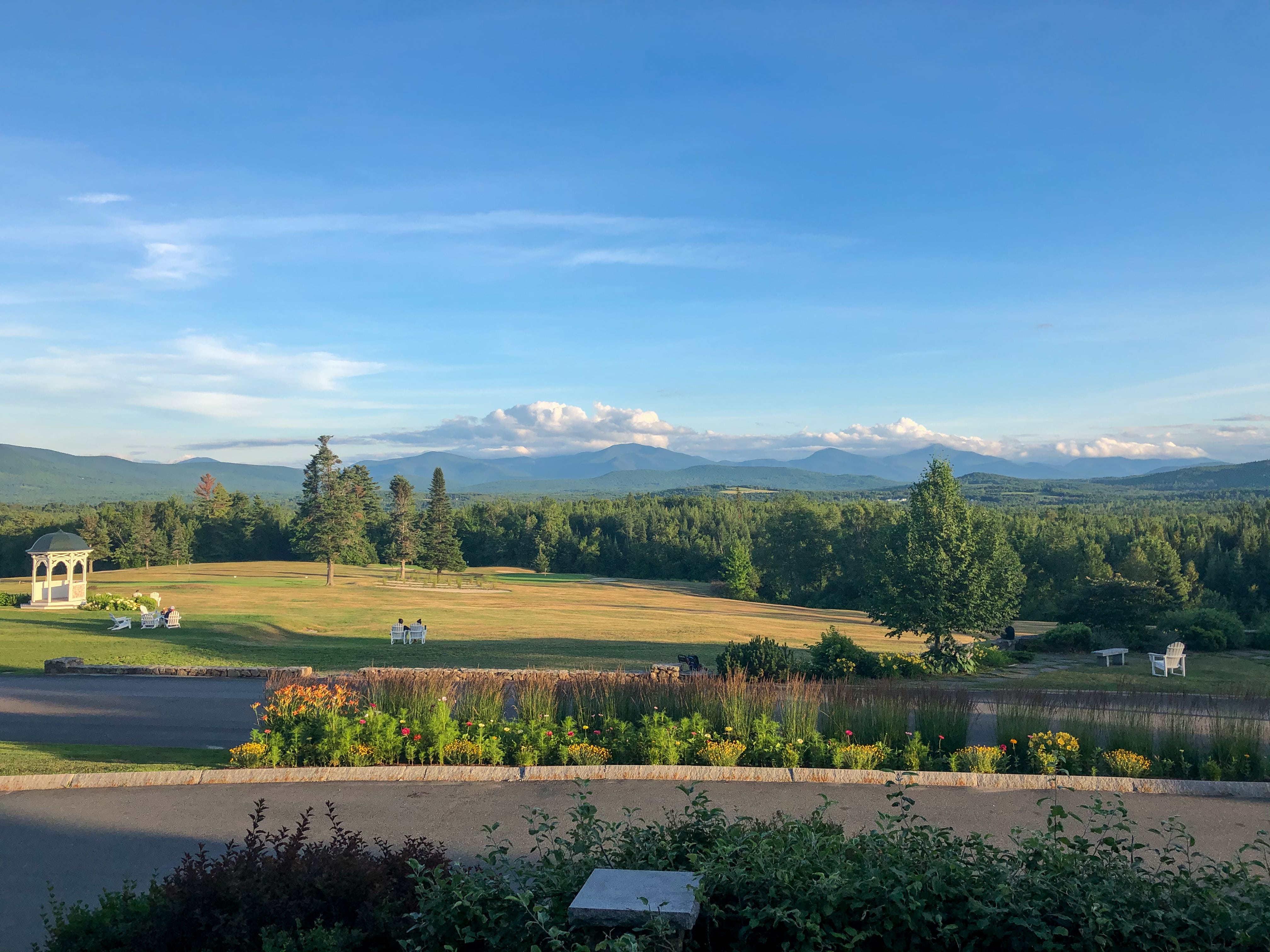 With all of that in mind, and the fact that the boast a four diamond rating for lodging and dining, I thought it was very reasonably priced, even their fine dining option. I thought the hotel also took great care to be precautious of Covid. We were given masks at check in (so you have absolutely no excuse) and masks were required in all communal spaces. There was no housekeeping except upon request so the front desk could arrange a time that no one would be in the room. The hotel was also operating at 50% capacity, and we had to reserve all of our dining times in advance to ensure social distancing, even breakfast.
The first morning we spent Harvest Tavern for Breakfast. We used a QR code to pull up the menus on our phones, but paper menus were available. After a delicious, hearty breakfast, we were prepared for the big day ahead.
On our first full day in new Hampshire we only partook in one activity… hiking Mount Washington. The base of the mountain is only about 30 minutes from the MVG. Summiting Mount Washington after a sold 5 to 6 hours of hiking, crossing brooks and streams, climbing rock faces, trudging through mud, and of course taking in breathtaking views was easily one of the most rewarding moments of my life, full of pure unadulterated joy.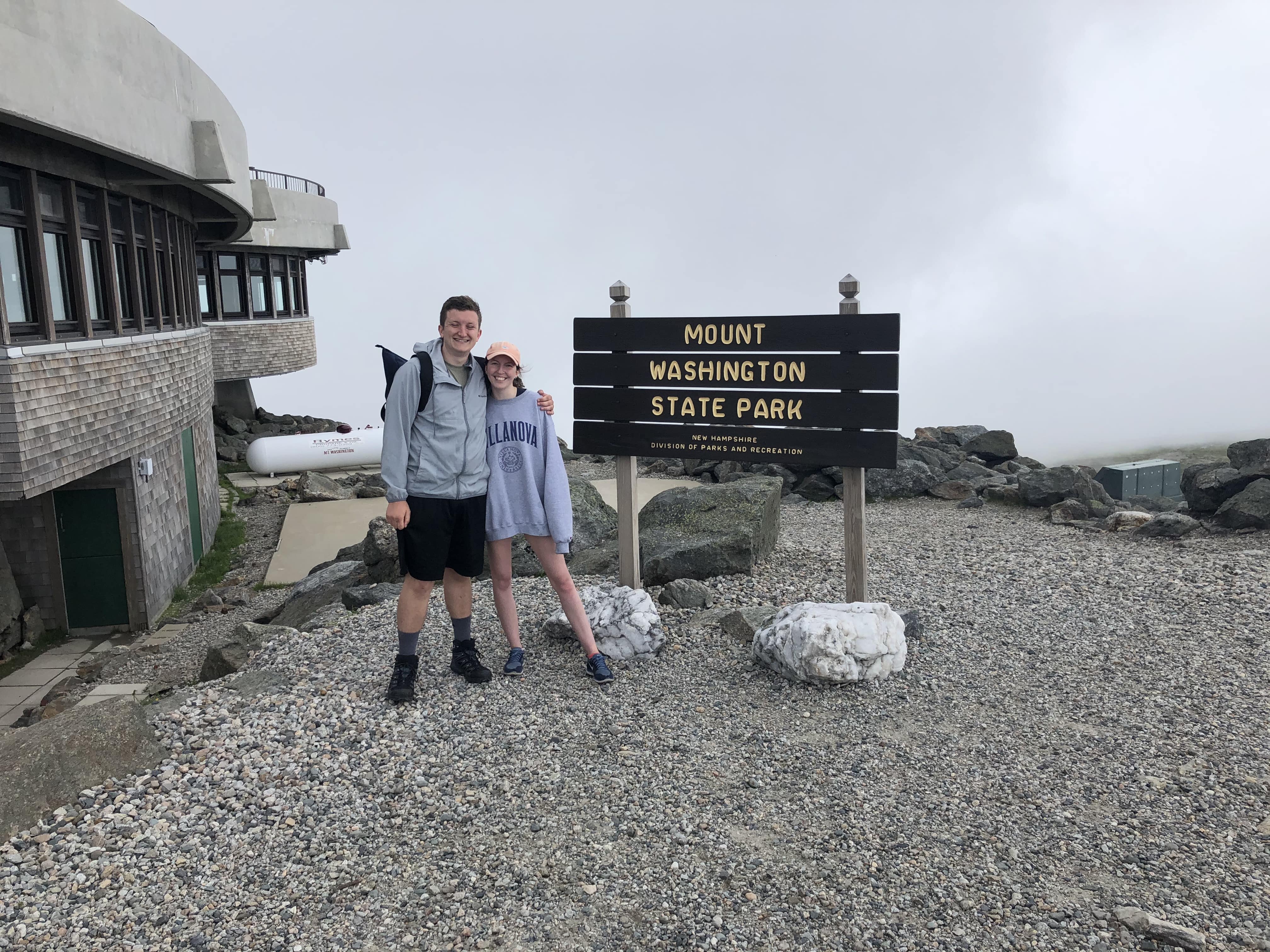 I am so happy that Nick talked me into undertaking this adventure. I am incredibly glad I did it. That being said, it is extremely challenging. Mount Washington is the highest peak east of the Mississippi, (6,288.3 ft) and home of the world's worst, most erratic, weather. The highest wind speed ever recorded outside of a tornado or hurricane, 231 MPH, was recorded here. Even in the middle of July, it was 45 degrees at the summit. This mountain is no joke. I was a DI athlete and this climb might be the hardest physical challenge I've ever faced.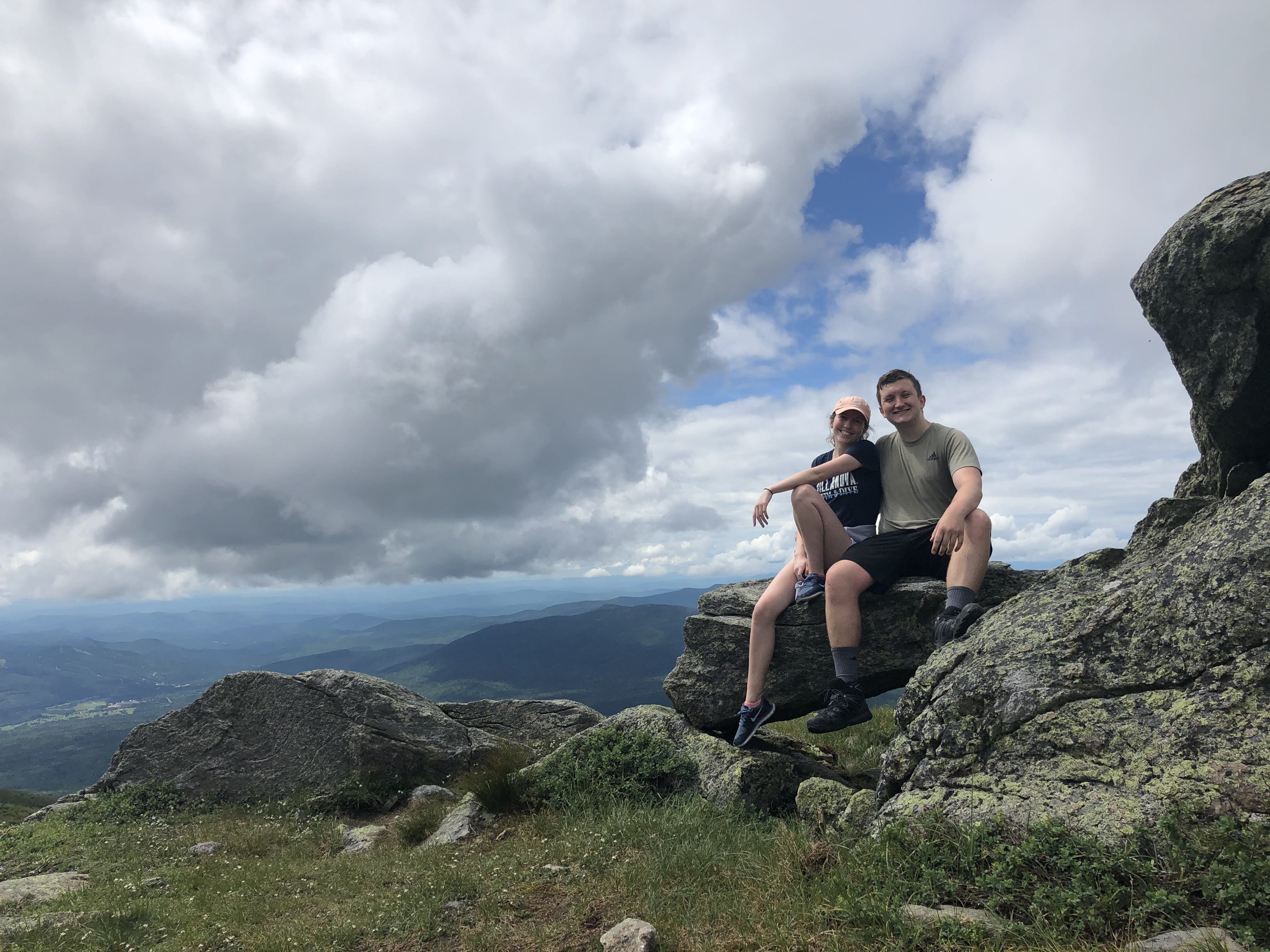 Nick and I took the Ammonoosuc Ravine Trail. It's about 5 miles from base to summit, but is incredibly steep and rugged. It also comes upon the Lake of the Clouds Hut, one of 8 camp stops on the Appalachian Trail, which offers a little snack shack, a place to refill water bottles, and even lodging if you're hiking the whole Appalachian. We had the perfect day to do the hike, it was about 60 degrees on the mountain, and 45 for about the last mile before the summit. Its as also a pretty clear day, making for amazing views.
After our big hike, we went to the Harvest Tavern for dinner in the MGV hotel. As an appetizer, we ordered the soft pretzel, which came with home-made beer cheese and mustard that was heavenly. The pretzel was warm, perfectly fluffy on the inside browned on the outside. It was heavenly. For dinner, I had chicken pot pie and Nick had meatloaf. Both of our meals were heartwarming, modern takes on classics, and the ultimate comfort food after our incredibly tiring day.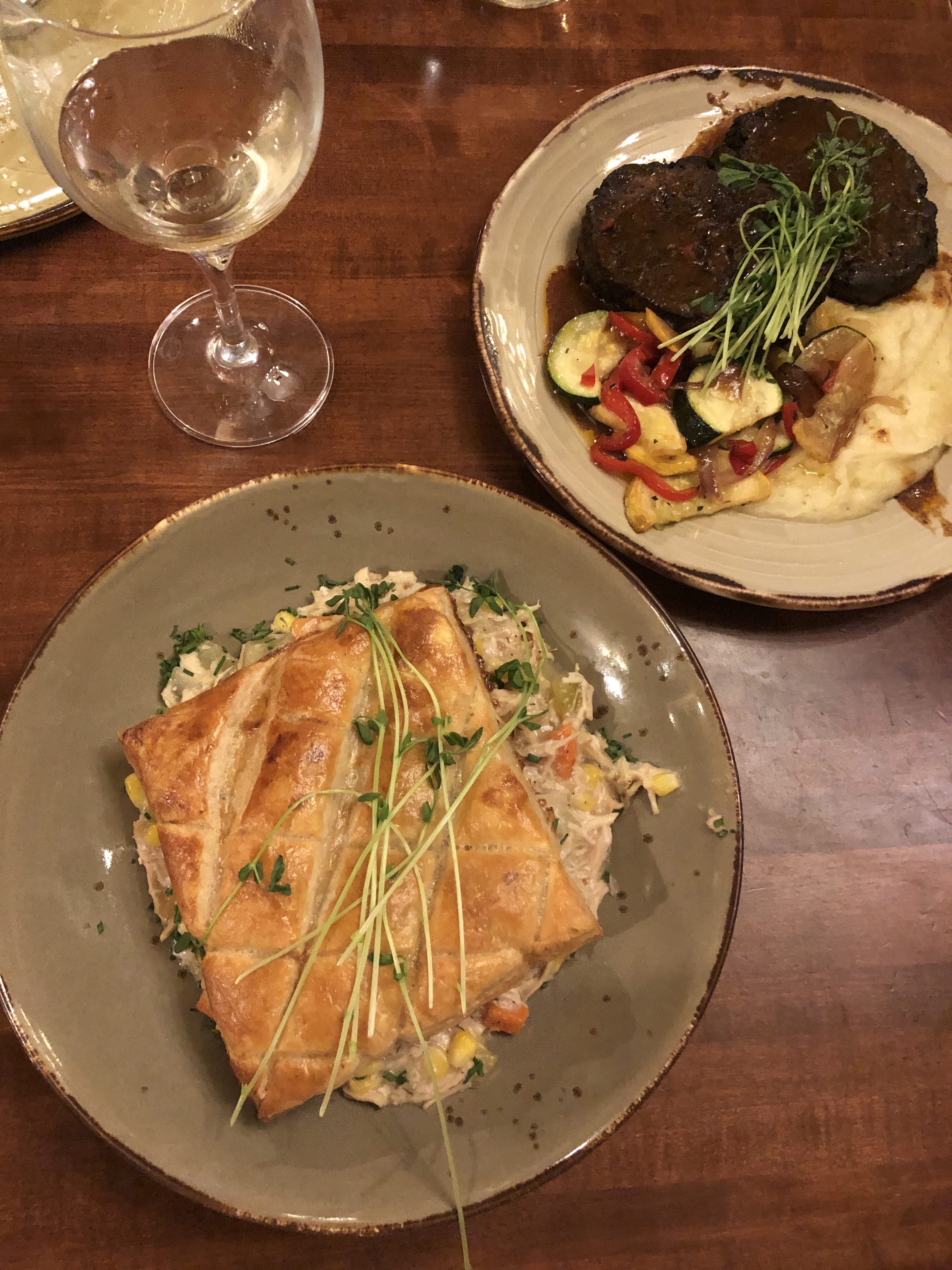 The next morning, we ordered room service and had breakfast in bed. After all, we had definitely earned it. Let me just say, I am still dreaming of the bloody marys. It was the perfect slow start to our most relaxing day of the trip. This would have made for an excellent spa day, and I have only heard great things about the Tower Spa, but it was unfortunately still closed due to Covid.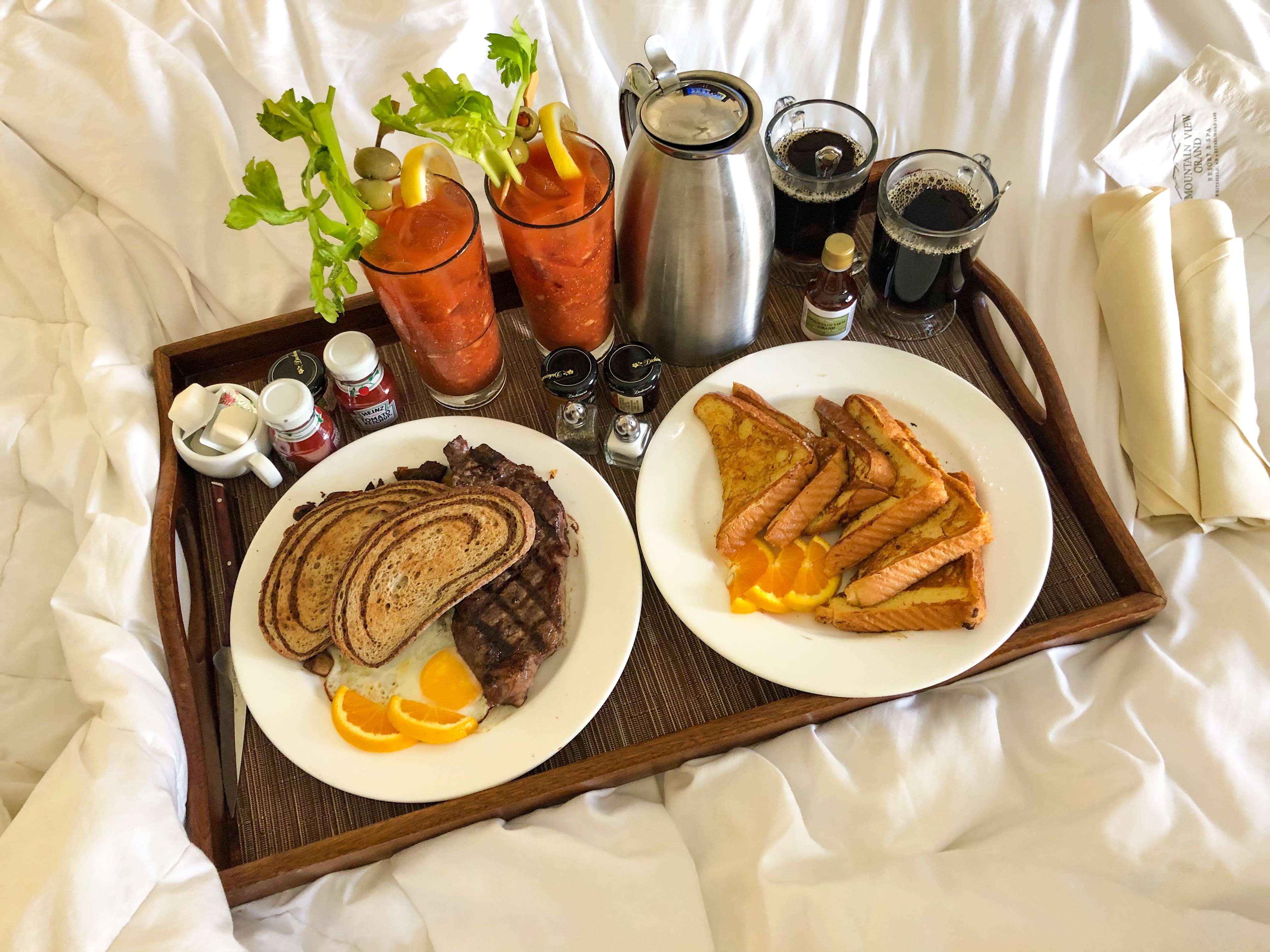 One of the cool things about the MVG is that they still have a working farm where they raise "fiber producing" animals, and produce their own blend of wool yarn. If your know anything about me, you know I LOVE animals, so stopping by the farm to meet some fuzzy friends was a must for me on our lazy day.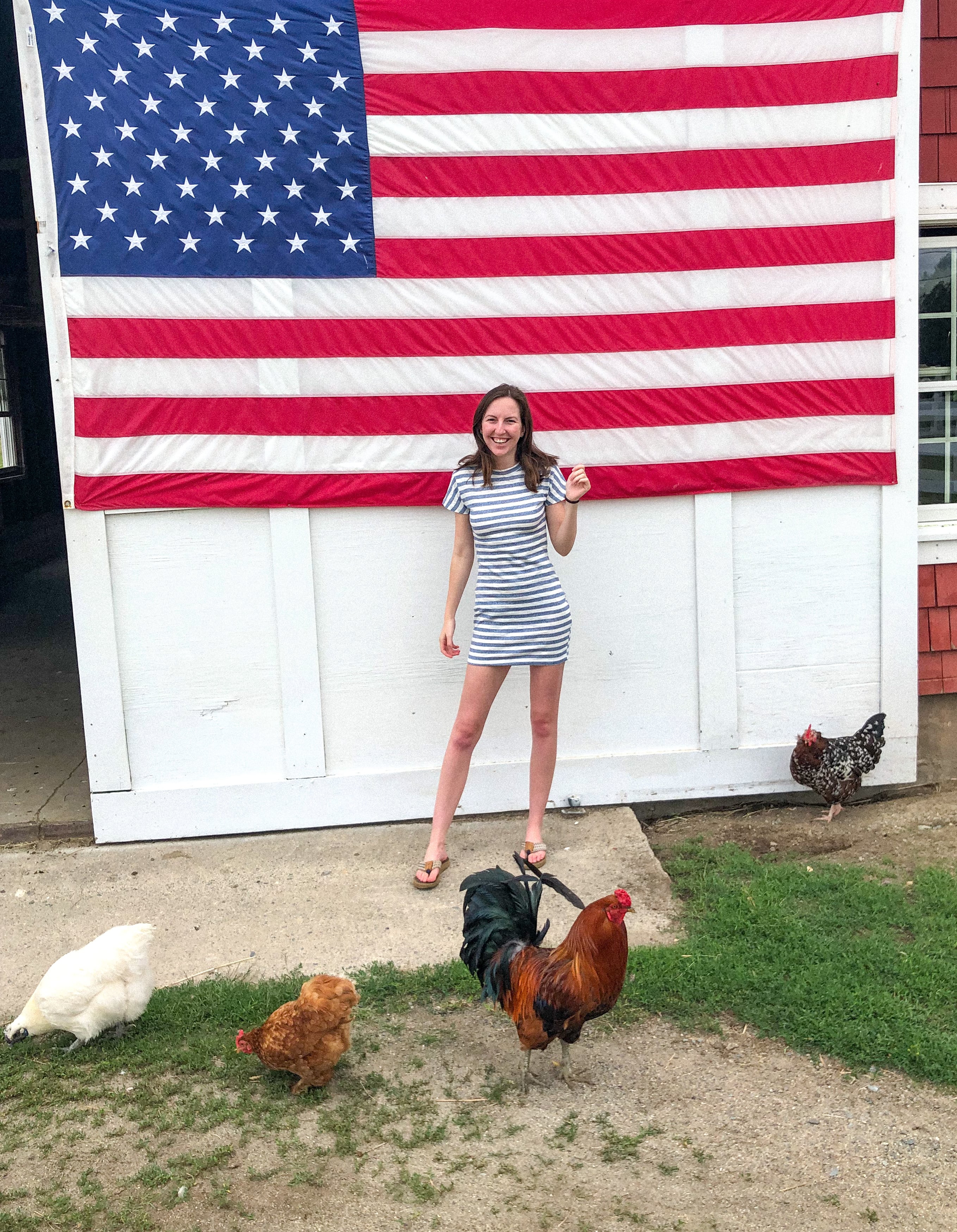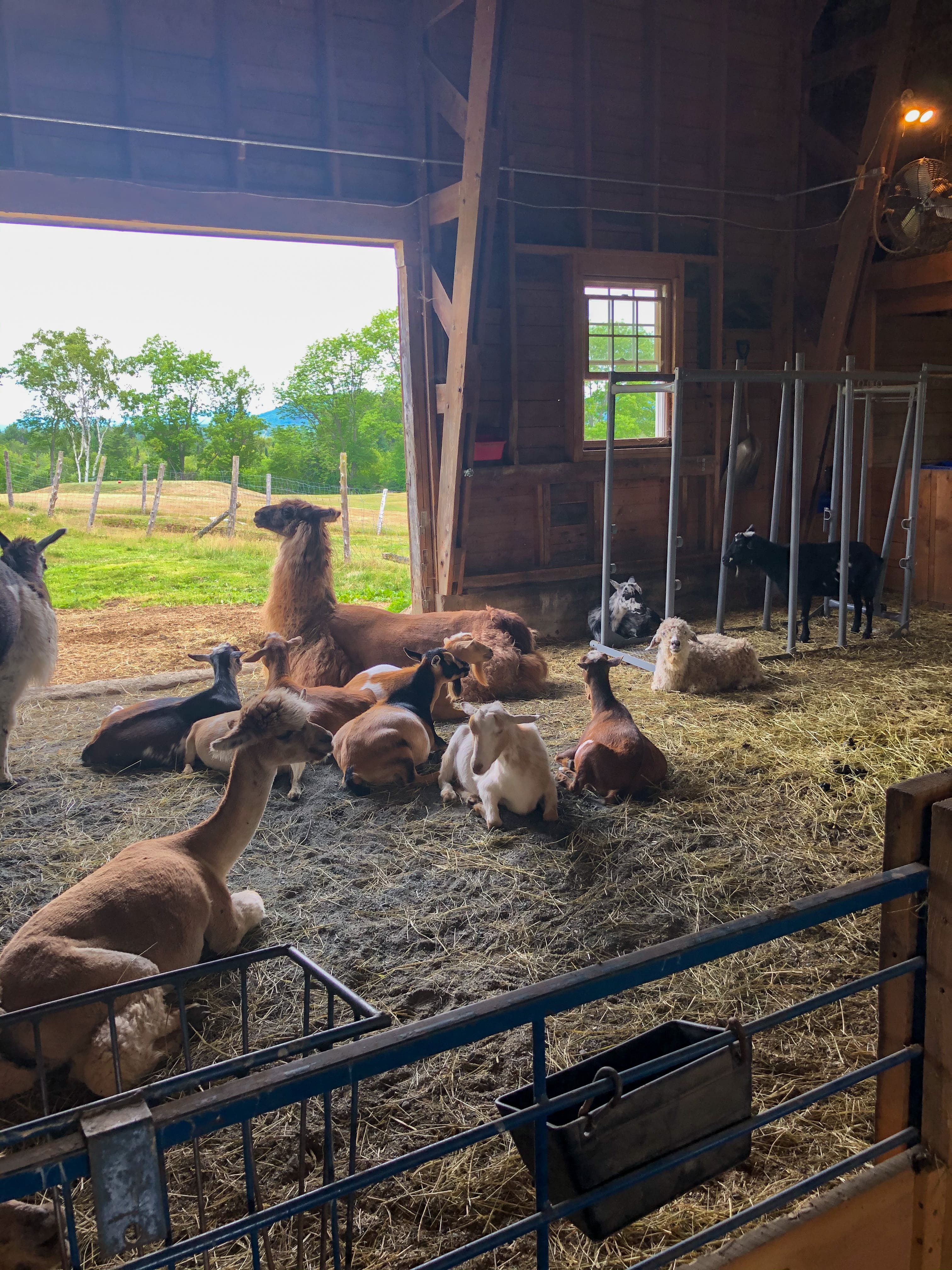 After a slow morning, we drove into nearby Littleton to explore. Highlights for me included stopping in Schilling Store and Tasting Room, another local brewery, and Chutters, home of the worlds longest candy counter. Littleton definitely lives up to it's nickname "the Glad Town" with a small, easygoing downtown full of cute local shops and restaurants.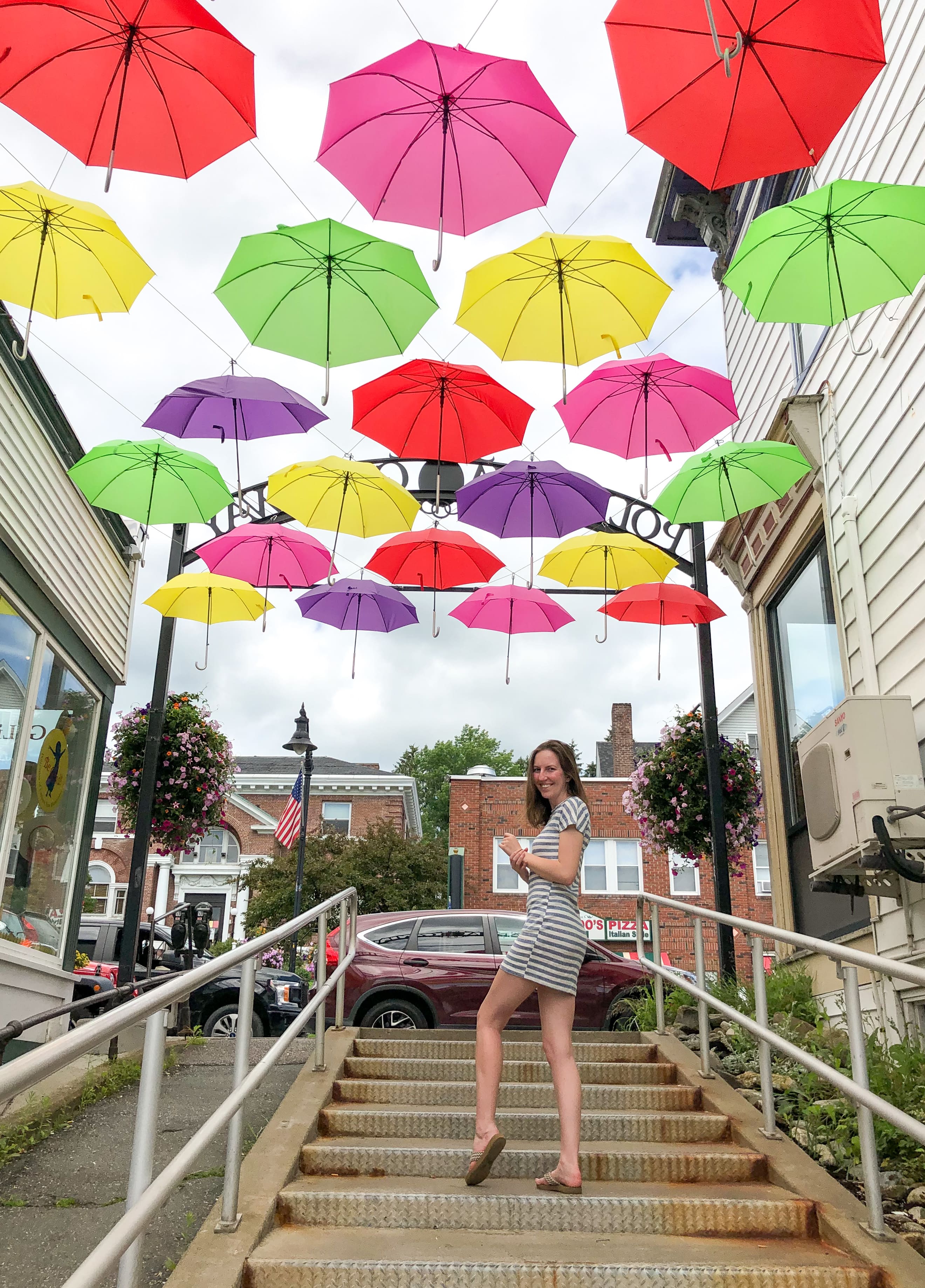 After checking out Littleton, we took a dip in the pool and indulged in some poolside drinks. The bartender, Matt, who we had met inside the night before was amazing. He was friendly, incredibly attentive, and took greater care in making his drinks absolutely perfect than anyone I've ever seen. All the staff we encountered at MVG were fantastic, be he really went above and beyond to make our stay as perfect as it could be.
That night, we went down to the 1865 Wine Cellar, an extremely unique dining experience that is a must-do during your stay there. It's the hotel's fine dining option, and an experience worth booking. There is a business casual dress code, and you must be at least 15 to dine downstairs, but I found it to be a truly quiet, relaxing, and indulgently excellent experience.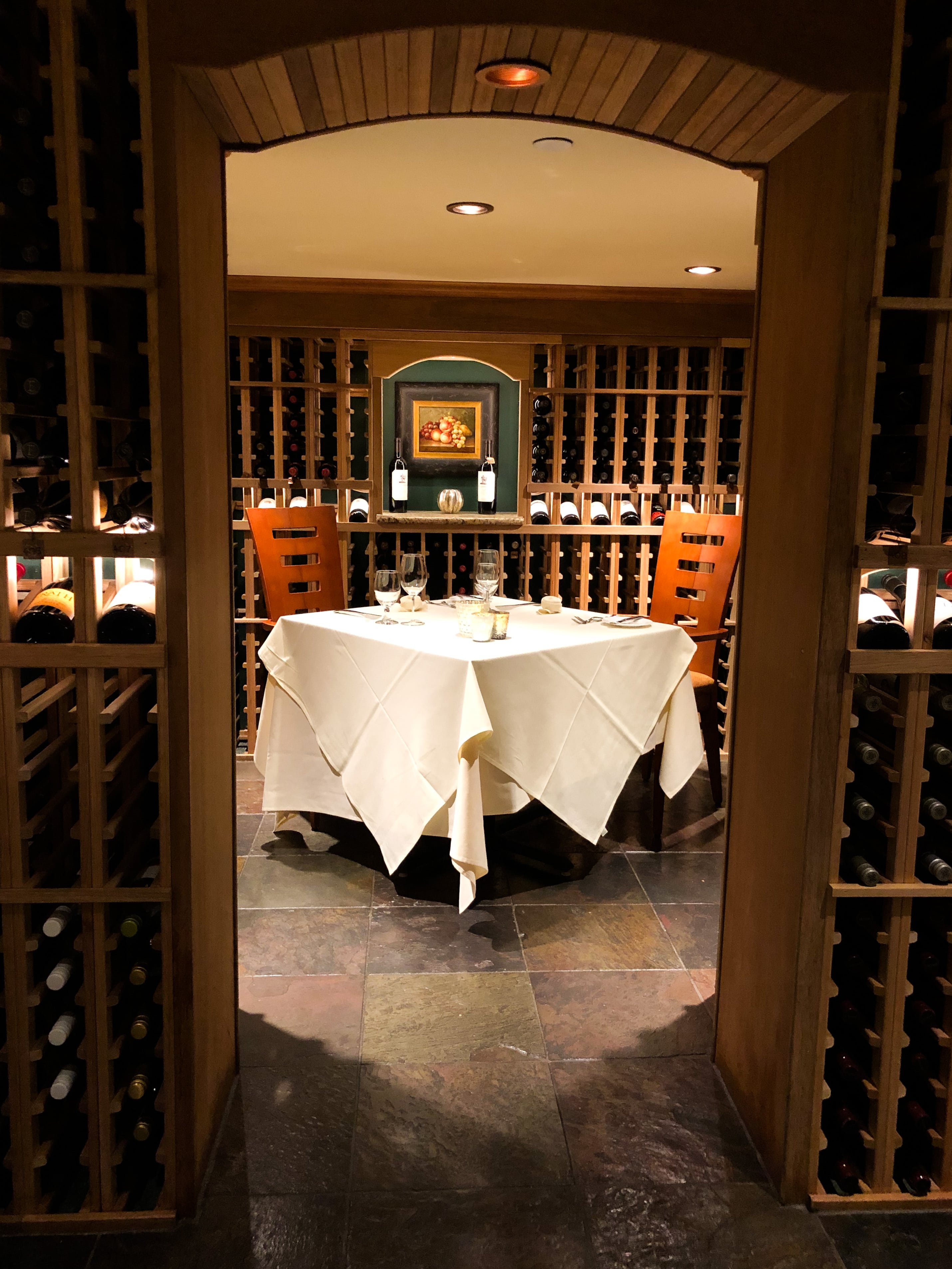 With the extensive wine menu and delicious food it is easy to see why the 1865 has earned Wine Spectators award of excellence.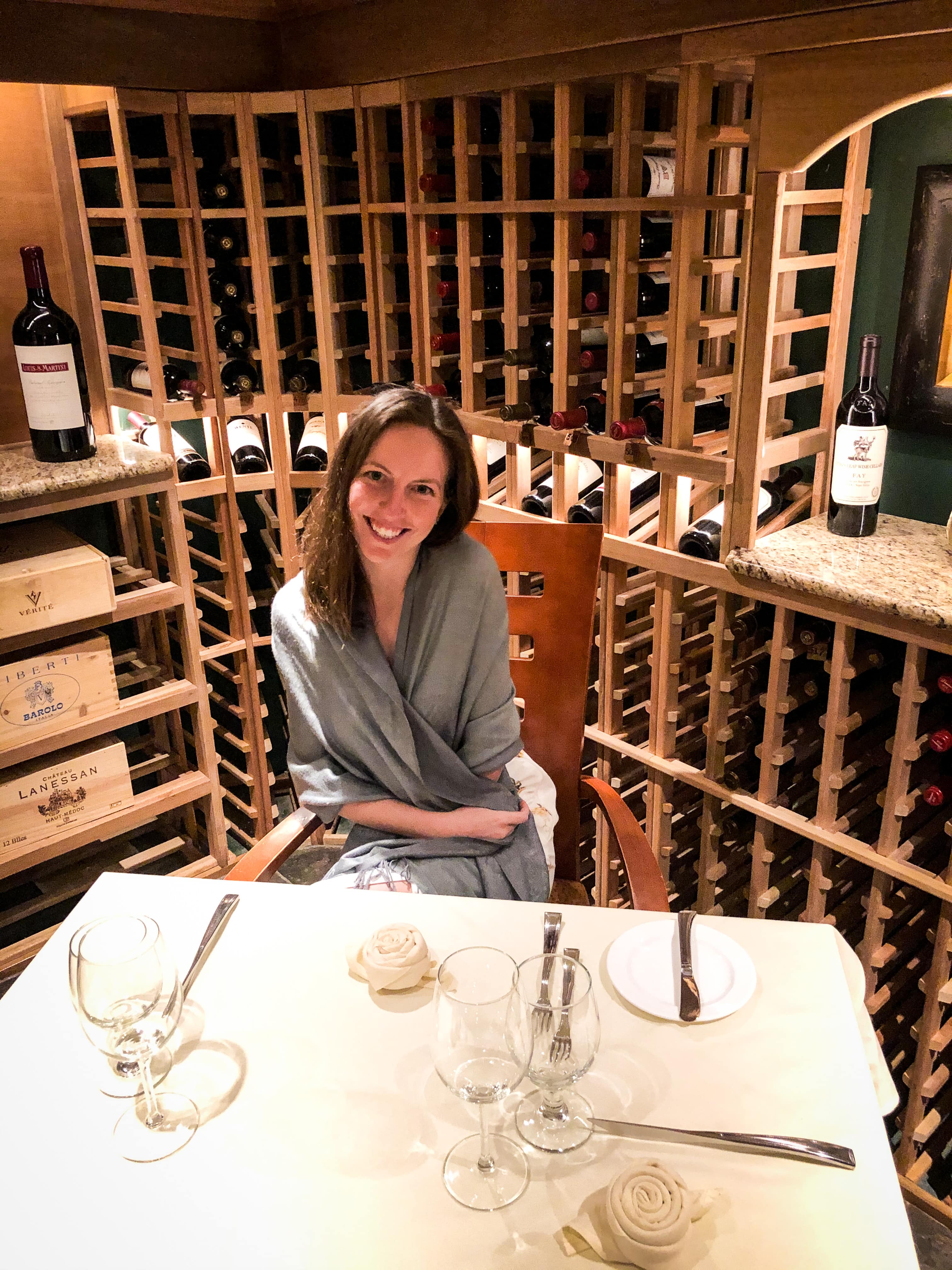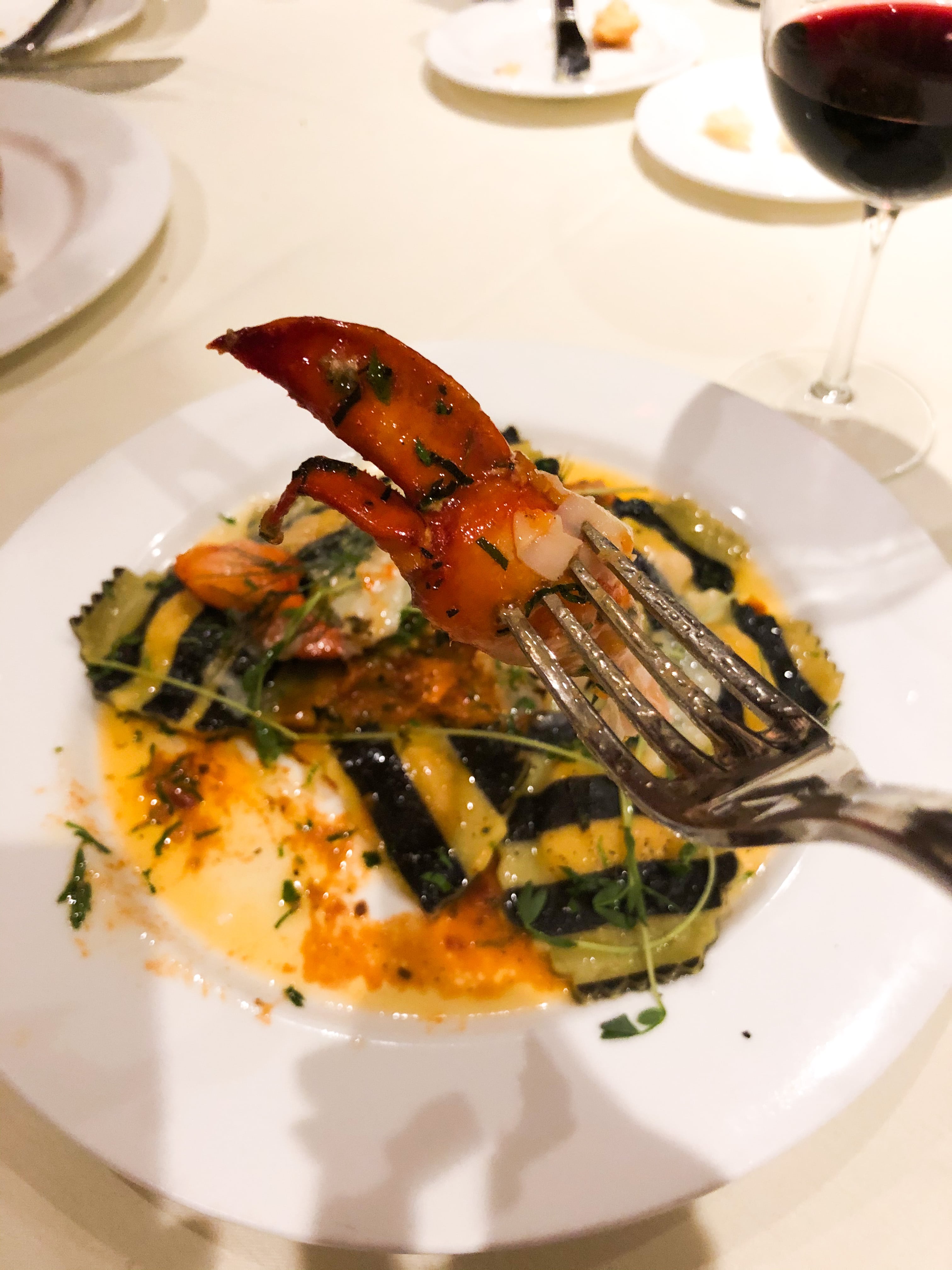 I truly can't wait for my next stay at the MVG. I always love to try new places, but I would go back here for a long weekend in a heartbeat.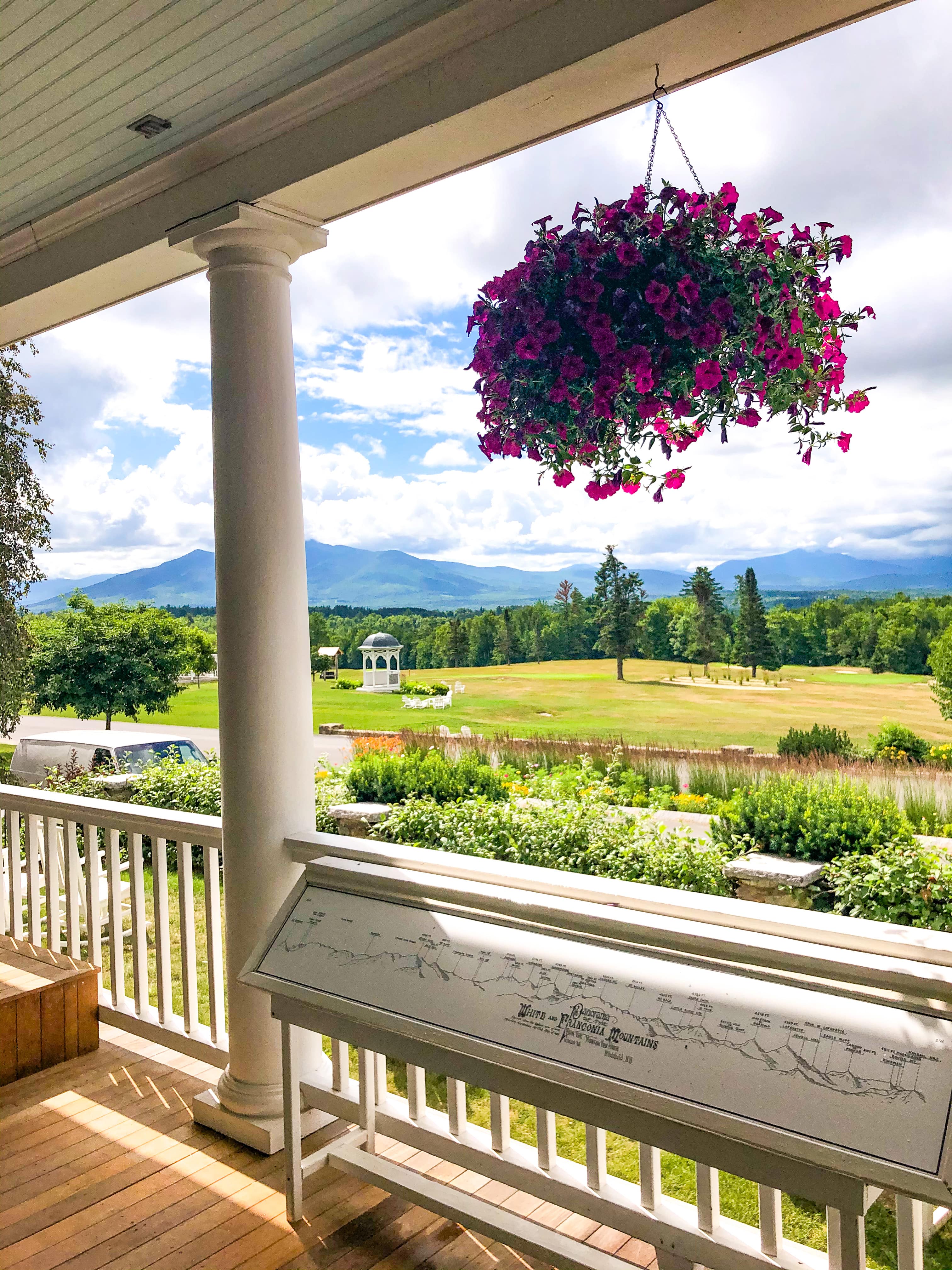 After our dreamy stay at the Mountain View Grand, we moved onto the second leg of our trip— camping.
White Mountain National Forest
On Friday morning, we stopped at the Littleton Farm Co-Op to pick up food, snacks, and some other essentials for the more rugged portion of our trip, and we were off to find our new home (for the weekend).
We ended up staying at the Blueberry Crossing Campground, off of the scenic Kancamagus highway in the White Mountain National Forest. Blueberry Crossing is part of a group of 8 campsites along the Kancamagus that are part of the National Forest.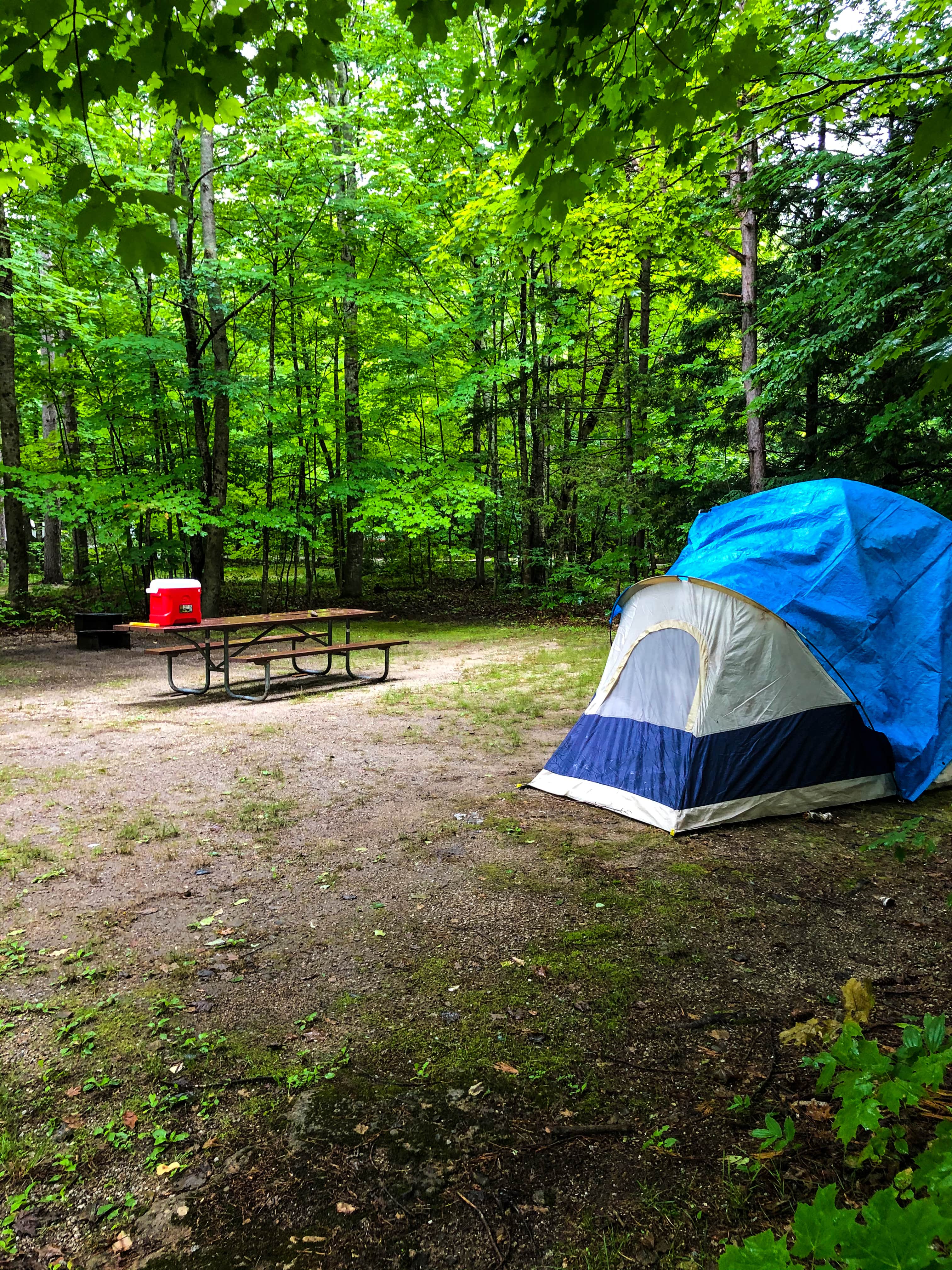 All of these campsites are $25 a night and run on a first come first serve basis, meaning they cannot be reserved in advance, so timeline is important to consider if your'e planning a trip. We got to our campsite at about 11:00 A.M on Friday morning and it was the last available site on the entire Kancamagus. The campgrounds did empty out at the end of the weekend , and in the future I would try to plan to arrive sometime between Sunday and Wednesday to alleviate some of the stress around getting a site.
I could not have asked for anything more out of a campsite, and the location was more than ideal for National Forest and State Park sightseeing, hiking, and driving into either Lincoln or Conway. It is important to note that there is no running water (only a hand-pump well for drinking water). If you're looking for something a little more glamorous, then this probably isn't the spot for you.
After setting up camp, we decided to go into North Conway to pick up a couple more things and ended up stopping in Moat Mountain Smokehouse and Brewing Co. The food was excellent, and the outdoor seating was fun and relaxed, but the beer was nothing to write home about. If you do want to try one of their brews, I would recommend the Hoffman Weiss or Czech Pilsner. Otherwise you're honestly better off with whatever standard beer cans they have.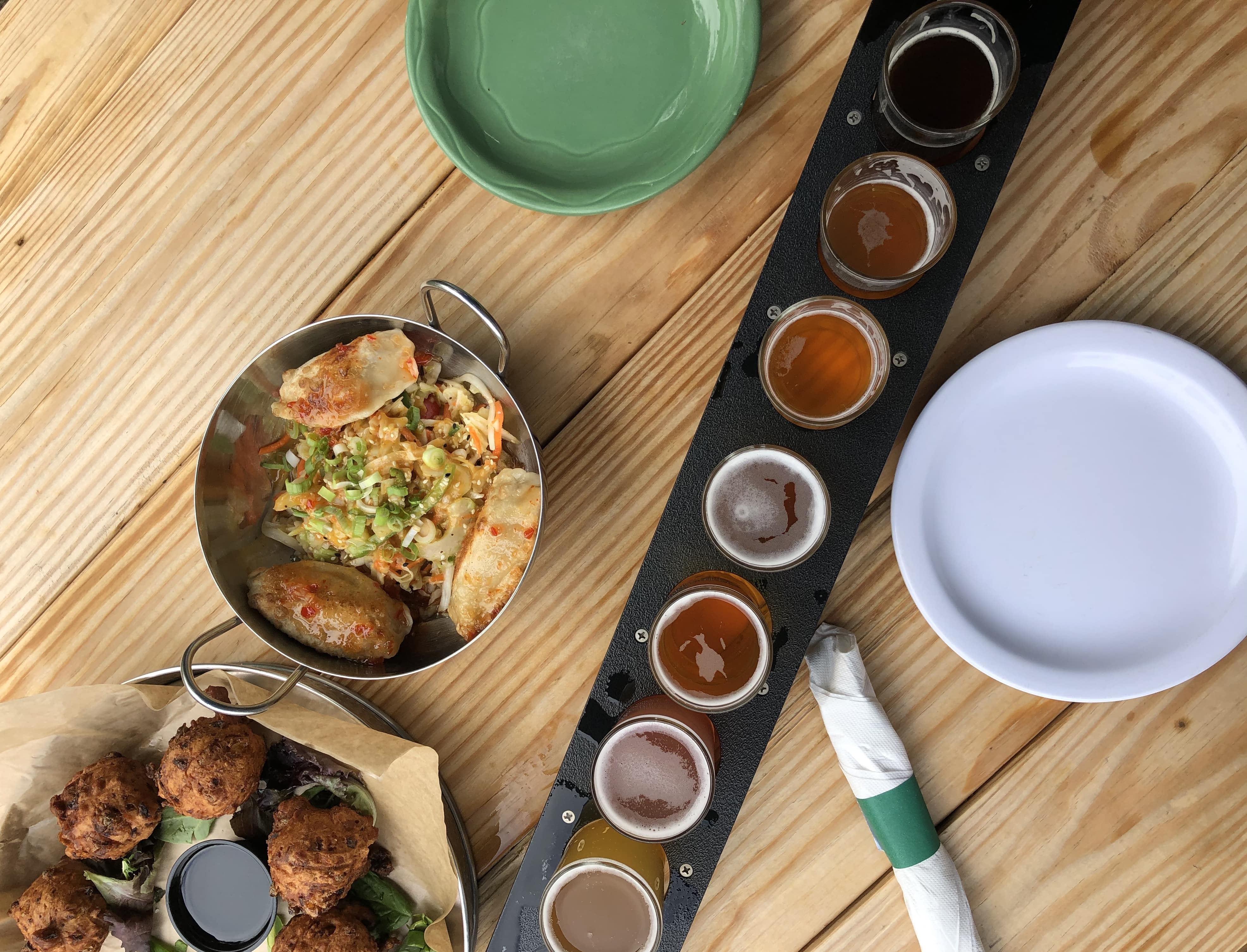 That night, we made some tacos on the fire and settled into camping life.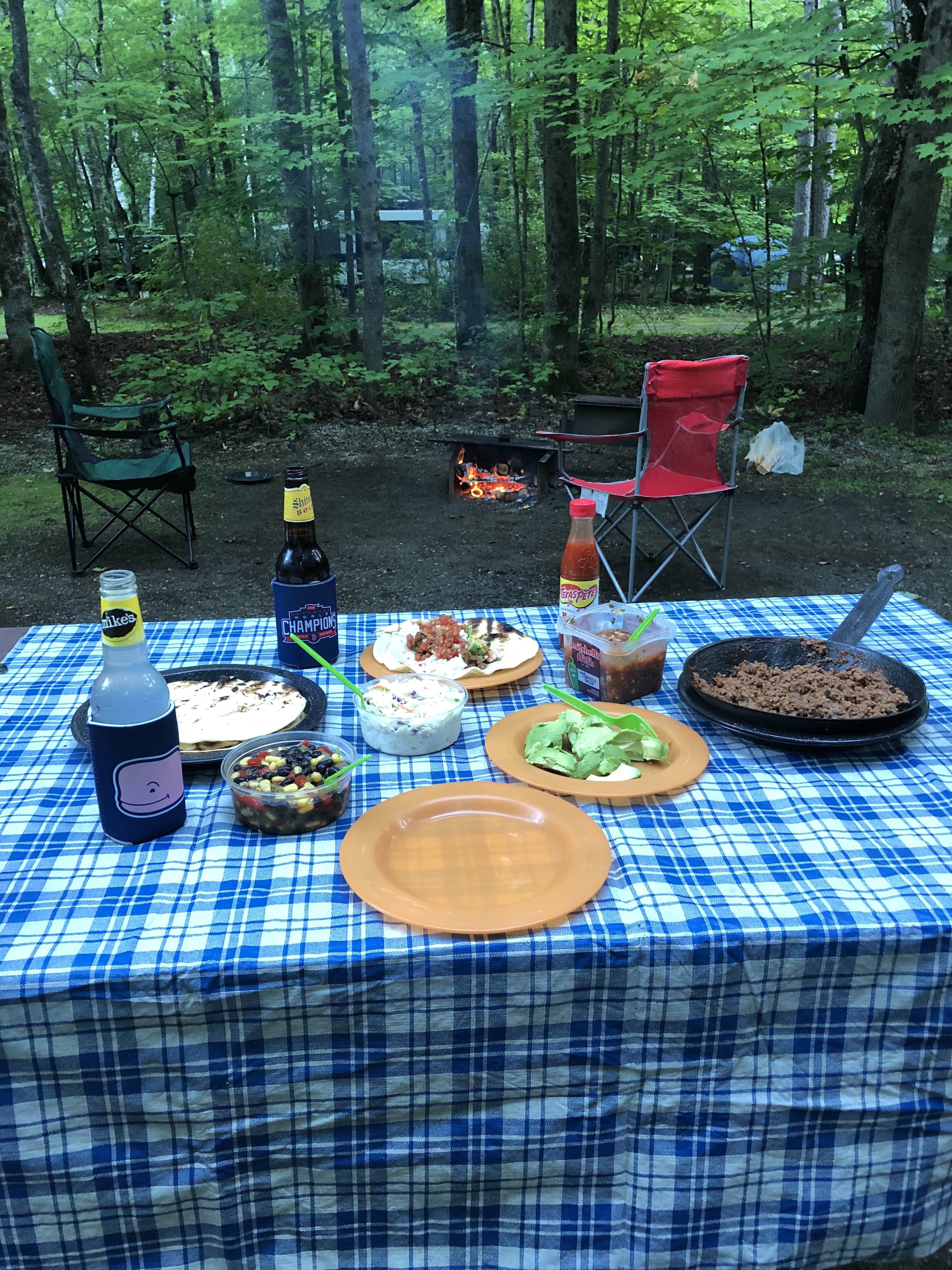 We got an early start on Saturday with plans for a big day of sightseeing. First stop, Echo Lake at Franconia Notch. The notch is known for spectacular panoramic views, and is a must see stop in the White Mountains, but it's also the first place we hit a Covid hiccup.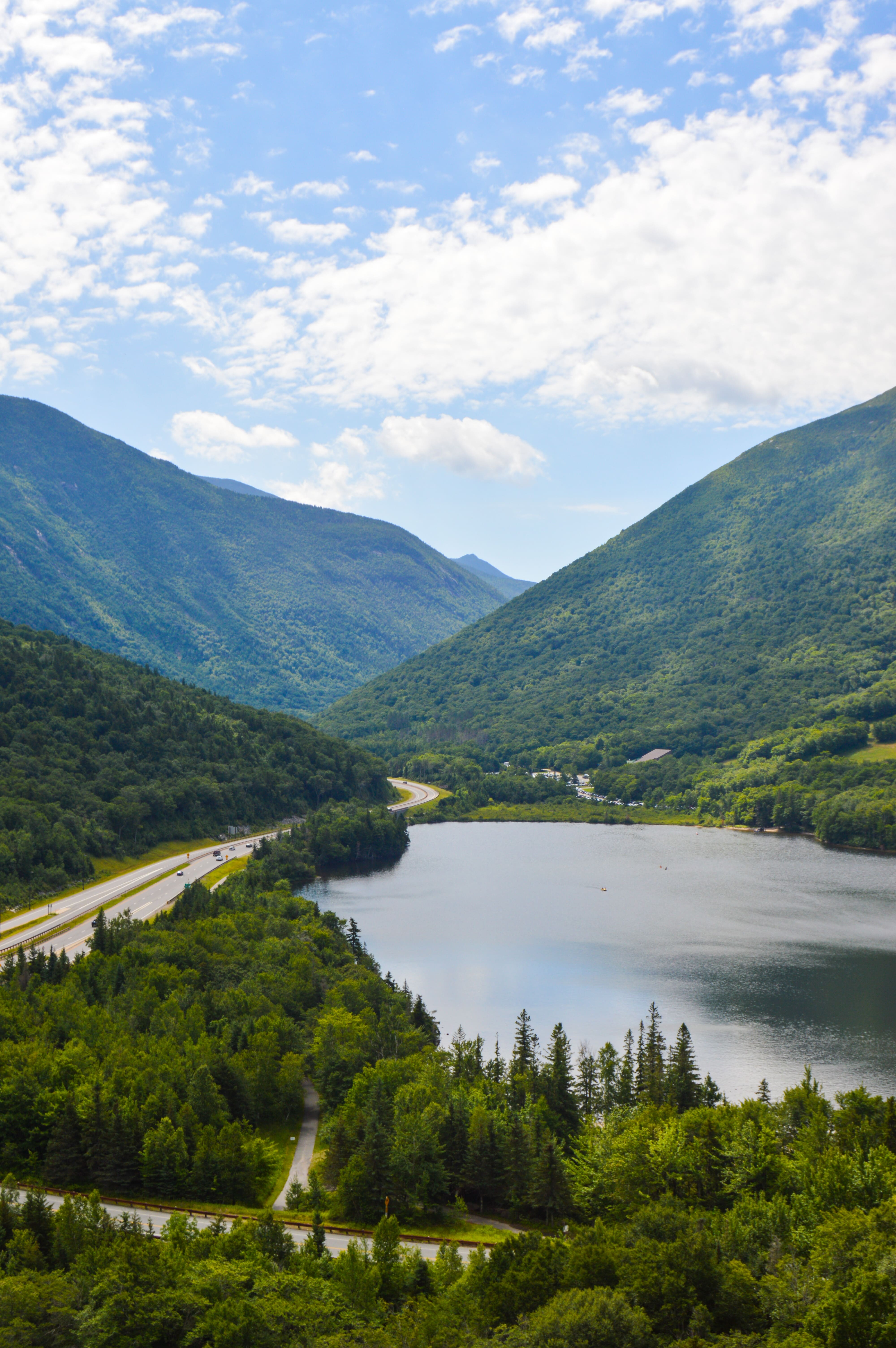 The beach at Echo Lake is one of the only spots where you can see the best view of the Notch, so we headed there. Even with an empty parking lot, we were told by the girl working in the beach entrance booth that due to Covid and social distancing, the beach was reservation only, booked for the day, and we couldn't just walk down for a second to see the view (which was our goal). Of course it's not her fault she was just doing her job, but we disappointingly headed to The Old Man Of The Mountain Historic Site, mostly to figure out our next steps. (The Old Man Collapsed in 2003, but the site still serves as a base for hikers and thousands of visitors).
When we stopped, Nick asked a ranger what the best way too see the view if we couldn't get on the beach. The ranger, by the way, thought that it was ridiculous we weren't allowed in but then told him about the Artist's Bluff, a cliff overlooking the view of Echo Lake and the Notch, that was just a short hike.
The Artist's Bluff Loop Trail trailhead, which we never would have found on our own, is across the way from the Echo Lake parking lot. It's a fairly short hike with a decent incline (it took us about 15-20 minutes to get up). The views at the top were breathtaking, and honestly I think they were much better than what the beach had to offer. Whoever that ranger was that recommended it, I am grateful we found him.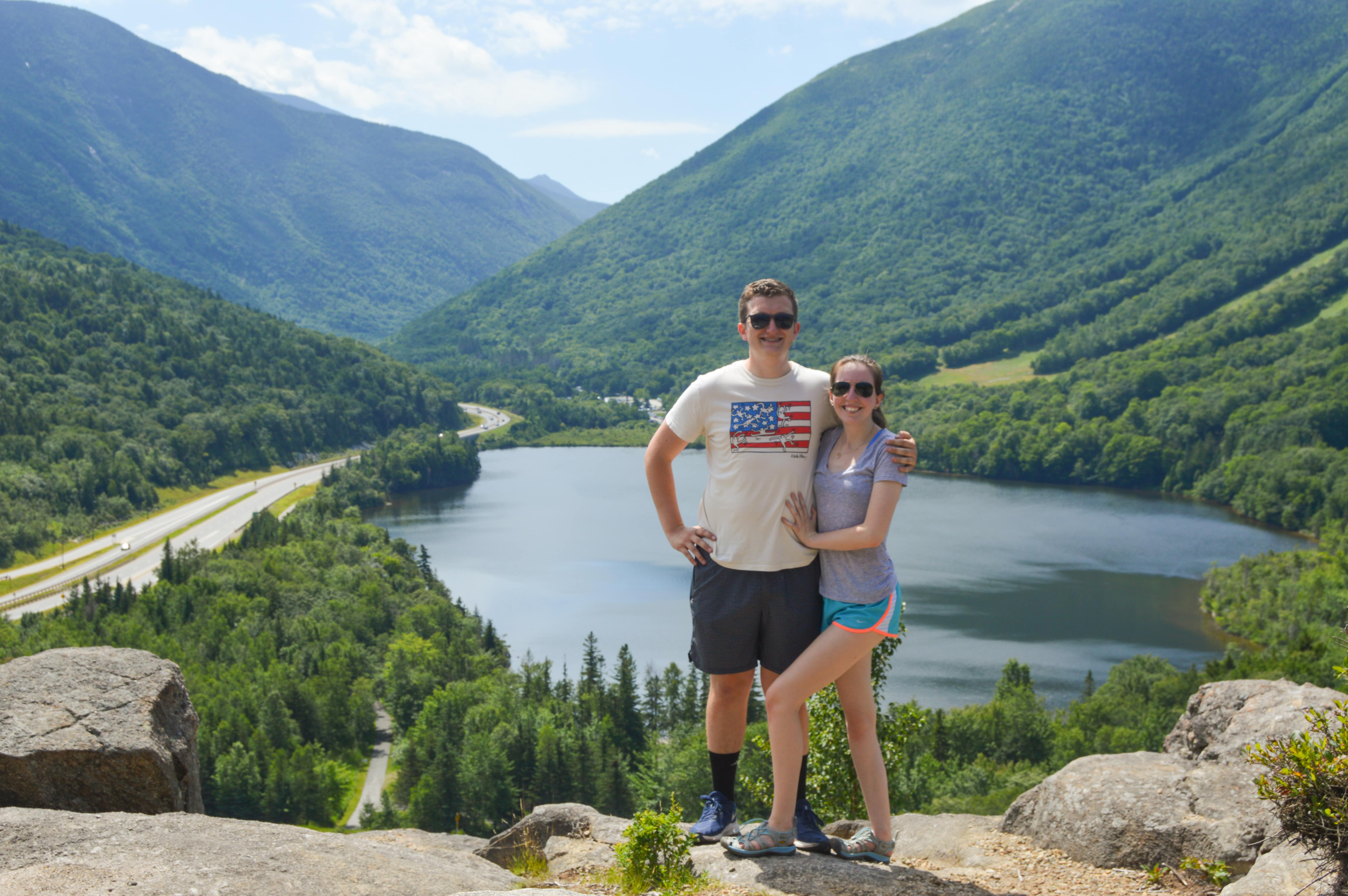 Of the breweries that we visited, the Woodstock Inn Brewery, where we went for lunch that day, was by far the best. The food was excellent, every beer we tried was incredible, and on top of it the outdoor dining had a great atmosphere including live music. I think I would drive up to the White Mountains (about 2.5 hours from Boston) just to come here.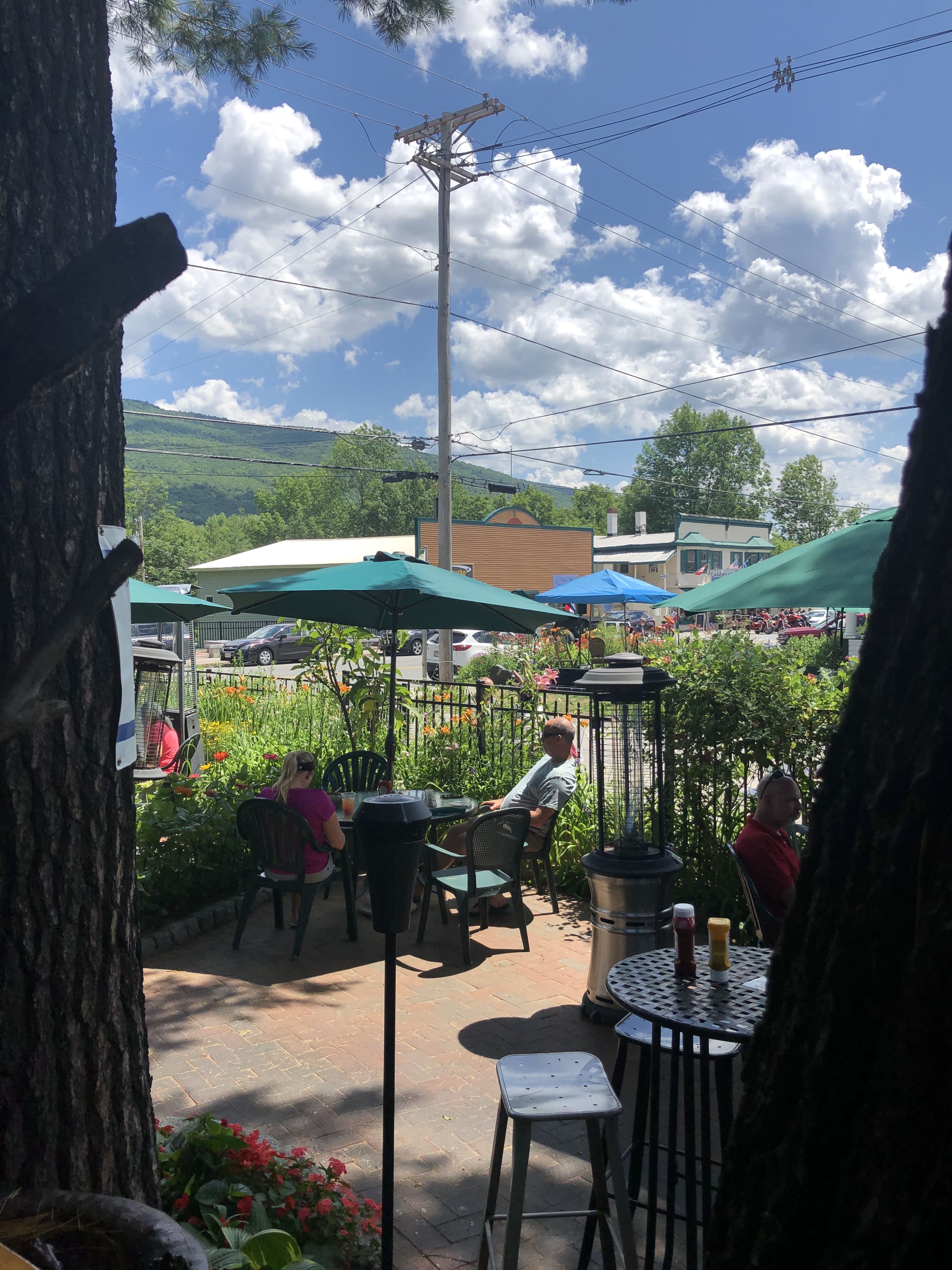 That same day, we made a quick stop at the Basin, which would be a lovely spot for a picnic, and make the hike up to Arethusa Falls. Neither of us was expecting any sort of strenuous hike at this point, but there was a lot of uphill and it took us about 45 minutes to get there, but what was waiting for us at the end of the hike was well worth it.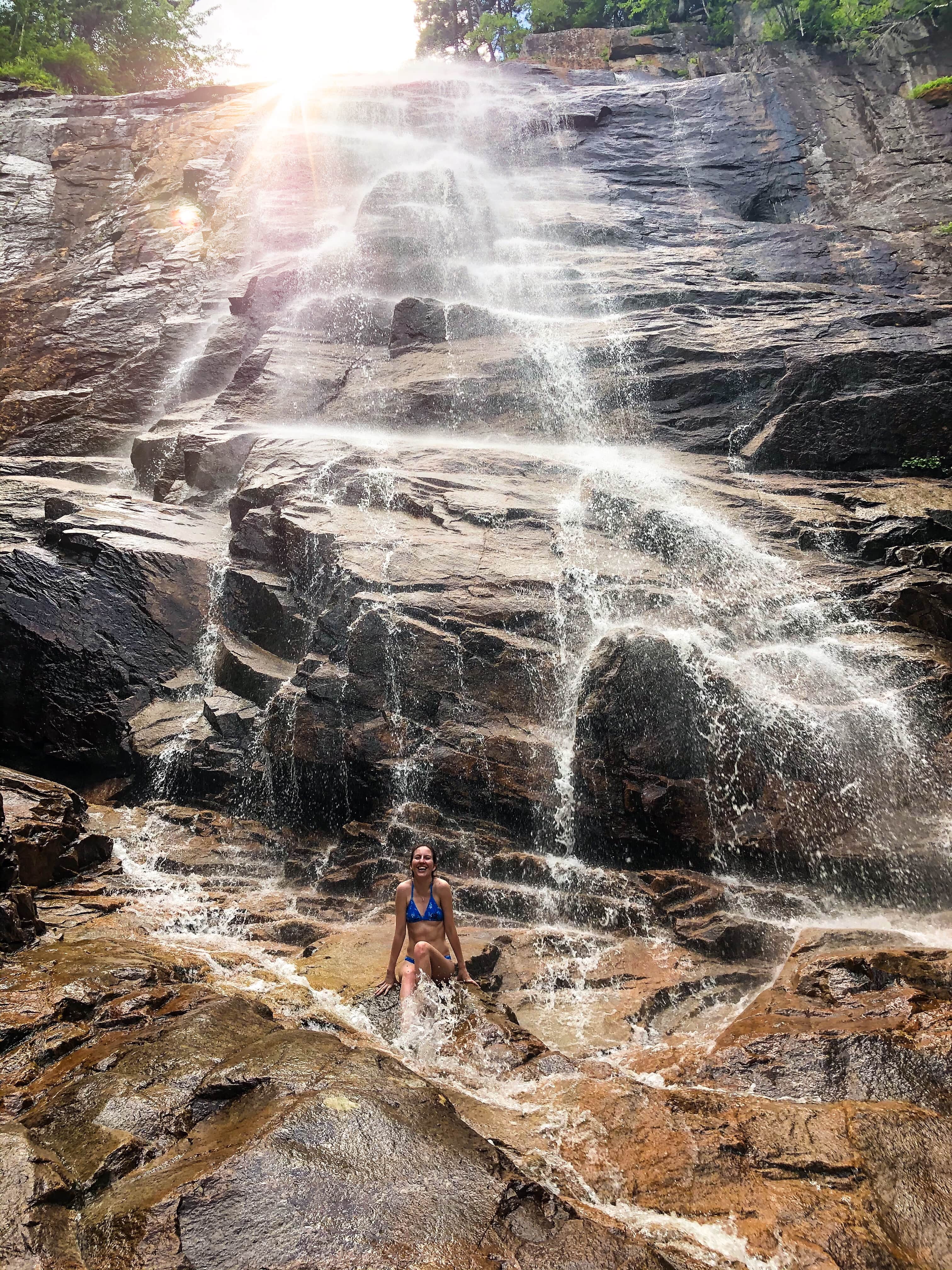 We ended our day at Lower Falls, the most popular destination on the Kancamagus Highway. It's a lovely place for picnicking, swimming, and even sliding down some water-eroded smooth rock "slides." I was glad this was out last stop of the day, because we arrived at about 5 and the day crowds seemed to be clearing out just as we arrived.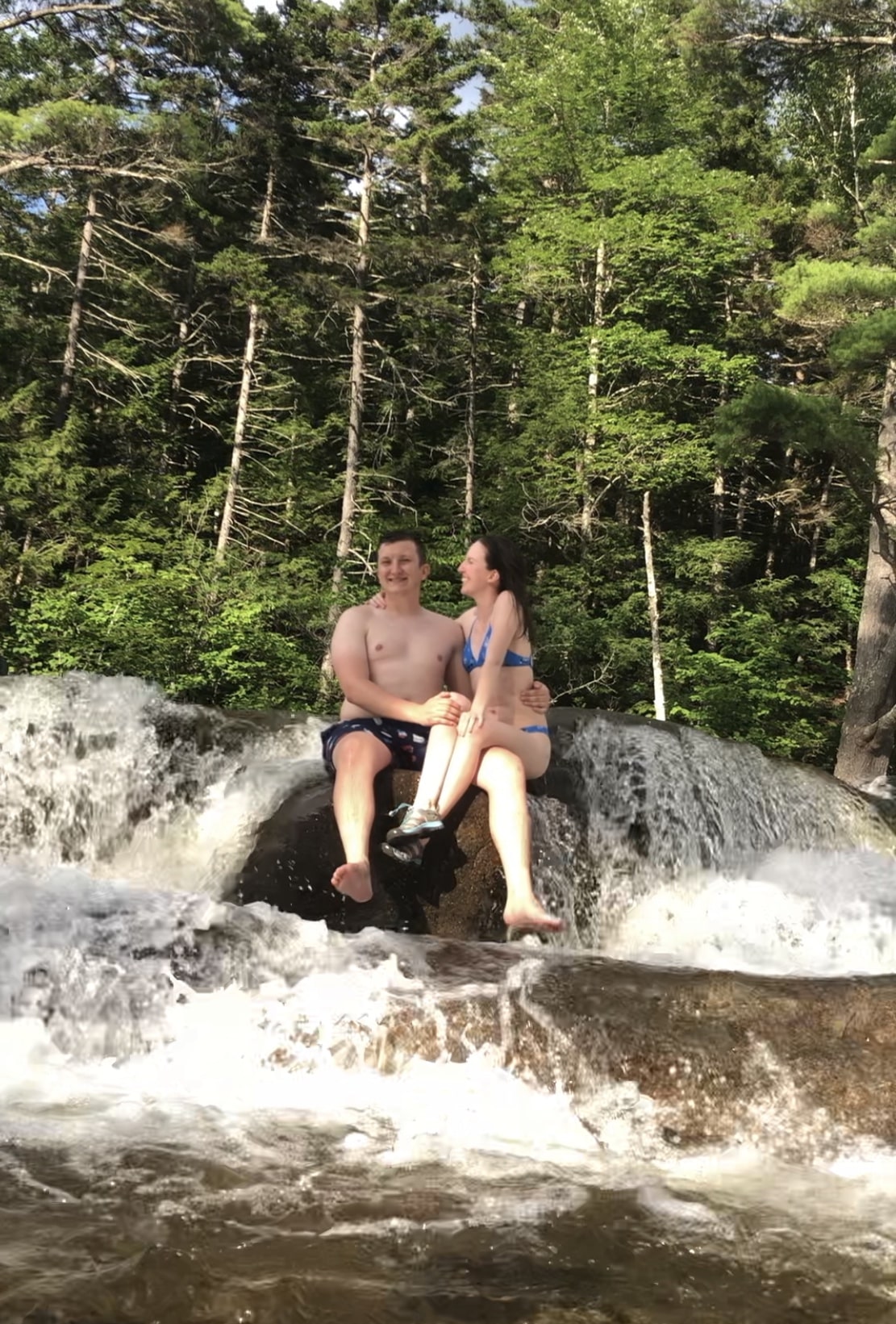 On our last night camping, we decided to drive to one of the panoramic lookouts along the Kancamagus after dinner to look at the stars. Not only were the stars themselves an unbelievable spectacle, but without any planning we just happened to be in the White Mountains on the right night at the right time to see Comet Neowise. There was another couple set up with their telescope at the lookout we drove to, and after seeing the commit we knew we had to find out what we had seen. A few days later National Geographic posted this on their Instagram!
It was the absolute perfect final night of our trip. If you do get the chance, I would still recommend stargazing up in the White Mountains. I's pretty spectacular, and you never know what you might see!
The next morning we packed the car for the drive home, and made a few final stops before really heading out. We checked out the massive REI Co-Op store, and Zeb's General Store in North Conway. We peaked in Sea Dog Brewery (Try the Blue Paw, is amazing!) and made our last stop of the trip at Cranmore Mountain's mountain adventure park to try out the mountain coaster. We really had so much fun here, and it was a cute little way to spend our last day. According to my mom I have been there before, but I really don't remember it. It would be a great place to take kids, and is about a 5 minute drive from North Conway.
After a very busy few days, we finally headed home. Overall, this was a trip I will not soon forget, and I can't wait to return someday. (I will also probably brag about my mountain climbing adventure for just a little too long.)
Want to see more content like this? Sign up for our Newsletter!