Let's Talk About Dry Scalps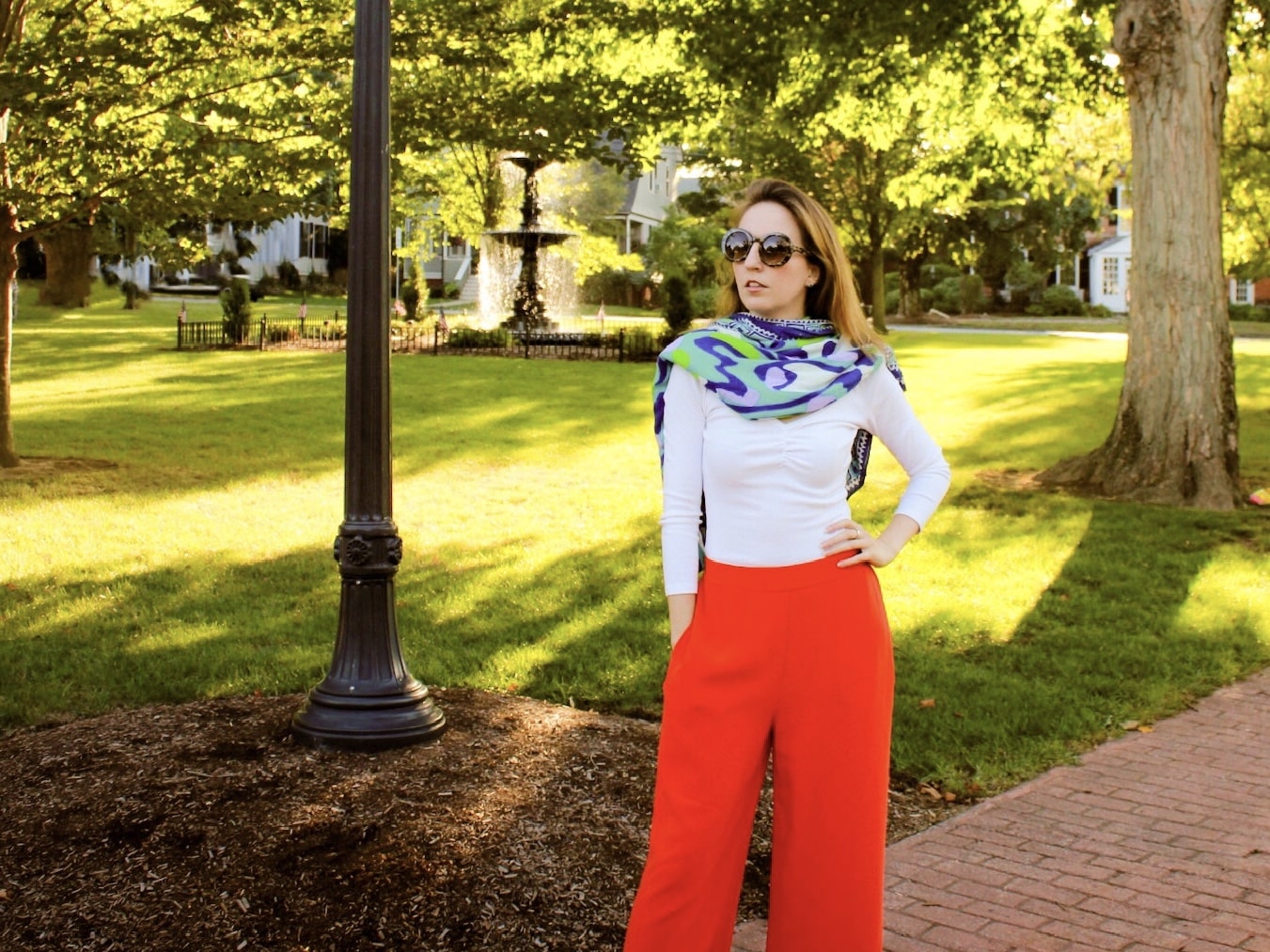 Wednesday, September 23, 2020
Not a very glamorous topic, but let's chat about dry scalps. If you've been around for a while, you may know that I've mentioned my dry scalp before, and I'm always on the hunt for a solution.
In my case, I wouldn't say that I have a lot of dandruff or flakiness, it's more itchy and bothersome like dry skin. Because of my anxiety I also have a tendency to nervously scratch at my head, which makes it worse. Like I said, not very glamorous but hey that's real life sometimes.
You may have already seen me raving about Briogeo Scalp Revival Charcoal and Tea Tree Treatment. There's actually a line of Scalp Revival Products from Briogeo that this product is from. After thinking about it for almost a year I finally decided to pull the trigger on purchasing the Scalp Therapy Essentials Kit which includes the scalp treatment, as well as shampoo and conditioner and the stimulating scalp massager.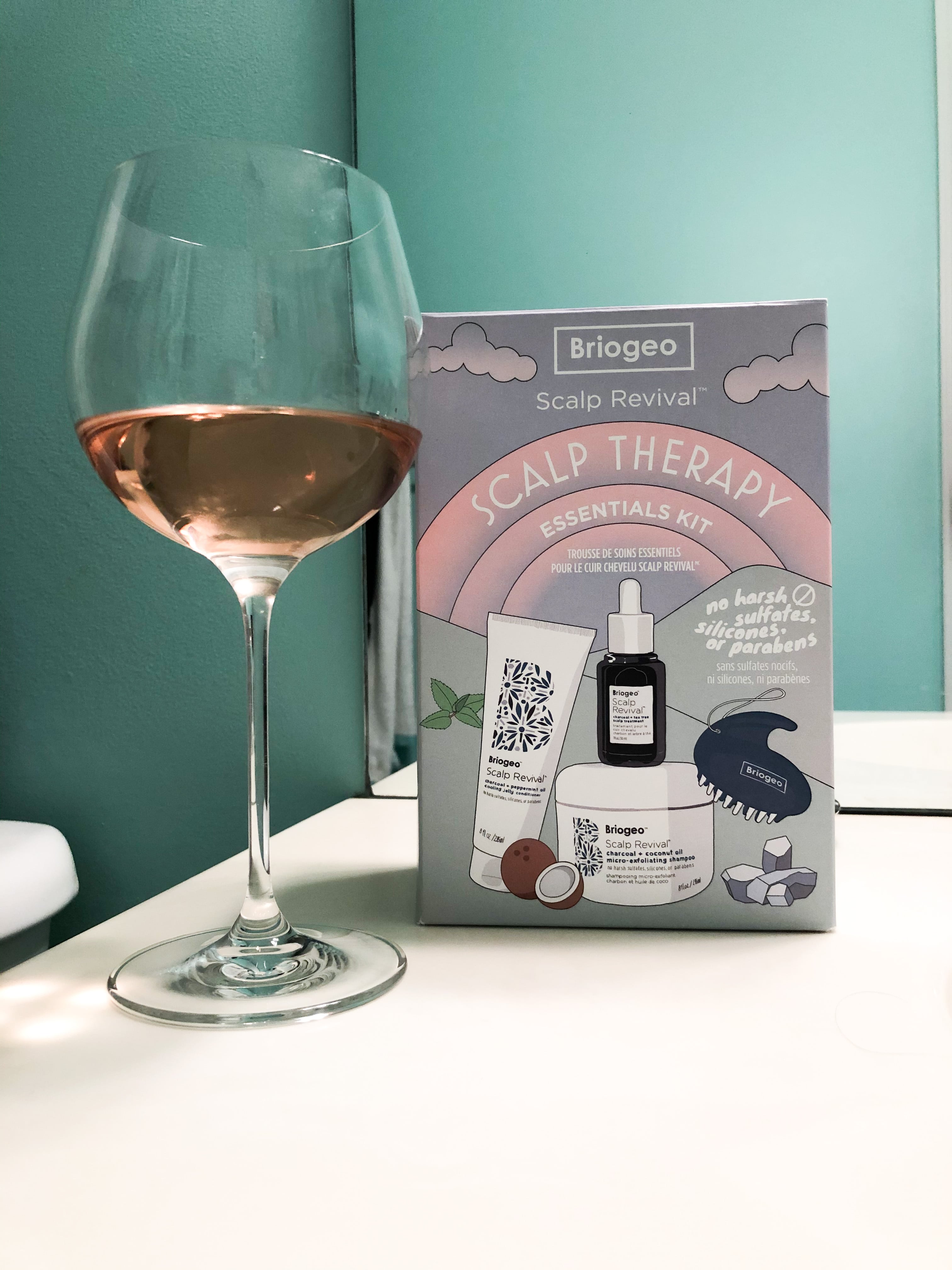 Briogeo is one of my absolute favorite hair care brands because they are a completely clean, cruelty free beauty company that uses all natural ingredients. They go a step further and include the exact percentage of naturally derived ingredients (and its source) on the back of every bottle to take the guesswork out of ingredient labels. In addition, quality hair care for everyone and every hair texture is one of their main core values as a company.
I am really happy to say that overall, I love the results of these products. After just one or two uses my scalp feels significantly less irritated. I do have a few suggestions on how to best use the products though, and a couple things to think about when it comes to what will work best for you.
The first product is their charcoal and coconut micro exfoliating shampoo. It uses a blend of charcoal to detoxify, vegetable-derived micro-exfoliators remove dead skin cells and product build-up from the scalp, and a cooling blend of peppermint and spearmint oils to reduce scalp itchiness. In addition, tea tree oil has anti-septic and healing properties that reduce scalp irritation and inflammation. Finally, coconut oil provides moisture.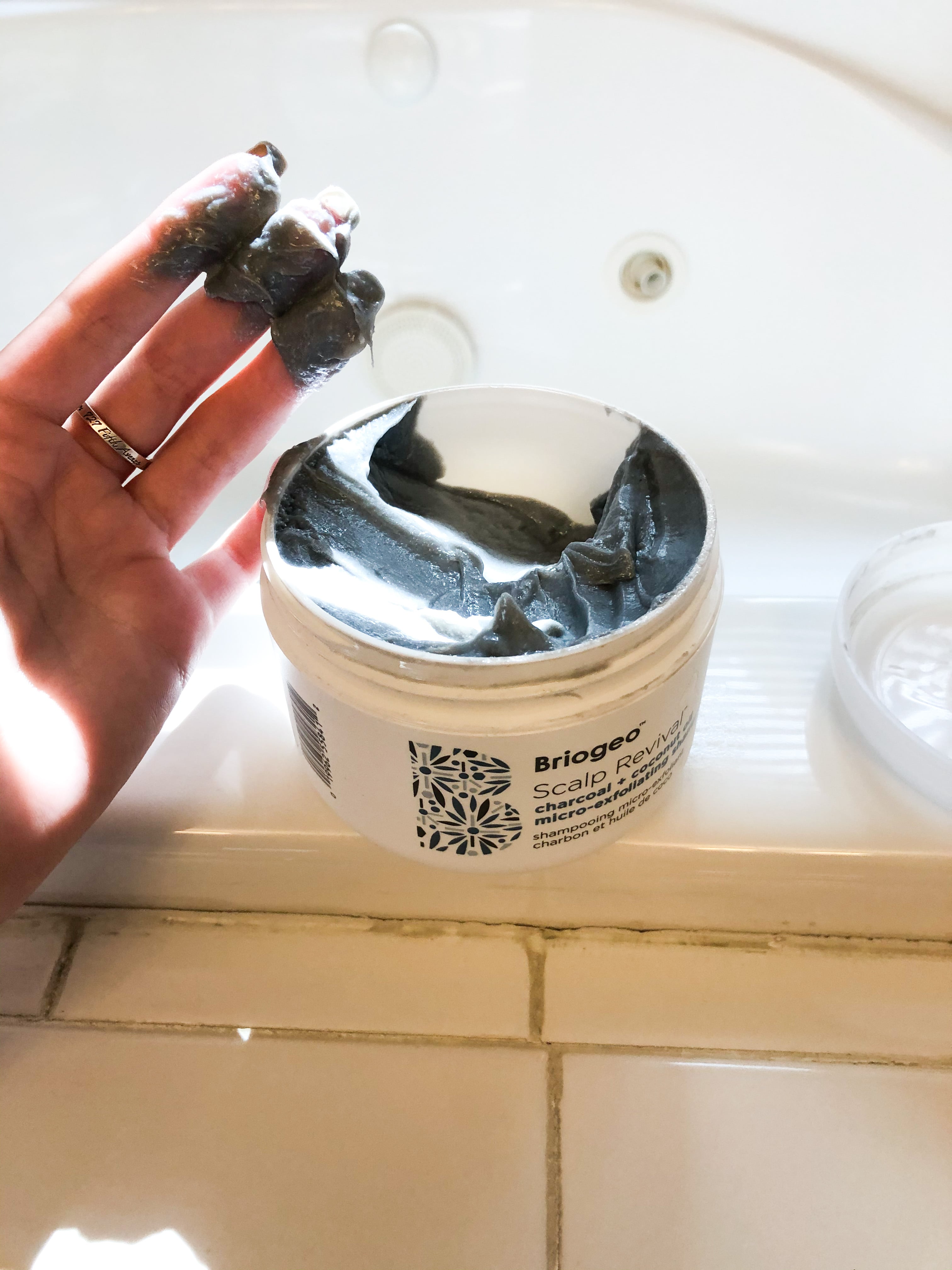 I do really like this shampoo for my scalp. It lathers into a really thick foam and smells just like a Peppermint Pattie. I love the idea of exfoliating the scalp too since exfoliating is such a big part of most regular skin care routines it just makes sense to treat your scalp the same way. My only qualm about this product is that it does feel a little more stripping than my normal shampoo, which makes sense for detoxifying purposes. I would suggest using this product once a week or so to maintain that healthy scalp without overdoing it.
I cannot say enough good things about the charcoal and peppermint oil cooling jelly conditioner. I have never felt anything so cooling and soothing on my head before, and I would probably have paid a lot of money to get that feeling at a spa. This conditioner is a unique blend of peppermint, tea tree and spearmint oils help to reduce dry scalp itchiness while hydrating. Purifying charcoal aids in detoxifying further adn the cooling, jelly texture format enhances the scalp soothing benefits of this conditioner.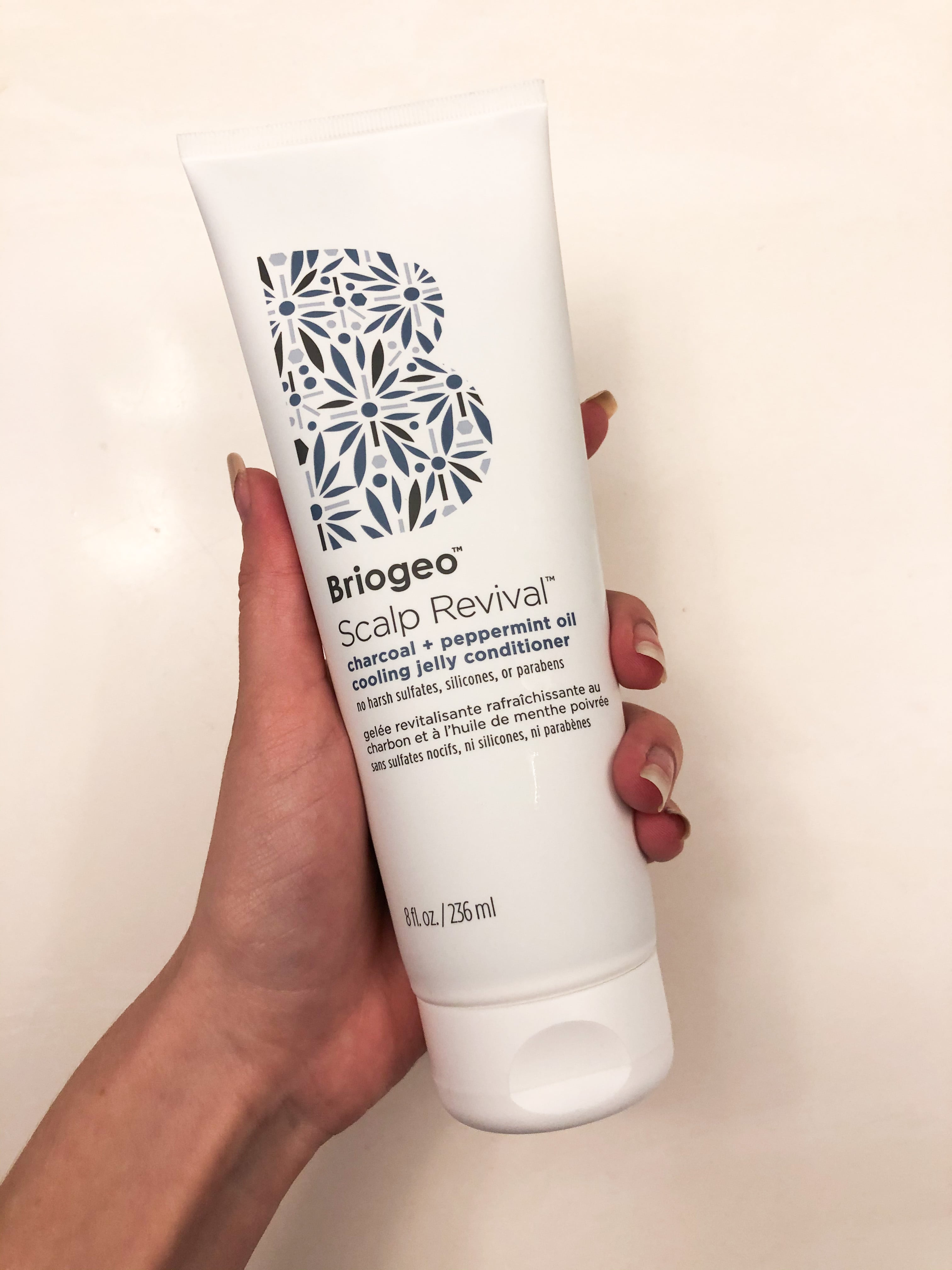 While this conditioner is amazing on the scalp, it is not the same type of moisture you need for your lengths. I've talked about this before, but you can actually cause product build-up and irritation by using your regular conditioner on your scalp. This product solves that problem and goes above and beyond while doing it, but you definitely still need to use your regular conditioner throughout your hair. My favorite right now is the R+Co Dallas Biotin Thickening Conditioner.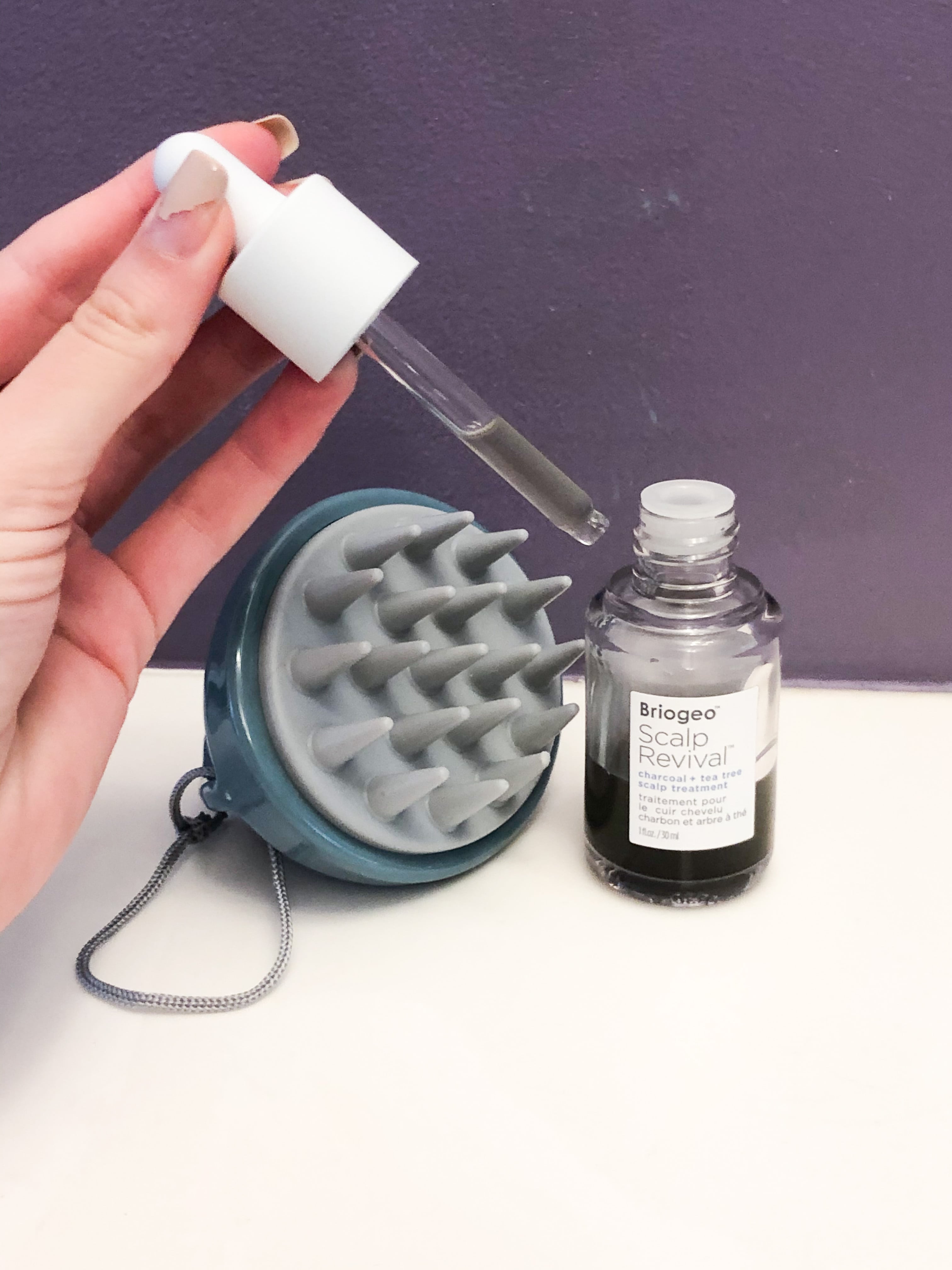 Finally, the Briogeo Scalp Revival Charcoal and Tea Tree Treatment, one of my all time favorite products. You apply the treatment by parting your hair into sections while it's still wet after the shower and putting one-two drops onto your scalp, then massaging it in. The treatment detoxifies and removes buildup from the scalp, soothes, and hydrates to prevent dryness and flakiness. This step is where I got to use my new stimulating scalp massager as well. Paired with the scalp conditioner and the massager, I really feel like I've just left a spa treatment.
While these products definitely work better together, if you're looking to only invest in one of these products, I would suggest either the conditioner or the scalp treatment. They are definitely a step up in price point from anything you might get at a drugstore, but I think for me it's worth it, especially when you factor in my nervous itching.
Want to see more content like this? Sign up for our Newsletter!
This post includes affiliate links. That means if you make a purchase through a link in this post I receive a small commission at no cost to you. I also receive a small commission on products purchased through my Amazon Storefront.