Dorm-Room Packing: Tips, Tricks, and What You Definitely Don't Need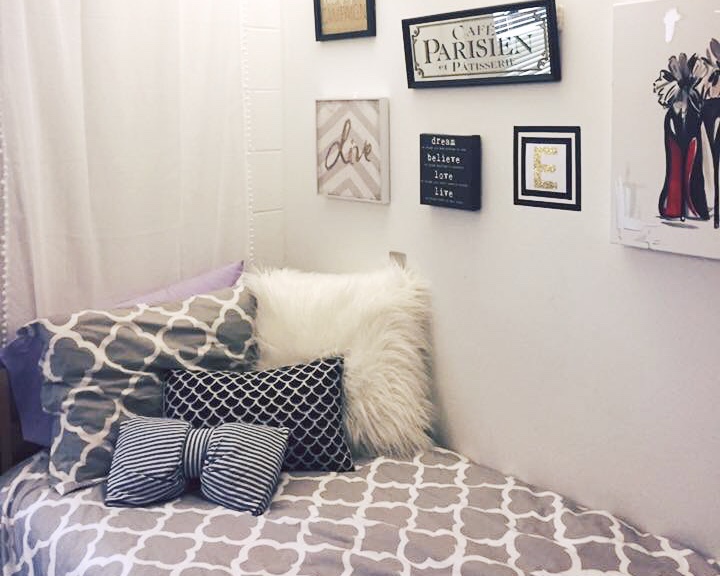 Although my college days are over, this was a request. With college move in days right around the corner and and my bachelors degree under my belt, I figured I'd share what I learned.
It's so easy to overpack and overcrowd a dorm room or small apartment, and can be hard to figure out what you actually need to bring even if it's not your freshman year.
Of course, bring all your regular toiletries, towels, makeup, tide-pods, bedding, etc., but those are pretty self-explanatory. Today, I'm talking about all the lesser-necessities you think you might want, or heard somewhere that you need.
Here's what I've learned about what you really need.
The Absolute Essentials
A Good Mattress Pad— Seriously, if you're going to splurge on one thing this is it. At least 80% of the time I spent in my dorm room was in or on my bed. Sleeping on those terrible thin dorm mattresses just isn't good for your back or your morale.
Plastic Storage Bins or Drawers— I lived and died by my plastic drawers in college. I used them as extra space for clothes, toiletries, things that weren't in season, practically everything. Plus the best part was that I packed what I wanted inside of them at my house, then all I had to do was slip them under my bed when I got to school and I was done. Then at move out, you can just pick them up and go.
A Floor Lamp— The overhead lighting in all of my dorm rooms was dim and harsh and overall not good. You can get really practical floor lamps at Target for around $20 that provide much better light and just make a dorm room experince much more pleasant.
A Keurig— I probably could have put this in the next category, but honestly I used mine every day. There will be coffee and tea on campus though, so its not life or death.
Mini Fridge and Microwave— I think most schools have rental programs and that's by far the best option, especially because they move it in and out for you.
A Vanity Mirror For Your Desk— Some dorms have mirrors, but some don't. This really applies if you have a communal bathroom, I just found it much more pleasant to to do my makeup at my desk then in a crowded bathroom.
Small Dish Soap— Even if you only have one mug, you'll need to do at least a small amount of dishes (probably in a bathroom sink).
Calendar/Planner— This might be too obvious, but writing down assignments, due dates, events, and everything else you have going on in college is SO important. I found the absolute best wat to keep track of everything, although it can be tedious, is to copy all the dates from your syllabi into a planner during the first week of classes. It's annoying in the moment, but so lifesaving for the rest of the semester.
A Rug— Be sure to check the dimensions of your room before-hand if you can, or wait until you move in.
A Small Vacuum and Clorox Wipes— Dorm rooms can be kinda gross, and you're going to need these.
A Steamer— It's so much more convenient and way easier to store than an iron and ironing board.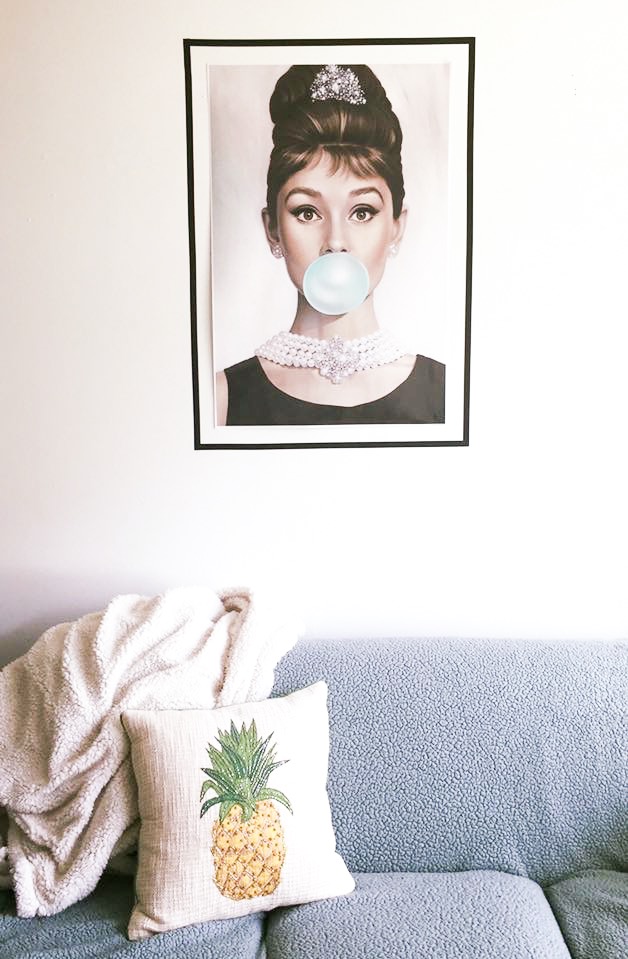 Don't forget…
Headphones
Reusable Water Bottle
A Stapler and staples
Extension Chords
Scissors
Lint Roller
Sewing kit (unless you have no idea what to do with it)
Laundry bag and drying rack
Garbage can and garbage bags
Take it if you must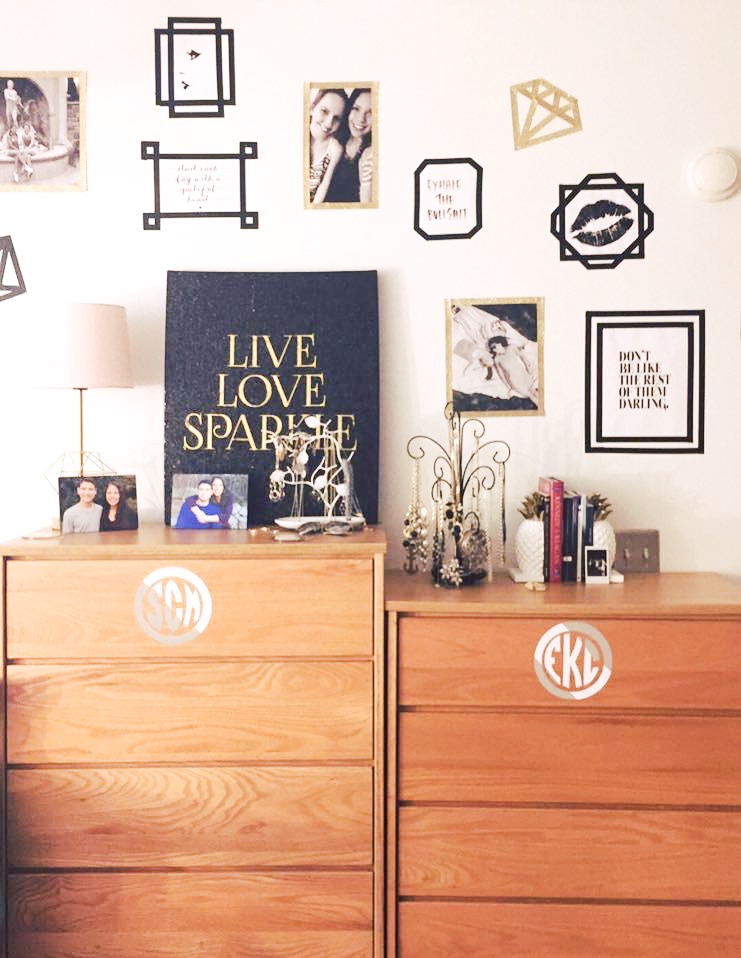 A Desk Lamp— I didn't spend a lot of time at my desk, and I did most of my work in the library or student center. I really only used my desk lamp for doing my makeup. It took up space and I barely turned it on. If you think you're going to do work in your room, bring it. If not, maybe leave it behind.
A Television—I always just streamed things on my laptop. Even when I had a TV it barely got used. (If you bring one though, remember your HDMI chord!)
Utensils— This one is more of a choice. Plastic utensils are very convenient and bad for the envireonment, so I guess bring them if that's your prerogative. I liked having real utensils around, but you definitely don't need to bring a table setting for eight. A couple of forks, knives, and spoons will do just fine.
Speakers— In most dorms, blasting music will do nothing but annoy your neighbors and potentially your roommate. It is nice to have a portable bluetooth speaker to bring outside though, really it's up you to you.
Curtains—I used curtains to cover my wardrobe (we didn't have closet doors) and that was perfect. I also used them to create a canopy over my bed, which made the room feel more homey to me. Some dorms have windows that work well with curtain rods, and some don't. I would make sure you know for sure that you want curtains and they'll fit in your room before you get them.
Leave it at home
A Printer— They are really convenient. They're also really clunky, and it can be hard to find a place to keep them. Plus, all schools have plenty of places on campus for printing, and tons of school work is submitted electronically now.
More than one or two mugs— This one I learned the hard way. I know they can be super cute, but they can also be really hard to store. If you bring a coffee maker, or plan on drinking a lot of tea (I did both) really you only need one (maybe two) mugs and one travel mug. A few extras isn't the end of the world, but they do take up unnecessary space.
White Board— Unless it's your calendar, in my experience it's just messy and other people write all kinds of things on them. Plus the markers are easy to lose.
Extra Furniture— Make sure you check what furniture your school provides in your dorm room. If there's something crazy like no desk chairs, of course bring that. But, leave any other extra furniture at home. If there's something you're dying to have after you move in, you can always get it later when you know you have space.
Dinnerware Set— You're just never going to need more than one or two plates, maybe a bowl. It's unnecessary in a dorm.
Alarm Clock— This is on almost all college packing lists. There's just no reason for it if you have a phone.
Wall Putty— Use command hooks and strips instead, or washi tape. This stuff leaves a huge mess and doesn't work that well.
T-Shirts— Always bring way less T-shirts than you think you'll want, especially if you don't wear them outside of working out and sleeping. I accumulated an unreal amount of t-shirts at school that I barely wore. When storage is limited, its just not what you want taking up space.
It's also a really good idea to coordinate with your roommate where you can! For example, you only really need one drying rack or one Keurig.