PUTTING SUNLESS TANS TO THE TEST: MAY THE BEST TAN WIN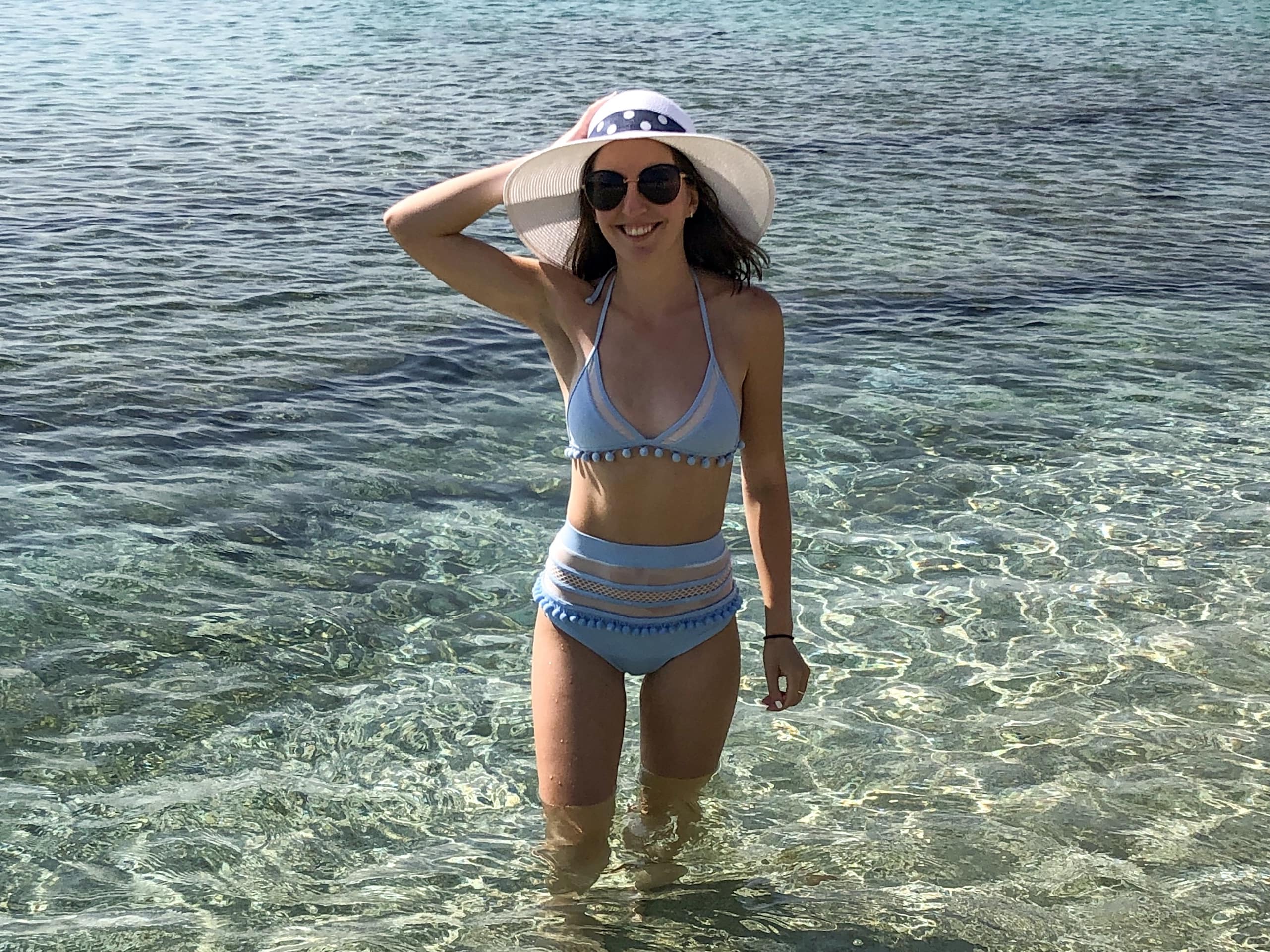 Wednesday, April 8, 2020
Most of the time, I'm pretty pale and proud. Sunscreen is my Irish skin's best friend. But, every once in a while it is nice to have a little glow, which is where sunless tan or self tan comes in. The problem is, there are so many of these products out there, it can be hard to determine which one to buy.
I put four sunless tans to the test to see once and for all which product is the best. I used all four tans at the same time on different parts of my legs -- which was a perfect inside activity during this mass pandemic. On the second full day of my experiment, I even worked out and showered to see if the tans could start up to it.
To select the four tans I was testing I tried to pick a variety of application types and price points while keeping in mind what's important to me when it comes to beauty products. I greatly prefer products that are more natural or organic, especially because I have pretty sensitive skin. The tans that I chose are paraben free, cruelty free, labeled as organic, and vegan. That does not include the Jergens product, which I used as a drug store comparison.
I do also want to disclose that none of these products were gifted to me, and this is in no way sponsored or associated with any of these brands. I promise I gave them all a fair shot.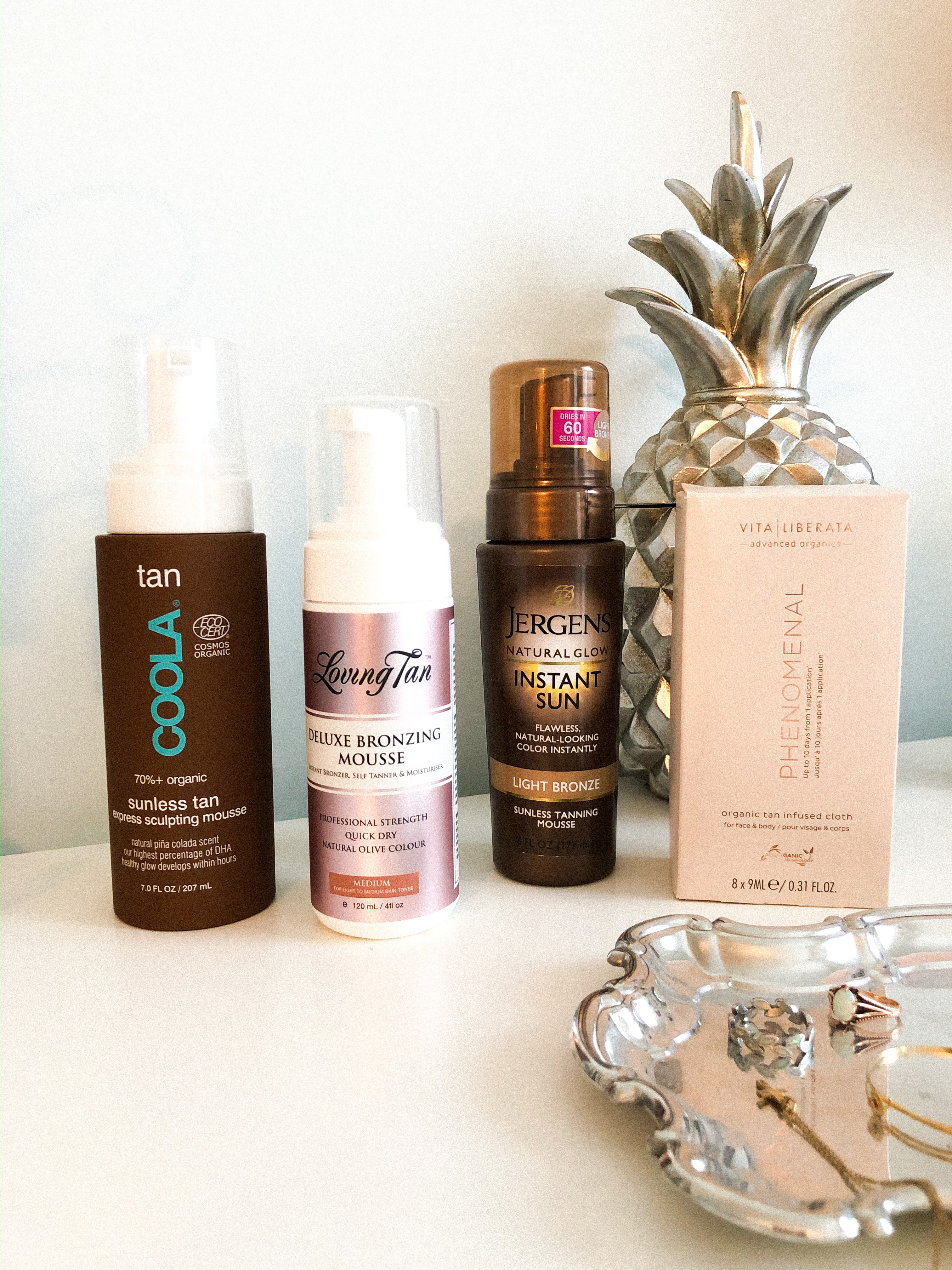 With the four tans I selected, I compared packaging, application, color, and longevity, ranking each tan with a score between 1 and 5, 5 being the best. Here's what I found:
Coola Sunless Tan Express Sculpting Mousse, $48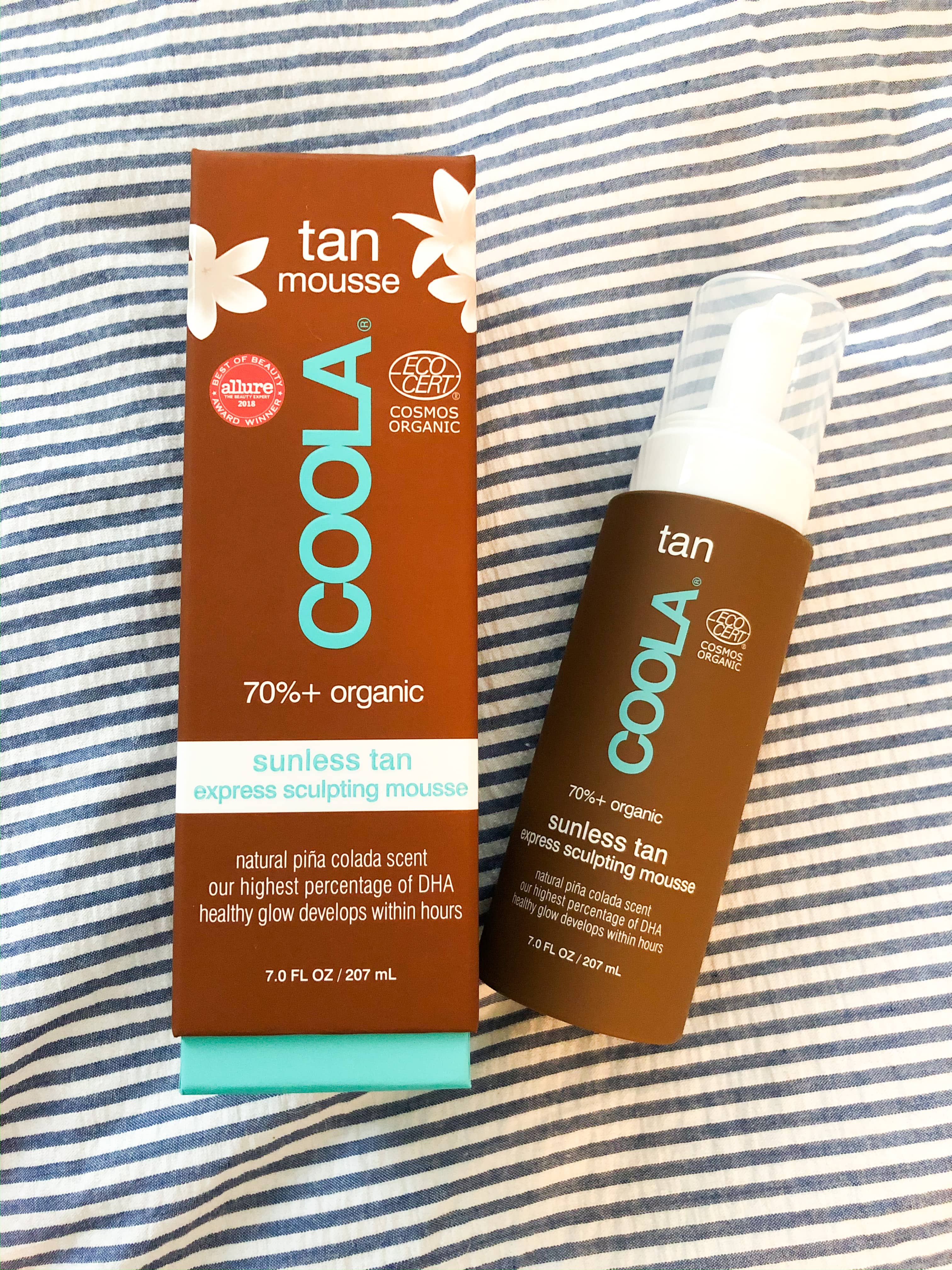 Packaging - 4/5
Application - 4/5
Color - 4.5/5
Longevity - 5/5
Overall Score - 17/20
Since this was the most expensive tan I tried, I had really high expectations for it. I have heard really good things about it and I love some of Coola's other products so I was really excited to try it for myself. This product is a clear mousse that develops after application. The mousse is easy to apply and dries quickly. It does have what the company describes as a "natural pina colada smell" that was not my favorite. The smell lingers for a while after application as well. Still, that is probably just a personal preference.
After it develops, this tan has a really nice, warm color. The tan went on really smoothly for the most part. It was not streaky at all, there were just a couple small places where it looks like it got a little "smudged." After my first shower the "smudges" went away, and the color stayed really well. By day 5, my tan is still visible and not patchy at all.
For the price, there were a couple things I was a little disappointed about like the initial small smudges and the smell. It was definitely still a really good product, and since I now own it I'll happily use it again.
Loving Tan Deluxe Bronzing Mousse, Medium, $34.95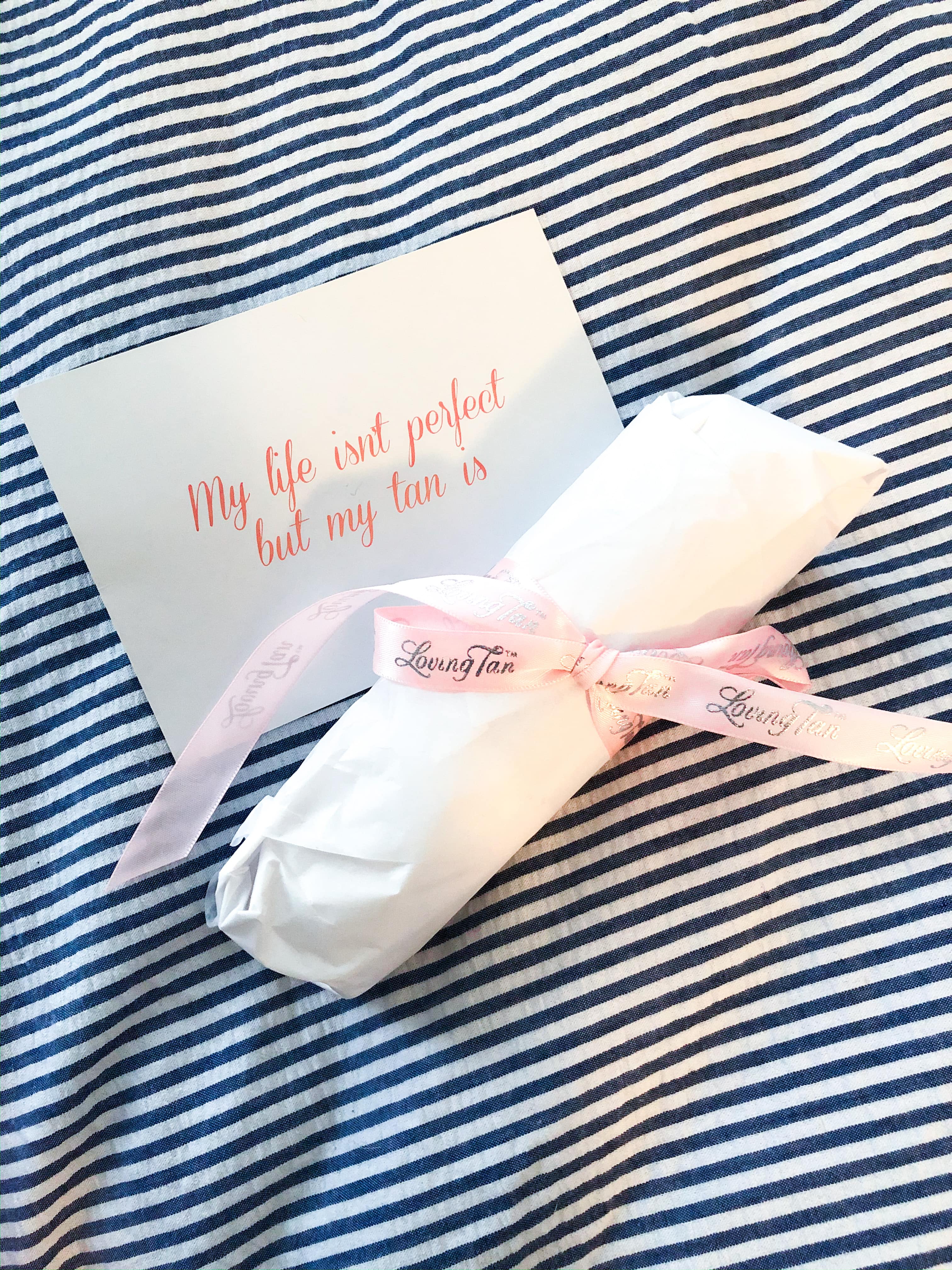 Packaging - 5/5
Application - 5/5
Color - 5/5
Longevity - 5/5
Overall Score - 20/20
I truly think this is the perfect sunless tan product. The packaging was beautiful, which doesn't really factor into how well it works, but it does get me excited to use it and shows how much pride and care that the company puts into their product.
For me, precise application of this tan was a lot easier than Coola because the mousse is brown. The dark mousse dries very quickly with no stickiness, and develops for 24 hours, meaning your tan will get darker after application. Since the mousse is easy to see it is also exceptionally easy to blend. I didn't have any problems with streaking or unnatural coloring on my knees and ankles. It blends out really easily avoiding any harsh lines.
Loving Tan was my favorite color tan from the first day on. It's still going strong on day 5. This tan was not orange at all. Not even a little. I really think this is an excellent product and well worth the price. I can't imagine some of the at home sunless tans that retail for over $50, $75 even $100 working better than this one.
Vita Liberata pHenomenal Organic Tan Infused Cloths, $25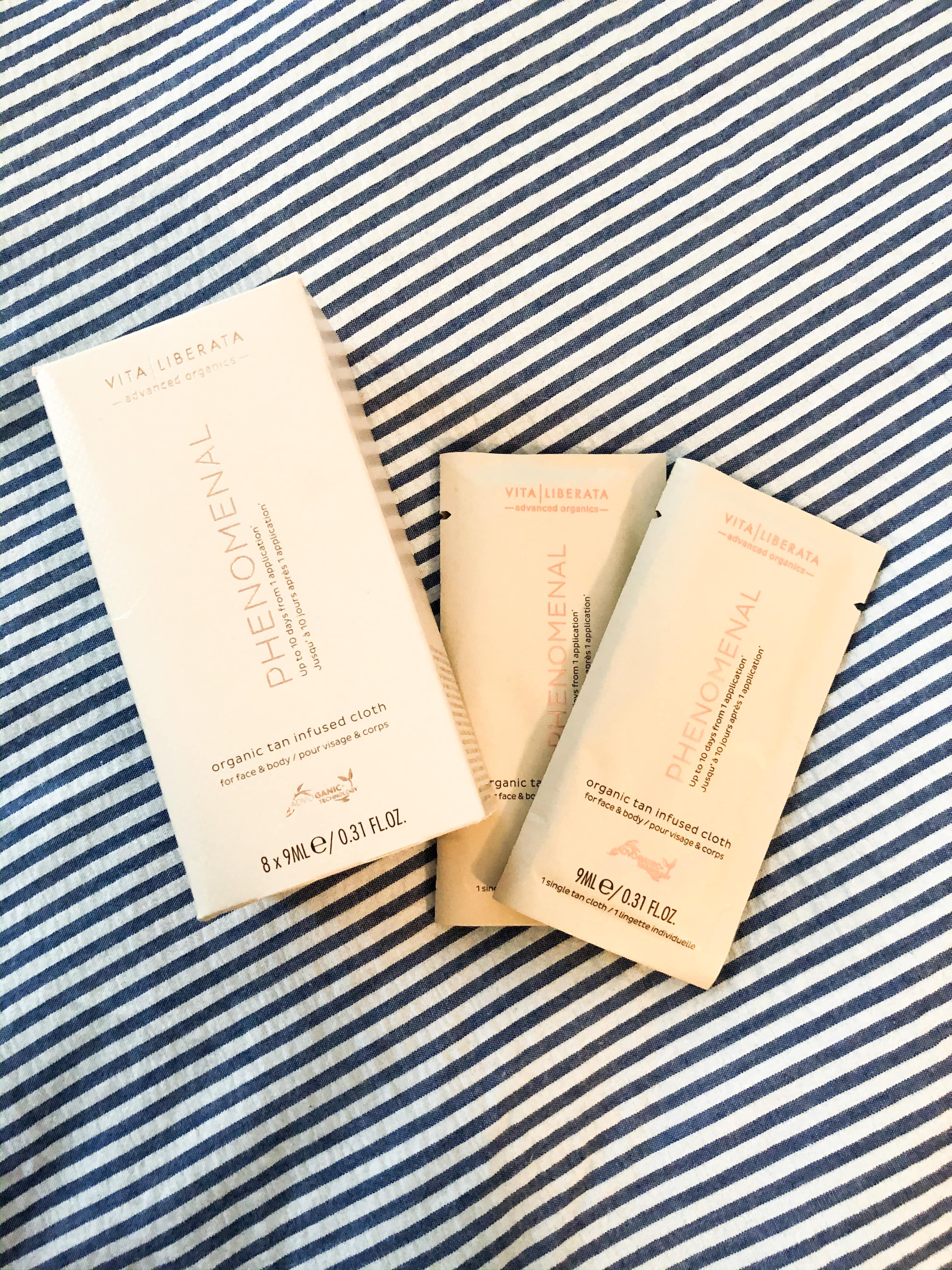 Packaging - 4.5/5
Application - 4.5/5
Color - 3/5
Longevity - 3/5
Overall Score - 15/20
While this wasn't my absolute favorite product, I do think there are a lot of benefits to it. It scored high in the packaging category because this sunless tan comes as an individually wrapped single-use cloth. For the same reason, the application was very simple. Similarly to Coola, the tan wipes on clear and develops over time. It did lose points for application as it was the only tan I tried that felt a little sticky.
I couldn't give this tan high marks for color because it was the most orange looking of them all. It was also pretty harsh around my ankles. Still, after showering those harsh lines and the orange color did significantly improve. This tan only lasted about 3 days.
I do see value in the fact that these would be perfect in a bind, or if you're traveling. It would be really easy to throw one of the cloths into a bag. It's the perfect little thing if you need a quick touch up on the go. At the $25 price point, I am glad I purchased these. While not great for an everyday tan, they definitely serve a purpose.
Jergens Natural Glow Instant Sun, Light Bronze, $11.30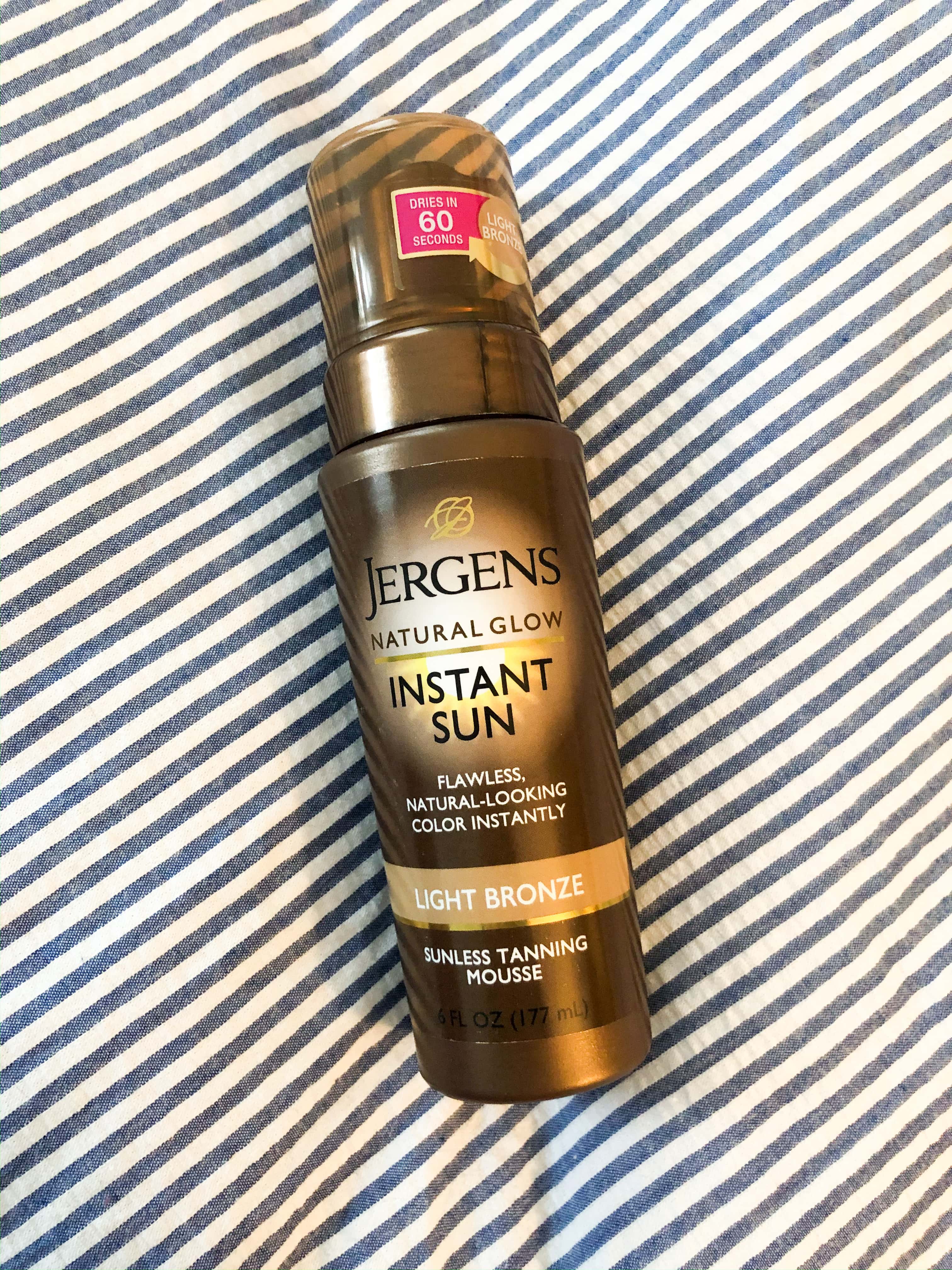 Packaging - 2/5
Application - 4/5
Color - 3/5
Longevity - 2/5
Overall Score - 11/20
I would not recommend this tan for a couple reasons. Right off the bat I knew I wanted something that was natural and cruelty free, which this product is not. There are plenty of drugstore products that are just as good as their higher-end counterparts and in hindsight maybe I should have tried a different drugstore product. I chose this one based off of Amazon reviews and perceived popularity. It wasn't all bad, but because it wasn't really the product I was looking for to begin with, I would not use it again.
This tan was a dark mousse like Loving Tan, which I do enjoy and made application easy. Unlike the other products I tested, this one deposited most of its color immediately upon application, and developed very little. It did dry quickly and smelled quite pleasant. The little bit that did develop was what I can only describe as warm brown-orange undertones. This was also the first of the 4 products to completely fade away after day 2 or 3.
Overall, I really did find some products I love. If you are looking for an amazing tan for everyday use, I would highly recommend Loving Tan. I also snagged a duel exfoliating and application mitt from Coola which is really great and only $6.50.
All of these products are available on Amazon, and have been added to my Amazon Storefront's beauty section for purchase! You can also find them by clicking on the pictures of the product in this post!
I hope you enjoyed reading about my little experiment, because I sure had a lot of fun with it. I did this based on a recommendation, so if there's ever anything you think I should try out, let me know!
Want to see more content like this? Sign up for our Newsletter!
This post includes affiliate links. That means if you make a purchase through a link in this post I recieve a small commission at no cost to you. I also recieve a small commission on products purcshed through my Amazon Storefront.